"Green" Cabinetry
Environmentally-friendly or non-toxic cabinet work has become an important market niche. In this thread, cabinetmakers discuss the ins and outs of meeting customer expectations for "green" cabinets. September 4, 2005
Question
I have had several inquiries regarding green cabinets (presumably all materials and finishes would be of non-toxic nature as well as produced utilizing sustainable practices). Has anyone come across specific materials, veneers, adhesives, edgeganding, banding glue, finishes, hardware, etc. that fulfill these requirements? I build casework on the 32mm European format and would like to simply substitute material choices for these projects.
Forum Responses
(Business and Management Forum)
From contributor B:
I am getting more requests for this as well. It depends on how emphatic the client, the scope of the project, and the budget. For example, I haven't been able to find a supplier who can provide small quantities of pre-finished maple on wheatboard. So it needs to be a decent-sized project where I can purchase 30 sheets of the stuff. For panel products, we'll use either formaldehyde-free MDF, Wheatboard, or Europly depending on the application (I am told Europly is now becoming available with no added formaldehyde). Also, FSC certified solid woods, or recycled or reclaimed woods for solids.
Finishes are a problem. We outsource our finish work, and I've been having a hard time finding a finisher willing to work with waterborne finishes. I've sprayed some myself and had great results, so I don't know why more finish shops are reluctant to switch from just pre-catalyzed lacquer and conversion varnish. Well, I know why - it's because it takes a little bit of effort and research to try a new process or product, but it is frustrating. Ditto with low-toxicity dyes and stains.
Another item: ABS edgebanding. It is my understanding that this is a 'greener' alternative to PVC and has become the standard for edgebanding in Europe. Yet I get blank stares from my sales reps when I bring it up. Even Doellken, who I believe makes the stuff and sells it in Europe, doesn't seem to be selling it in the States. I was told that they want to sell it here, but the US is more reluctant to change than European markets. So here I am, begging them to sell me this product that they claim they want to sell more of, and they won't do it! Also frustrating.

---
From the original questioner:
Thank you for the thoughtful and informative response. These are some of the same issues I am up against. Both requests are from architects that specialize in green buildings and want input in order to develop a program that is achievable within my build format. I suppose, if there are enough requests, the suppliers will be forced to respond. Do you know if the ABS banding (that we can't get yet) is being applied with an alternative adhesive? I am using Dorus in an older Brandt glue pot bander. I am also interested in what kind of adhesive is being used to lay up maple veneer (or any others) onto a wheatboard substrate.
---
From contributor E:
Louis and Company is advertising the ABS banding as available.
---
From contributor B:
Just talked with Louis & Company, and apparently they do stock it in a decent array of colors and thicknesses up to 3mm. I am pretty sure I checked with them about 8 months ago and they didn't have it. But I'll be ordering from them now. Regarding adhesive for ABS, Doellken-Woodtape has great information on their website in their 'document center' on processing ABS edgebanding.
---
From contributor W:
Find out if the interest in green cabinets stems from philosophical grounds or from actual chemical sensitivities. If it's the latter, then the client must be provided with samples of materials and finishes so that they can live with them for a while; many chemical sensitivities are very specific, and many waterborne finishes have a lot of solvents in them these days, so every component must be experienced by the client (including pre-finished drawer boxes if you use them). A thorough test drive is the best way to keep everyone happy.
---
From contributor A:
Panel products are relatively easy to come by, while quantities of certain species of solid lumber are more difficult. I see veneer products at a 10-15% increase in price when compared to custom made panels of the same species. If you want to sell green, then you need to sell hardwoods with defects (less waste). If you sell something 100% green, then you need to get involved in being part of a certified chain of custody. For the last project we bid, there wasn't enough white oak available in the marketplace, so we excluded. You also need to know how much stock is on hand, and if using a lot of solid lumber, tell the customer there may be delays in the project based on material availability.
---
From contributor O:
I noticed hardwoods with defects were mentioned. I make all my furniture with hardwoods with "natural features," which sounds nicer. All I ever use is from building salvage and dead trees that I have milled on a portable Lucas mill.
---
From contributor J:
If you live in northern California, Earthsource is a great, rare source for FSC certified lumber, certified sheet goods and salvaged wood.
---
From contributor A:
The job we bid in Northern California required 16000 bf of 4/4 white oak and 5000 bf of 8/4 white oak. A few vendors (Higgins, Continental) weren't able to source it in the time we needed it bid by.
Five years ago, I had a project that required 5500 to 11000 bf of rift red oak a month and there was no supply available. I don't bid these FSC projects without sources in hand that can supply and meet the demand. Many times it can't be met and if your contract requires FSC certified and you don't have an out, it can be a problem.

---
From contributor J:
Be careful what terminology you use. Never refer to any product as being formaldehyde-free. Nothing in this world (including us humans) is free of formaldehyde. The proper term is non-formaldehyde added.
Dow's WoodStalk is the best board material that we use. It is NFA, moisture resistant and far more stable than Medex. It will be nice when the price of the product comes down, which will happen the more people use the product.

---
From contributor K:
I'm currently looking for a formaldehyde-free melamine. Is there such a material? I know you can buy the non-formaldehyde core stock, but my understanding is the melamine resin has a small portion of formaldehyde. If you want a product that is as formaldehyde free as possible, what options are available?
---
From contributor L:
We just did a full overlay style kitchen out of bamboo. Talk about a renewable resource! It is also very strong and the 3/4" material is 100% bamboo - no plywood. There are a couple of companies we looked into as a source. It was either Plyboo or Timbergrass that we ended up with. Timbergrass supplied us with a sample kit which we used to test for boring strength and milling capabilities.
The customer loved her kitchen and we had fun working with a new material. It was a galley kitchen, so it was hard to get a great shot of both walls, but this should give you an idea. The style was pretty modern and the homeowner wanted to avoid using handles, so we created a channel for finger pull routes on the base cabinets. She had this painted black, as well as the toe kicks and crown.
We finished it in an 80's style white wash - customer's preference. The bamboo is actually really nice in a caramel tone, too. The manufacturers color it by a heating process which changes the color all the way through the board.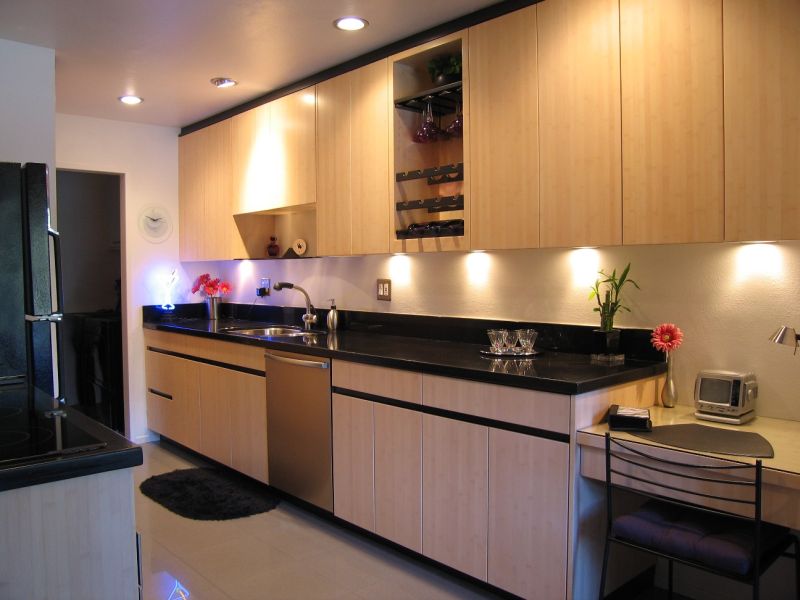 Click here for full size image
---
From contributor Y:
I am the proud owner of the bamboo kitchen cabinets which were custom made by contributor L. The bamboo is as smooth as satin and very durable. Everyone admires the exotic beauty of the bamboo and the environmental aspect of the cabinetry. I highly recommend using this material for a beautiful cutting-edge new look. The kitchen has been featured in the Santa Barbara News-Press and other publications, introducing bamboo as a unique building material.
---
The comments below were added after this Forum discussion was archived as a Knowledge Base article (add your comment).
Comment from contributor P:
We have been manufacturing bamboo kitchens for the past 3 years and are extremely pleased with the green qualities of the product. We use bamboo more than any other species of wood, both for its "green-ness" and aesthetics.