Guess the Wood Again


Eyeballing a wooden chest and trying to guess the species. (It's not Walnut.) April 20, 2011
Question
See if any of you can ID this wood. I got one piece of this that was actually reclaimed. From the nail holes it was originally a piece of trim in a building somewhere. It is quite lightweight, and has a texture like mahogany. Also has a spicy smell like Spanish cedar when worked. In the photos it has a natural finish on it. Any ideas?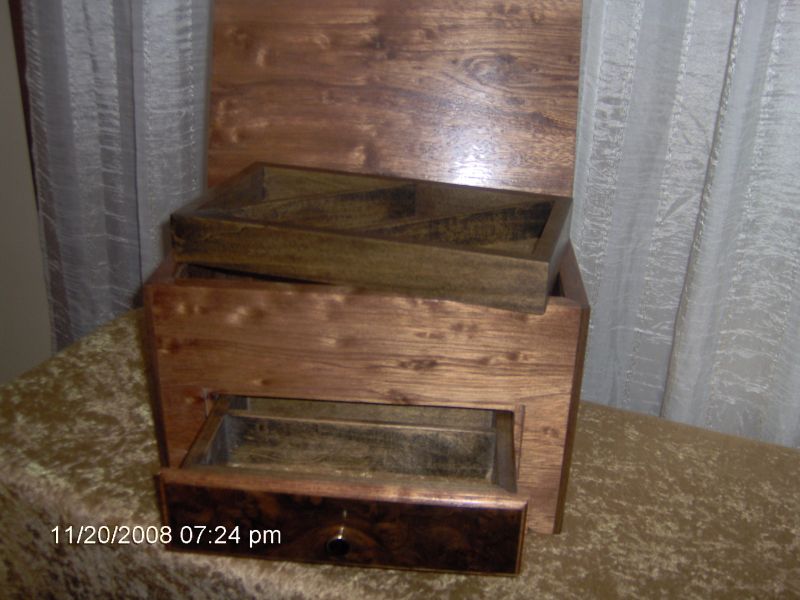 Click here for higher quality, full size image
Forum Responses
(Furniture Making Forum)
From contributor J:
That's walnut.

---

From the original questioner:
Not walnut. I use lots and lots of walnut, and this is not it.

---

From contributor J:
Are you asking about the tray? It looks very different from the case, which I still think is walnut.

---

From the original questioner:
Sorry - I wasn't clear. I am asking about the body of the box, including the lid. Tray is birch stained dark, front of drawer is walnut burl veneer and corner bindings are walnut. It's the primary wood I'm asking about.

---

From contributor P:
Paldao?

---

From contributor F:
Sassafras.

---

From contributor D:
I have seen Spanish cedar with that type of figure before and the color is close.

---

From contributor S:
My guess is Amboyna (Pterocarpus indica).

---

From contributor R:
African sapele. Gives off a similar scent to Spanish cedar when milled and looks a lot like mahogany both plain sawn and pattern grade. The Germans started using it in furniture making back in the 1800's. Nice stuff to work with and still reasonable to purchase.
---

Would you like to add information to this article?
Interested in writing or submitting an article?
Have a question about this article?

Have you reviewed the related Knowledge Base areas below?

---



All rights reserved. No part of this publication may be reproduced in any manner without permission of the Editor.
Review WOODWEB's Copyright Policy.

The editors, writers, and staff at WOODWEB try to promote safe practices. What is safe for one woodworker under certain conditions may not be safe for others in different circumstances. Readers should undertake the use of materials and methods discussed at WOODWEB after considerate evaluation, and at their own risk.

WOODWEB, Inc.
335 Bedell Road
Montrose, PA 18801

Contact WOODWEB Copyright © 1996-2021 - WOODWEB ® Inc.