Gypsy Moth Egg Case
Identifying these egg cases in the woods. January 6, 2005
Question
The image below shows one of what I suspect are insect egg cases attached to black cherry bark. They are usually about 4-6 ft. off the ground but sometimes higher. My guess is eastern tent caterpillar or gypsy moth, but I'd like a more definitive identification. Anyone know for sure what these are? My inclination is to "rub 'em out" using a stick end (simple but effective), but have no desire to do that unless they are a leaf-eating variety and will do damage.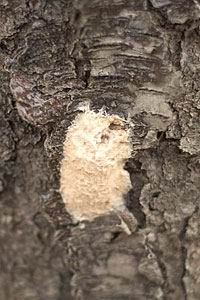 Forum responses
Yes, it is gypsy moth eggs. You can read about their cycle at this URL: https://www.fs.fed.us/ne/morgantown/4557/gmoth/cycle/
---

Would you like to add information to this article?
Interested in writing or submitting an article?
Have a question about this article?

Have you reviewed the related Knowledge Base areas below?

---



All rights reserved. No part of this publication may be reproduced in any manner without permission of the Editor.
Review WOODWEB's Copyright Policy.

The editors, writers, and staff at WOODWEB try to promote safe practices. What is safe for one woodworker under certain conditions may not be safe for others in different circumstances. Readers should undertake the use of materials and methods discussed at WOODWEB after considerate evaluation, and at their own risk.

WOODWEB, Inc.
335 Bedell Road
Montrose, PA 18801

Contact WOODWEB Copyright © 1996-2021 - WOODWEB ® Inc.