Half-Round Cabinet Joinery
Thoughts about how to construct and join the shelves and face frame for a curved-face open-shelf cabinet. September 6, 2012
Question
I'm trying to build a half round bookshelf cabinet to attach to the end of a kitchen peninsula. It has to be strong enough to support a granite countertop above. I want it to have 2 supporting legs. I was going to make it in either a painted wood or finished Jatoba. I'm having trouble coming up with a simple and strong design. Any ideas?
Forum Responses
(Cabinetmaking Forum)
From contributor J:
Not sure exactly the design you're looking for, but this is likely a pretty straightforward project. The back of the cabinet can be the support structure, built up of several layers of bendy ply or MDF. Shelves can be attached by screwing through the back. That's how I assemble this cabinet...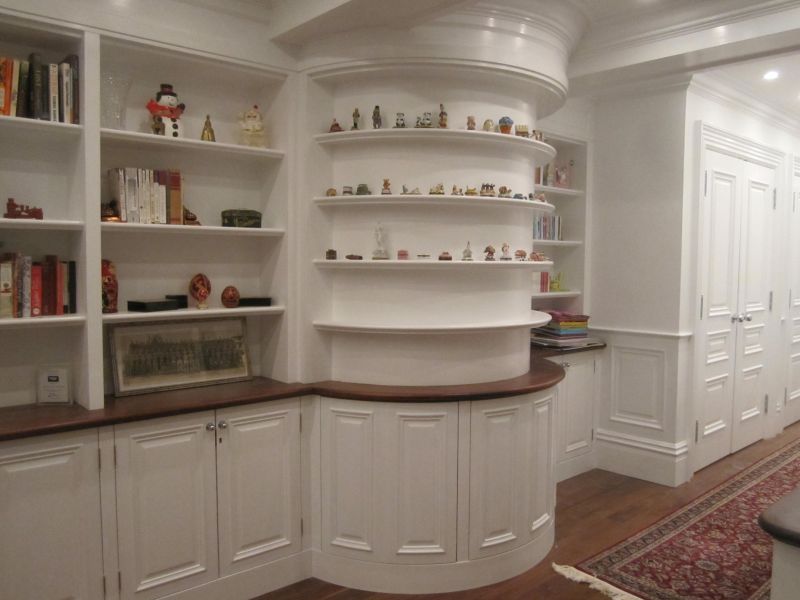 Click here for higher quality, full size image
---
From contributor C:
Contributor J's example is a pretty narrow shelf. If the countertop is much deeper, add a divider/corbel/steel/etc.
---
From the original questioner:
Thanks. Here is a picture of the end shelving I want, except the curved shelves will be shrunk to fit at the end of a peninsula. Instead of steel legs, I'll have two wooden legs. How do you think the curved trim was attached? I think I can make the curved trim using bent laminations, but the joinery of it all is where I'm stuck.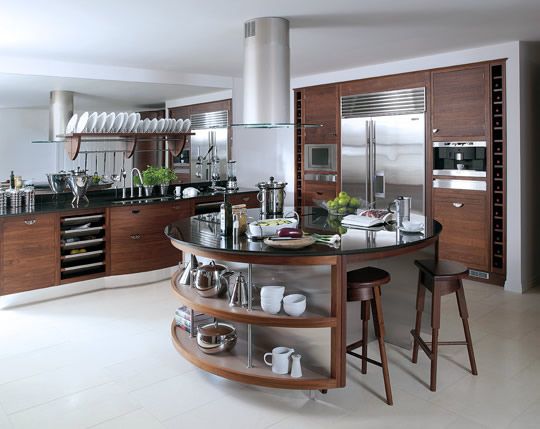 Click here for higher quality, full size image
---
From contributor C:
I would just use dominoes and/or screws . Or just screws from the vertical to the curved shelf, just like a normal face frame with pocket screws. Except it looks like you can screw through vertical and back.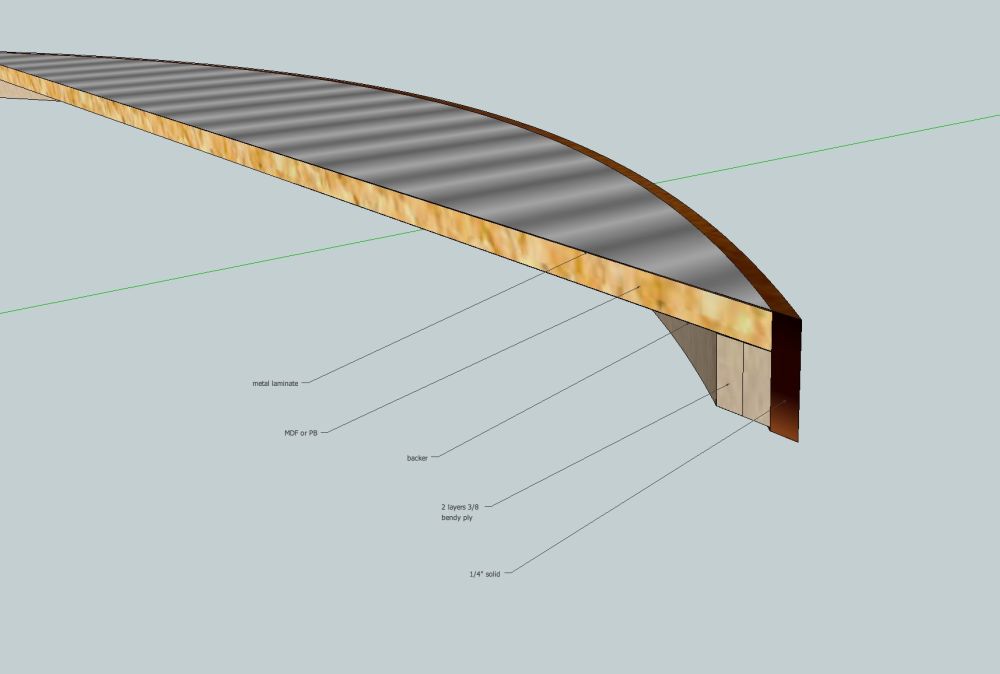 Click here for higher quality, full size image
---
From contributor J:
Looking at that picture, I think I would laminate the wood strips right to the shelves. Once you've trimmed everything clean, you can trim the back of the shelves perfectly straight, making it easier to attach the vertical at the end.
To attach the vertical, I'd probably use loose tenons myself. As contributor C said, though, you may be fine with just screwing through the back.
Another thing to watch for, especially if it's a tighter curve, is the transition from the curve to the vertical. If your vertical is flat stock, it will be noticeable to the eye. I use a card scraper to get the slight curve across the vertical quickly and easily. On my cabinet, it was a very slight radius, so it took less than a minute to do each vertical. If I had a lot to do, I'd probably grind a set of knives for the shaper, but for only a couple, this was easier.

---
From the original questioner:
Thanks. I like the idea if laminating directly to the bendy plywood, but not sure how I would get enough clamping pressure/position since I'm probably using Jatoba, which isn't too flexible. I was going to build a mold and build up 1/8 inch layers to about 5/8 inch or so. I can't find Jatoba in a thin veneer for gluing. That would really make it easy. Even then I'm not sure how I would veneer the flat curving top edge, since the veneer would have to be bent sideways. Thanks for the advice and Sketchup.