Heavy Duty Hinge Selection
A discussion of hinge choices for a large, flush-mounted mirrored door. February 13, 2013
Question
I have a client that wants a mirror mounted on the back wall of his walk-in closet. He wants the mirror to open exposing a shallow depth set of shelves and then close back up to look like it's mounted right onto the back wall... melamine paneling. The size of the mirror will be approximately 40"w x 84"h and will have beveled edges, so probably 1/4" thick.
The action of a Euro style cabinet door hinge would be perfect, where the door opens out and away from the face of the cabinet. Unfortunately I don't think they would be anywhere near strong enough even if I spaced them pretty close together.
I'm thinking of using a heavy duty continuous hinge, but the clearances make it very difficult if not impossible to do. I think in order to have it open a full 90 degrees, I would have to have it stick out too much. I really only have room for a little more than the thickness of the mirror, say 1/2" total. Or the mirror will be in the way of the drawer clearance.
I've also thought of using SOSS hinges, but in this particular situation they would be hard to mount. The wall face is 3/4" melamine, under which is a 3/4" veneer core ply, which would be ideal to mount to.
I've looked through my normal catalogs but haven't found anything that seems suitable. Anyone have experience using a specialty hinge that would fit the bill? Seems like something that would be pretty common, but I can't seem to find a heavy duty solution.
Forum Responses
(Architectural Woodworking Forum)
From contributor S:
I have used Roton hinges for difficult door problems like this. Check the Hagar Roton line catalogue. Many of these gear hinges allow high loads and unique geometry.

---
From contributor K:
Check out the Tectus line, like a Soss hinge but 3D adjustable and available in several weight classes. Expensive but worth it for some jobs. We get them from Index-D in Massachusetts.
---
From contributor D:
I agree the Tectus hinges are great. Definitely my favorite New Thing. Next to Soss, there is no comparison. The engineering is unbelievable. But they do take some structure to be able to mount securely.
---
From the original questioner:
Thanks for the responses guys. I looked at the Roton hinges and don't think that's what I need.
I had also looked at the Tectus hinges before and was concerned about the size. I may be able to use the 1" wide version and just have it mounted between the 2 pieces of 3/4". Just seems a bit hairy? I'd be concerned the screw location would get too close to the seam between the panels.
I've never hear of Index-D. I'll have to look them up. What's a ballpark price for one of the Tectus hinges?
I've been brainstorming this all day and I think my best option may be to use a bunch of smaller SOSS hinges. Say 5 or 6 of the 5/8" wide ones. Not ideal, as they would have to be mounted into an MDF edge as opposed to the plywood, but I don't think what I want exists. I'm thinking if I keep the weight of the door frame itself as light as possible, and replace the stock screws with a longer (maybe 2" or so), version, I might be okay. The weight would likely be under 80lbs, so probably doable? Though not having adjustment is a bit of a pain!

---
From contributor C:
This is not an uncommon construction for me and I use a pivot hinge, similar to the large pivot hinge at hardwaresource.com. What you have to watch for is to construct the door in a manner to help keep it straight, as you don't have a hinge in the middle. Another thing to watch for is to use the minimal amount of glue you think is necessary to glue the mirror, as too much will pull the door out of balance because of the moisture in the glue as it dries.
---
From contributor M:
So what are the main differences between the Tectus and Soss hinges apart from the Tectus being adjustable? Are Tectus worth the extra cost?
---
From contributor C:
I've switched to Tectus from Soss. Aside from their adjustability, there are options for mounting depending on your type of casing. But for me, the most important is their ability to handle a lot more weight. The attached photo shows a door that, because it's double-glazed, weighs 175 lbs. This size door is off the SOSS chart guide.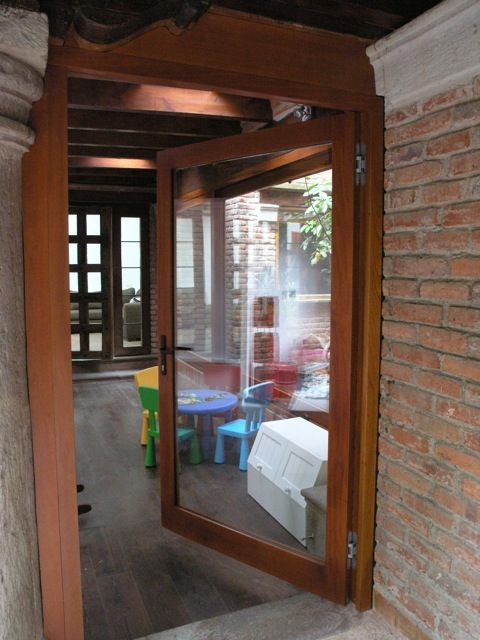 Click here for higher quality, full size image
---
From contributor M:
Wow - that is one big door! Okay, so I should be able to use Soss to good effect on a lighter weight door, but for heavier doors look at Tectus?
---
From the original questioner:
Yeah, these newer hinges blow the SOSS away, as they allow adjustability after install! With SOSS you have one shot to get it perfect. The extra capacity doesn't hurt either.
I installed some from Sugatsune for a job last year and they are very nice (and pricey) hinges. Much too thick for the job I posted here, though. I ended up using 7 of the smaller SOSS hinges to get that job done!