Hidden Room (Secret Door) Details
Tips on hardware and other details for concealing a door by disguising it as a bookshelf, pool-cue rack, or the like. February 8, 2008
Question
I have to produce a library room with four bookcases. One of them has to open on a hidden room. Has anybody ever done this? What hardware do you use? I'd like it to open as a door, so I'd like to use some kind of hinges.
Forum Responses
(Architectural Woodworking Forum)
From contributor M:
I've done the same sort of thing as you're about to do and I used a pair of Rixson pivot hinges with great results. Since I don't have the paperwork close at hand, I can't give you the part number that I used, but I think the number for the bottom pivot was 128-3/4 and the top was 320.
One thing I learned, though, is that you have to over-engineer the door. The door in the one I did was about 5'x2' and even though it's all 3/4" ply, the bottom racks inward about 1/2". People won't notice it unless they walk over to it and look straight down at where the door and the trim meets - but you'll know.

---
From contributor B:
We are doing one right now. I just ordered some Rixson h117-3/4 center pivot hinges. Gary Katz has illustrated step by step instructions for this that tells you everything you need to know at:
---
From contributor A:
I thought about using a pivot hinge for a current bookcase project, but skipped the idea since a 12" deep bookcase on a pivot would eat up more than 12" of the doorway when opened 90 degrees. (My doorway was only 30".) Keep that in mind on your own project.
---
From contributor S:
Cue rack, but same premise as bookcase. All the trim is coped including shoe.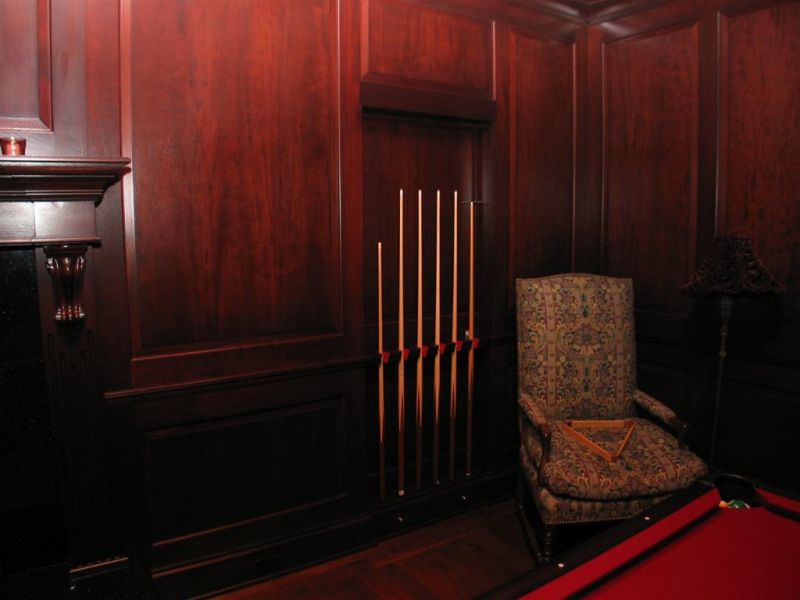 Click here for higher quality, full size image
Ball bearing 4x4 hinges screwed through into framing. Slide bolt mortised into underside of chair rail. 4" wheel built into outbound edge to support door as it swings open. Since the floors were all wood, I worked with the flooring guy to have him feather floor down when door swings open so shoe would not catch as it swings. When shut, it is tight. You can not tell at all that it is there.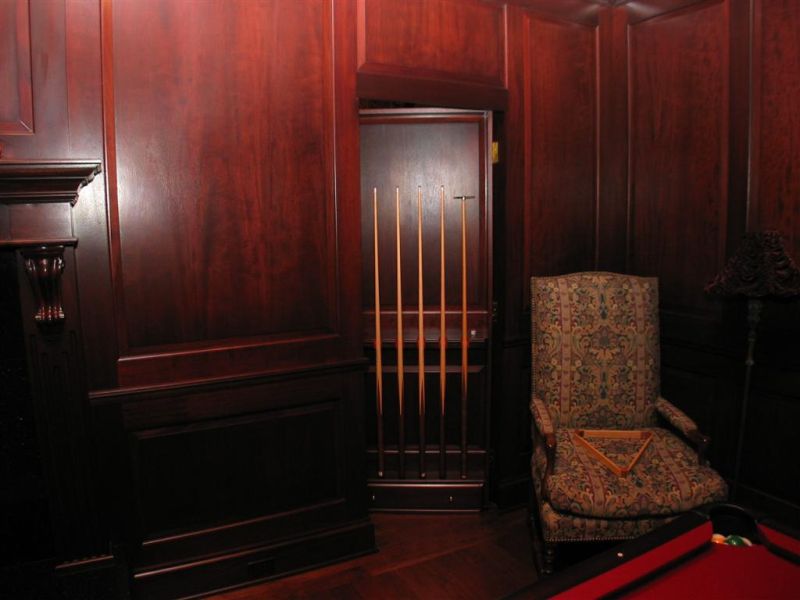 Click here for higher quality, full size image
---
From contributor T:
We did sort of the same thing for a customer. It was a built-in shelf unit in the master bath. A shelf hinged up to expose the lock. We used 3/4 for the back and used several magnetic contacts to keep the back tight to the sides. The upper shelf hinged to expose the lock and the rest of the shelves swung in with the back/door. It was used as a safe room. It was really simple, but effective. You could sit on the john, inches away, and never know.
---
From the original questioner:
Thank you very much to all of you - you were very helpful.
---
From contributor C:
Nice job, contributor S! Many of our customers don't want anyone to know what we've built, so we don't get many images. It's nice to see a clean execution.
---
From contributor L:
Fine Homebuilding recently had an article on this. Like contributor S's, we also used
4x4 ball bearing hinges - no slide bolt. The door was magnetically locked and opened - operated by the owner's voice (open sesame?). We worked with the A/V electronic guy on this. Sorry - no pictures - it's a secret. Mock it up in the shop in the raw - this was easy for us, since we were doing the rest of the millwork and paneling in the room with it.
---
From contributor S:
You might also look into Roton (now owned by Hagar Hinge). They make a continuous hinge that is very heavy duty - made for situations such as the front doors into a high school - lots of use and abuse.
---
From contributor C:
The simplest method I have ever used is 3/4 sides and backs, screwed and glued cases. Hide an extra thickness or two behind fluted columns or such for extra mass to mount your hinges. Four regular 4 1/2" Ives heavy duty butts pivoting off the back corner work great. If you still are paranoid about sag, hide a caster in the baseboard toekick space. I have used this method at 54" wide by 80" tall with a spring mounted caster behind the face. Gwinnet County, Ga MOG display cases.
---
From contributor N:
We just finished a 46" x 90" x 8" secret door shelf unit that opens into a wine room. We used the Rixon hinge that Gary Katz used in his door unit that was written up in Journal of Light Construction and all I can say is, read his article and follow his suggestions. By doing that, it worked out well for us and the client is overjoyed with the final product. Before the lacquer was dry, the client recommended us to one of his friends and now we have a second secret unit to do. The Rixon hinge, the HDPE wedge, and a heavy duty roller catch (from a Fine Homebuilding Magazine article) were icing on the cake, making our project all that more polished and professional, justifying the cost charged.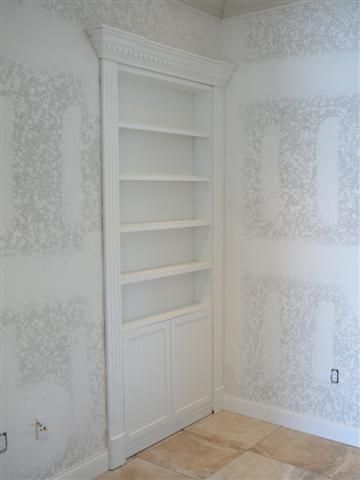 Click here for higher quality, full size image
This was an outswing unit. Yours being an inswing might require a bit of reengineering of the hinge placement, but it should be possible.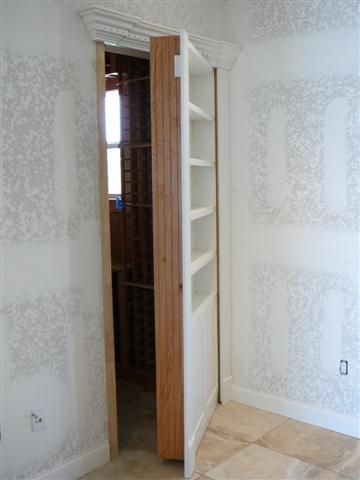 Click here for higher quality, full size image
Open sesame.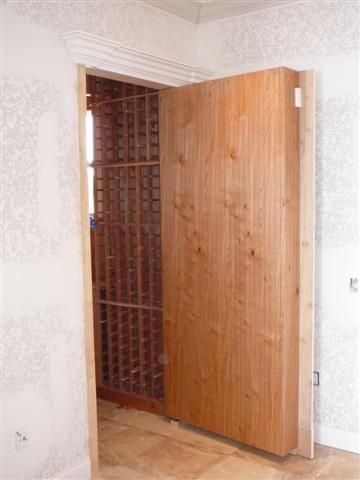 Click here for higher quality, full size image
---
From Gary Katz, forum technical advisor:
Very nice. And right to the floor, too. I like how you put that shim on the jamb rather than the floor. But do those cabinet doors open? :)
---
From contributor N:
Gary, thanks for noticing, and yes, the lower doors do open. The client wants "push to open" hinges in place of door knobs and one little piece of shoe to close up the gap and we're done. Not only was it fun to build, but it was very simple with your article having laid out all the key elements involved. Thanks again for taking the time to write the articles that you do. It's really helped me grow as a carpenter more than anything.
---
From contributor M:
I have done a few of these units and would only recommend pivot hinges for doors only. For bookcases I have my metal guy make me a modified pivot hinge with a steel plate on the bottom that has quality casters mounted to it to support the weight of a loaded bookcase. The plate is almost as wide as the bookcase, with of course the casters mounted on the other side of the pivot. It costs a little more money but it is worth it not to be called back to adjust the standard pivot hinges when they sag the loaded bookcase.