Hiding a Compartment Behind a Wainscot Panel
Magnets or self-closing hinges can hold a panel in place over a hidden compartment. August 5, 2006
Question
I am working on a base for two columns. It sits 36" AFF and two large columns sit on top. The base is 50" wide and 18" deep and acts as a divide between the entrance and living room. There will actually be two bases on either side of an opening and a total of four columns in the area. The base has 3 panels on each side and breaks forward under the columns, setting the center panel back about 2" from the two end panels.
My client wants a hidden compartment in the center panel. Any ideas? The fact that the center panel sets back makes me think I could make a sliding center panel. Anyone ever done this? It doesn't have to slide; I just can't think of any other way that won't look sloppy. It is paint grade, so I worry about the panel not sliding after paint job. It also needs to be easy to open and shut. I was thinking about using a moulding on the inside of the panels and letting that be a handle. Any input?
Forum Responses
(Architectural Woodworking Forum)
From contributor L:
If you can use a large enough molding around the outside edge of the panel, you could line the overlapping lip with magnets and it would stay there until you needed it, then pull it off.

---
From contributor F:
I agree with contributor L - Rare Earth magnets are the way to go.
---
From the original questioner:
Thanks. I didn't even think of magnets - that's a great idea. I've heard of Rare Earth magnets and I know where to get them, but what is the difference? Are they stronger or weaker?
---
From contributor L:
Very strong for their size. Can be pricey. You can also use self-stick magnetic tape magnets. Should be cheaper and easier to use. If someone doesn't know it's there, they won't have the urge to try to pull it off.
---
From contributor B:
You can get Rare Earth magnets from Lee Valley. I've used them and they are pretty amazing - solved tricky problems like yours.
---
From contributor J:
I've done this using self-closing Euro hinges, which are not visible from the outside, then trimming the edges with a molding which overlaps the gap. The hinges keep it closed and the molding keeps it flush with the wall. You simply grab the molding and pull to open.
---
From contributor L:
I recently finished a desk with a hidden panel. Same difference. I used 4 standard style cabinet door magnets to hold it in place.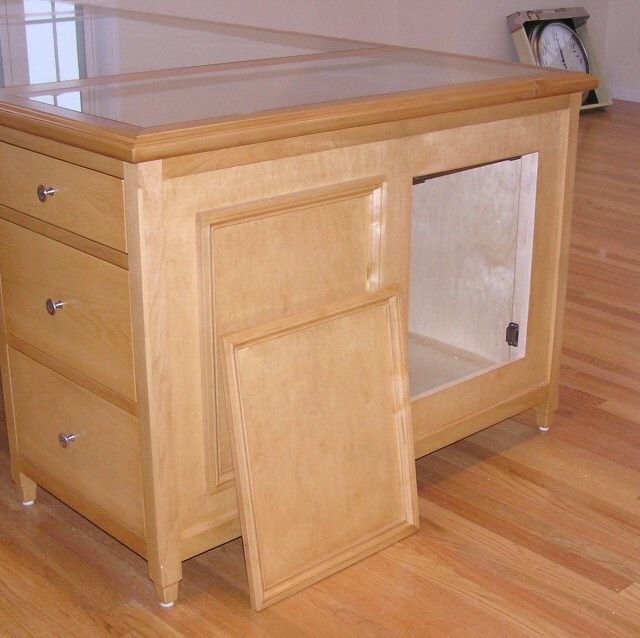 Click here for full size image