Hinge Question For Faceframers
10/15/2014
From original questioner:
---
Wondering if any of you have ran into this problem with faceframe concealed hinges.
I was recently called back to look at cabinet doors that had mars on the routered edge where they had been opened and made contact with the wrap around hinge plates. In this instance they are Grass Nexis hinges with the adjustable cam plate.
Nearly all of the doors were marked up from hitting the hinge plate (the tabs that wrap on the faceframe.)
They were not out of adjustment, the plate were not set out too far. This has never happened to me before and I'm at somewhat of a loss here. I came back to the shop and looked at some doors on my shop cabs with Blum hinges and no matter how far I opened them or how hard I opened them, they would not touch the hinge plates.
I ended up adjusting the doors out a bit and that did the trick, but the gap is to big for my liking.
Does anyone have ideas?
I don't think they were being rough on the doors. The only thing I can think of is the edge profile may be cut a bit shallower than it normally is.

From contributor do
---
Or the edge bore distance was more than 1/8". Or they never were adjusted properly? Im guessing they are compact hinges?
I tried Grass on a several jobs and never did like them. I never did like compact hinges of any brand for that matter.

From contributor Je
---
I don't think it's the bore distance....I haven't moved my machine setting in years. They're two piece hinges with separate mounting plate. Never had the problem with Blum, but didn't have this problem in the two kitchens before this one either with Grass.
No matter how they're adjusted, they shouldn't hit the hardware. Like I said, when they are adjusted where they don't hit, the gap is unsightly. I've never used compact hinges.
Thanks for your input.

From contributor Je
---
I will double check my edge bore set back. Makes sense that it could be that...it drill so many, I don't really check it that often.....could've been knocked out somewhere down the line I guess.

From contributor Ki
---
Definitely check the drilling distance, It makes a big difference. Just my opinion but I think the nexis hinge is a big step backward for Grass.


From contributor Je
---
I've heard they are discontinued, so maybe they figured something out.


From contributor De
---
My 2 cents:
This is not uncommon when the mounting plate has 2 separate tabs as the positioning means. This is particularly true when the material is stamped steel since the stamping process cannot create a sharp 90 degree bend. This design is not so forgiving if the hinge is adjusted too close to the frame or the mounting plate slides forward off the edge of the frame slightly when installed. This results in those 2 little bite marks on the edge of the door.
It is for this reason that Salice has used a full length, die cast design. Because of the casting process, the lip turns a very tight 90 over the edge of the frame and there are no sharp edges to dent the door. Even if the plate is not perfectly installed and the door bumps the edge of the plate slightly, no bite marks...ever.
Of course, I am somewhat prejudiced. Sorry I had to chime in on this one.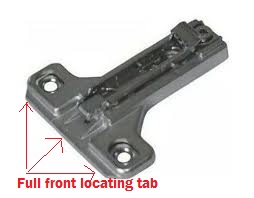 From contributor Je
---
No worries Dennis....Never know you might sell something. I have never tried Salice...care to send me a sample??


From contributor De
---
I would be happy to send samples. I just sent you an email via the Woodweb. If you would just respond with your address I will see that samples are sent to you.

From contributor Bo
---
I changed over to Salice hinges about 8 years ago and have never looked back. Very satisfied and never a problem. Never have used Blum hinges but I don't see how they could be any better.
Salice is slightly more expensive than some but I believe you pay for what you get.

From contributor Jo
---
+1 for Salice

From contributor Mi
---
Another vote for Salice, good to have Dennis for teck support as well.
As far as your issue, the drilling distance is the only thing that comes to mind.