Hinge Types and Door Overlay
A cabinetmaker wants closely spaced doors on face-frame cabinets, and gets advice on specialty hinges that can help him achieve that result. December 30, 2005
Question
I am currently designing a kitchen that will have 1/4" reveal between the doors and drawers. Since I like to stick with face frame jobs, I have run into the dilemma of door overlay. Normally I use Blum 120 degree clip hinges with 1/2" OL faceframe plates, but the max OL I can get with this hinge is 5/8".I may go with the Blum Compact hinge because it can go from 1/4" OL to 1-5/8" OL.
The problem is these hinges don't have the 3 way adjustability that I enjoy with the clip hinge. Does any other manufacturer offer a better hinge that will meet my needs? Also, I use a Blum hinge machine for drilling and pressing so a Blum pattern would be a big plus.
Forum Responses
(Cabinetmaking Forum)
From contributor T:
A Blum 120+ hinge with a 0 mm plate and a 6 mm boring distance will give you 3/4"+ overlay.

---
From contributor H:
A Mepla ACC140 face frame hinge will give you 1" overlay and they are 2 way adjustable.
---
From contributor B:
The Blum Compact 38-N and 39-N do have a 3 way adjustment. They're not as nice as the clip hinges, but there is at least some depth adjustment.
---
From the original questioner:
Salice makes a nice one piece compact hinge that comes in many overlays. It has the same bore pattern as Blum. You can also change the width of the faceframes to make different overlays work.
---
From contributor S:
Is there a way to just build faceframes with narrower stiles and rails? To be honest, if someone delivered a cabinet to me with 1" overlays I'd assume they built or ordered the wrong size doors.
---
From the original questioner:
Normally I use 2" stiles with 1-1/4" bottom rails and 3 1/2" top rails for my faceframes (generally speaking), but on this job I will go with 1-3/4" stiles in order to have some meat on the frame and to get a closer hinge overlay to the next door. The overlay can vary all around the door.
For example, I have a wall cabinet with 3 doors the same size, if I want all the doors to be 1/4" apart including the adjacent cabinet, using 1-3/4" stiles, I will need 1 5/8 OL where the two cabinets meet. So far the best solution seems to be the Blum Compact 33 hinge, because it has the widest range of OL and its 2 piece. But it doesn't have 3 way (in/out) adjustment. The 1 piece Compact 39C is 1" to 1 9/16" OL but has some in/out adjustment. I may have to consider going with even narrower stiles. I haven't started building the cabinets yet, so any changes aren't a problem, but I want to order the doors soon so they will get here when the cabinets are ready to finish.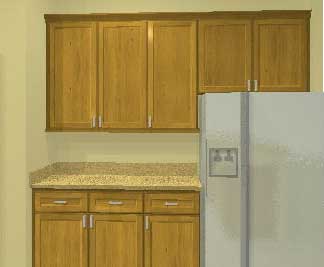 ---
From contributor M:
I'm wondering why you would make face frame cabinets here if you are just going to cover up the margins between the doors. Frameless cabinets may be an idea.
---
From contributor G:
I'm not set up for frameless unless I use an iron for edgebanding, and the parts need to be accurately cut and square and I don't have a slider. I've done frameless euro before and I'm not ready to do it again for now. Besides, ff is easier to install (for me). I've been looking at the displays at Lowes and etc and their cabinets all seem to be 1-1/2" faceframes with 1/8 reveal (1-3/8"OL) with the one piece hinge.
---
From contributor R:
If that's how you like to build them and the client doesn't care, then go for it. Blum's Compact 38C and 39C hinges have full adjustment, but not a lot.