Hinges for Inset Doors in Deep Openings
Working on a hinge problem for recessed doors. May 6, 2010
Question
Does anyone have suggestions for the best hinges for 1 inch thick doors inset 1" deeper than flush into the frame?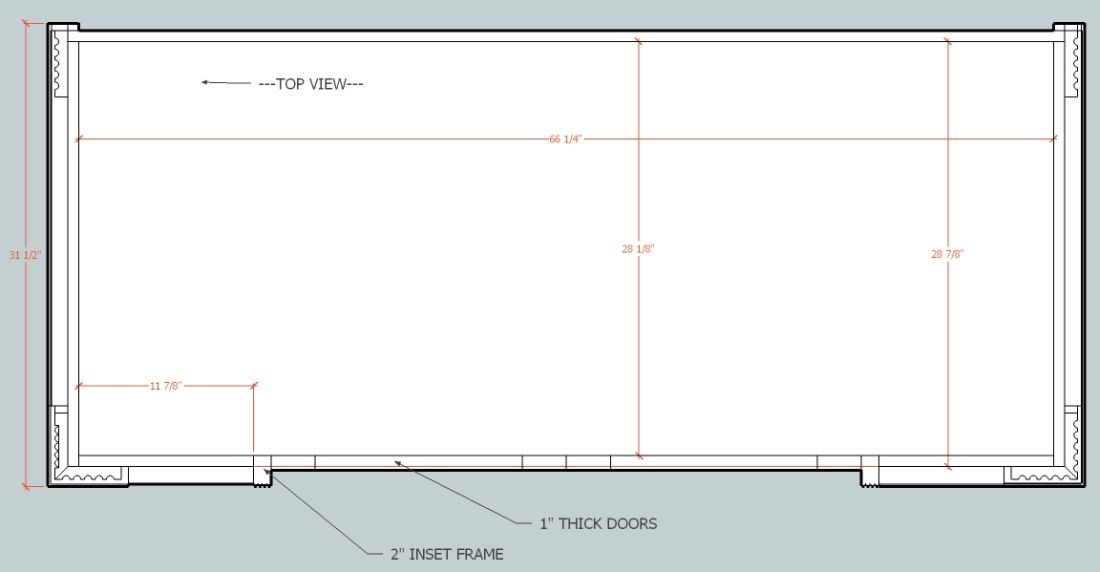 Click here for higher quality, full size image
Forum Responses
(Cabinetmaking Forum)
From contributor M:
It depends on whether you want the door to open past 90 degrees or so. For that much travel, almost any hinge, euro or butt, will do. To open farther, you can use a 165 degree euro hinge with a thick mounting plate for inset application. The hinge will throw the door out in front of the frame when you open it. If you've got a 165 degree hinge or a "zero protrusion" hinge (similar to 165 degree) in stock, go play with it. You'll see what I mean.

---
From the original questioner:
I have the Blum 165 degree and it opens around 110 degrees when it hits the opening. The Blum 120 degree opens 110 degrees also. I am looking for something better, if it exists.
---
From contributor J:
A butt hinge with especially wide leaves can do this, but they can be expensive and difficult to source. If the hinge pin is located at least 1/2" in front of the door (half the depth of the trim/inset) then you'll be able to open the door 270 degrees, i.e. flat against the cabinet front. If the hinge screw holes are located within the outer 3/4" of the leaves, you might be able to make the 2.5" x 2.5" size of the fixed pin solid brass hinges from Rockler work.
---
From contributor G:
Blum has a 95 degree thick door hinge that may work. Comes in straight arm, half-crank and full crank for inset. You could also try a 107 degree hinge with an 86 degree restrictor clip but it may not give you the opening angle you need. Call your Blum rep - he has a suitcase full of hinge mockups he can show you. If the 0 protrusion or 170 hinge is close, there is a restrictor clip for those that stops them at 130 degrees.
---
From contributor B:
The mention of butt hinges reminded me of parliament hinges, which are typically used for casement windows.
---
From contributor J:
I think contributor B nailed it. A smaller size parliament hinge (3" wide when open) would work perfectly, so long as you don't mind some finicky mortising.