Holding Down Small Parts on a CNC
Making vacuum work: details on gasket, pod, and custom spoilboard techniques for holding small workpieces down on a CNC table. February 1, 2015
Question
We want to trim doors to size and hold down small hardwood parts on our nested machine to work on them. A small door is 9"x20" a small hardwood piece is 10'x30". We have a 10 hp vacuum pump and I can get a second 10hp pump if needed. I'd prefer to avoid dedicated spoil boards if I can. What is the best approach?
Forum Responses
(CNC Forum)
From contributor W:
I use 1/4 x 1/16 gasket material from All Star Adhesive.

---
From the original questioner:
Do you use that on a dedicated spoil board?
---
From Contributor W
:
Not usually I just run the outline of the part on top of my spoil board and apply the 1/16 thick gasket right on top of the spoil board around the inside of the cut. If I need more holding power I drill a hole into the vacuum chamber. When Iím done I fill the hole with a hot glue stick and if I am machining rough lumber I might use 1/8 inch instead. It is too much of a hassle making and storing dedicated boards. Every time I make dedicated board they end up getting thrown away because the next time I set up I will have thought of a better way to do it.
I do mostly architectural mill work and every job is different. I normally run two boards 3/4 spoil board and a 1/4 to 1/2 inch waste board. My spoil board usually lasts a year and the waste or handling boards the same. Don't forget about tape. I use it all the time to hold down doors and irregular plywood. I use clear packing tape. Place your part and run the tape around the perimeter. Every once in a while I will open up a loose knot or void and just put a piece of tape over it.
---
From Contributor H
:
Most of what we cut is hardwood parts and we do it with screw down vac pods onto an MDF spoil board. It becomes time to replace the spoil board when it is chewed up with screw holes vs. worn down by multiple fly cutting operations. To hold parts you'll need a rotary vane or similar vacuum pump that will pull 18" minimum, with 24" being better. However you need a very low CFM flow so these pumps can be picked up for as little as $100 in non-industrial models.
If you are only doing a few parts you can hold a piece of MDF down on your existing bleed board system and then screw the pods down to it. We locate parts with a SL Laser but used to do it with a magic marker mounted in a tool holder that drew out the part. Just screw the pods down between the marker lines, set the part on the pods, turn on the vac pump and you're ready to go. This is a tried and true system that we've been using for over ten years. Itís very fast and efficient too. We generally spend perhaps two or three minutes setting up for each custom shape we cut.

---
From the original questioner
To contributor H: Can you give me more information on a source for SL laser (is that straight line?). If it is straight line how does that work? I'd also like a source or more information on screw down pods.
---
From Contributor H
:
The SL-Laser projects the shape of the part that is going to be cut. It can shoot a straight line but it is not a straight line laser like you find on saws, etc. There are two manufacturers of these that I know of: SL-Laser and Carter (as in band saw bearing guides).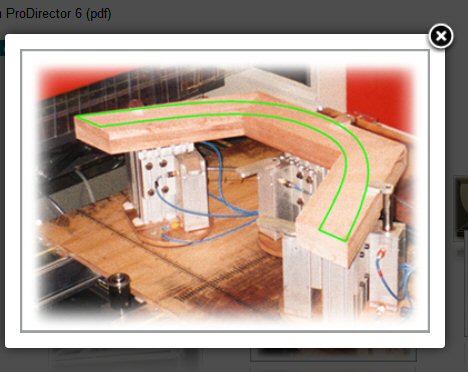 Click here for higher quality, full size image
---
From Contributor H
:
I made my own oval shaped vac pods years ago and have actually posted photos of them here on WOODWEB. Check out the Knowledge Base link below.
---
From Contributor W
:
To contributor H: Which model SL Lazer do you have? Does it mount on the ceiling or on an arm over your cutting table?
---
From Contributor H
:
I have an earlier version of the Pro Director 6. It looks the same but there are probably some internal differences due to mine being six or eight years old. The SL-Lawer is mounted to the ceiling about approx. 7' above the table surface, above the back right hand corner of our 76" x 126" CNC. The laser just covers the entire work surface from that height.
---
From contributor K:
To the original questioner: We use the matting shown in the video below to hold hardwood parts. You stick the mat to a waste board then just drill holes through the mat where you want a hold down fixture. It is available through Thermwood or All Star Adhesives.
If you are seeing this message, your version of flash needs to be upgraded to view this video.
Click here to get the latest version of the Flash player.