In Praise of Old-School Bench Vises
Some simple but clever old iron that still works after many decades. Gotta love it.December 2, 2011
Question
One of my friends brought bench vise below to my shop for us to use. It was made by Columbian vise company in the USA. This is the most well made bench vise I have ever seen. It weighs around 40 pounds and itís made from hardened steel and heavy cast iron.
The amazing thing is it has a locking mechanism that rotates 180 degrees after loosening the clamp allowing it to freely slide. When you tighten the clamp the mechanism rotates 180 degrees into the locked position and is easy to tighten. The mechanism is very smartly designed and heavy duty, unfortunately the heavy brass threaded sheave that mates to the acme screw is about half worn, a testament to how much use is has seen. My friend told me that he regularly used it to bend heavy steel pipe and as an anvil for shaping steel bar. It is built heavy.
It is nice to have something like this in the shop to remind me of another day when carpenters really shaped wood with their hands and the engineers designing our tools were craftsmen and not just CAD engineers. I tried to take a picture of the rotating mechanism, but it is hard to understand how it works without seeing it in action. It is simple genius.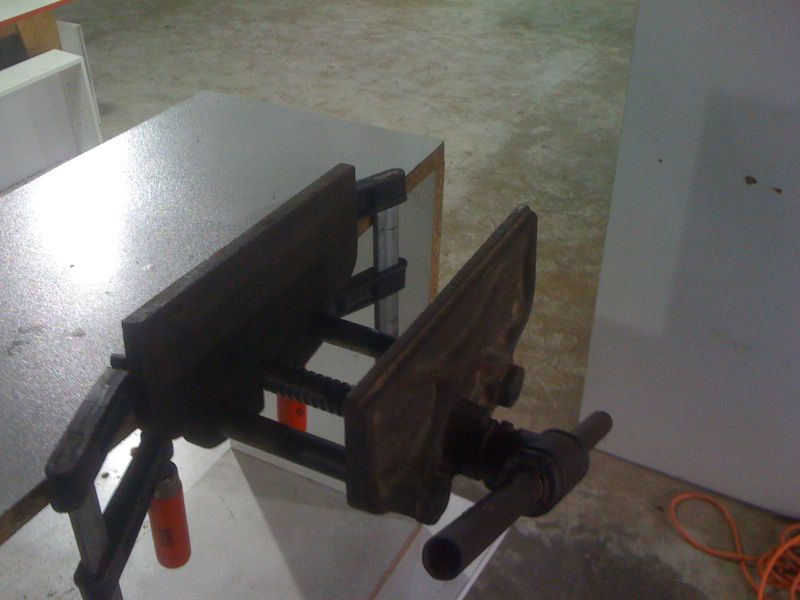 Click here for higher quality, full size image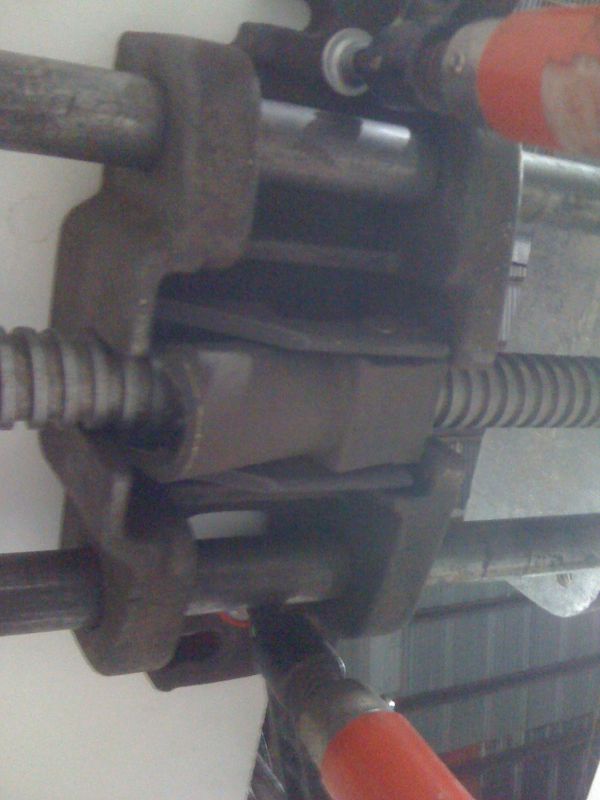 Click here for higher quality, full size image
Forum Responses
(Cabinetmaking Forum)
From contributor Y:
I have a very similar one made by the Rock Island Mfg co. Rock Island, Ill. Patent July 3, 1906. It looks almost identical to yours and the threading device is a bit worn also, so it doesn't always catch but it is still serviceable and I use it regularly. That we should only have a few warn parts after 115 years of use!

---
From the original questioner:
I am familiar with Record but I never saw their high end vises in real life. You are saying that they have this rotating mechanism that allows free sliding of the jaws in both directions? Also this design allows the vice to be tightened in a ratcheting motion. I know Record has a bench vice that allows rapid opening, but this mechanism allows rapid opening and closing then instantly engages the screw when the handle is turned in the tightening direction. I wonder if I can buy a replacement for the threaded brass sheave? I am really impressed with this tool. It reminds me of working with my dad when we still used jack planes and hand saws on the job site.
---
From contributor L:
That's just standard fare in just about every shop in the country. Those wood vises are the most handy tool in the shop. The free slide in two directions is what made them so popular. We have four in our shop. We face the jaws with 1/4" maple to protect the work piece. Some came with wood faces. You are right though - they are remarkable!
---
From contributor A:
My Jorgenson slides in both directions as well. I guess itís one of those things that you think is so cool it must be unique. However, the reality is they have been making nice vises for a long time.
---
From the original questioner:
I had a Jorgeson and a Colombian in my old shop. I have used the Veratas and I think the Record vises in shows. But I have never seen one with this contraption to automatically lock the screw. I am sure it is standard fare in older shops, but I never seen one like this. It is nice to know that in the age of CNC and CAD we still find use in these simple tools.