Ingenious Hidden Pantry Idea


This technique for disguising the doors to a walk-in pantry as a large cabinet is as slick as a whistle. March 6, 2006
Question
I have a customer who would like a pantry to match the maple cabinets. In the past, all the pantries Iíve seen are stick framed and drywalled. What is the building procedure for such a cabinet? How wide do you make the cabinet door? Is 24 x 80 too big for one cabinet door?
Forum Responses
(Cabinetmaking Forum)
From contributor A :
I try to let them stick build and drywall the pantry, then conceal the opening. These doors lead into a walk-in pantry. I build about a 32"w x 78"h opening in the face frame. I usually build two pair of doors but attach them in the middle and swing them as a pair of doors. This was my first one and I found that doors these sizes tend to warp more than building four doors and hinging them as a pair. Nobody would ever suspect a pantry behind this pair of doors. People love it. I've got pictures of these doors open if you want to see how it looks open.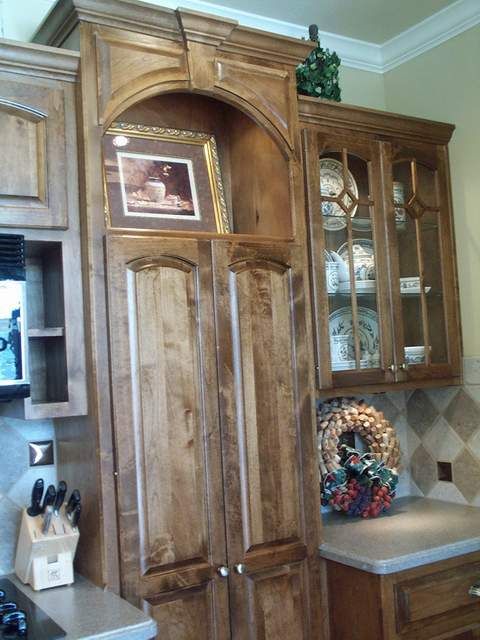 Click here for full size image
---

From contributor B:
Very ingenious. How big is the room behind the doors? You could have upgraded those doors to a 1-1/8" to help stop the warping. Is that Alder?

---

From contributor A :
Yes, the cabinets are alder. This pantry is about 7 x 10. I've done several of them this way. Iíve got one in the shop now where the pantry is about 6 x 12. People who see it love it. On kitchens where I can't do this because of the way the kitchen is laid out, I've been known to wrap the walls with 1/4" veneered ply finished to match the cabinets. I build a face frame and doors so everything ties together. People who spend decent money on beautiful cabinets don't really like a white masonite door stuck in the middle of the cabinets. I've found that touches like this are big drawing cards. They see me going the extra mile to give them a beautiful kitchen, and they don't mind paying a little more.

Here is that pantry opening with the doors open: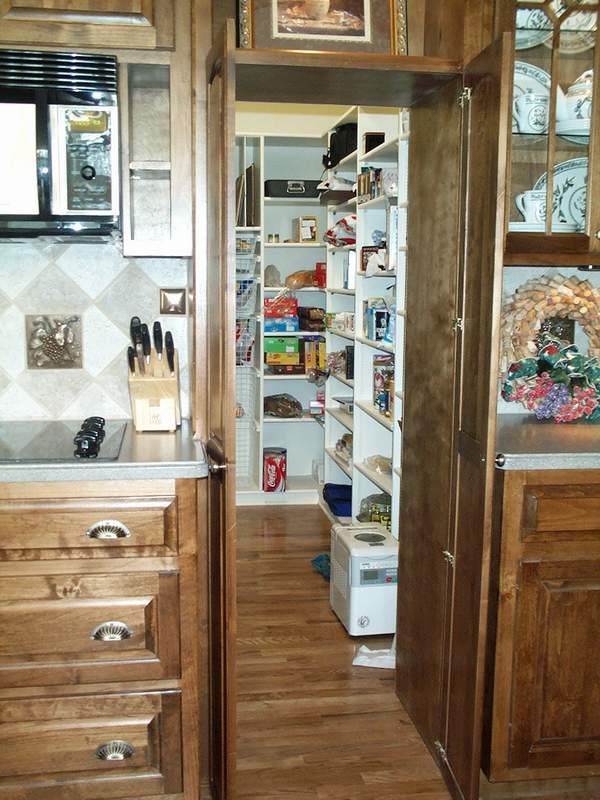 Click here for full size image
---

From contributor A :
Here's another idea. The pantry is to the right of the oven. I wrapped the walls with 1/4" oak ply up to the height of the top of the adjacent cabinets, and ran crown across the top of the oak ply. I made face frame and matching doors. The homeowner was going to put a white 6 panel masonite door over the pantry, but I insisted we do this. When we got done, he was very happy with the result.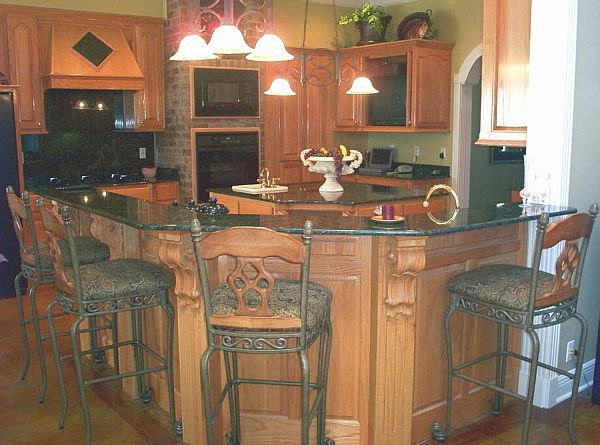 Click here for full size image
---

From contributor C:
I suspect you didn't just wake up this morning and decide you were going to start building cabinets today. The idea of covering the entry to the pantry that way is by far one of the nicest I've seen.
---

Would you like to add information to this article?
Interested in writing or submitting an article?
Have a question about this article?

Have you reviewed the related Knowledge Base areas below?

---



All rights reserved. No part of this publication may be reproduced in any manner without permission of the Editor.
Review WOODWEB's Copyright Policy.

The editors, writers, and staff at WOODWEB try to promote safe practices. What is safe for one woodworker under certain conditions may not be safe for others in different circumstances. Readers should undertake the use of materials and methods discussed at WOODWEB after considerate evaluation, and at their own risk.

WOODWEB, Inc.
335 Bedell Road
Montrose, PA 18801

Contact WOODWEB Copyright © 1996-2021 - WOODWEB ® Inc.