Inserting Glass into a Wood Entry Door
Woodworkers describe techniques they've used to put glazing into entry doors. April 3, 2012
Question
Please check out the drawing below. The customer wants a smaller piece of decorative glass (15" x 29") and the only way (at least, how I see it) to fit it in is to place it inside of a large raised panel (approximately 30" by 40" tall). Is this a bad idea? The door is under an a-wing and painted. I'm planning on stave-core with Spanish cedar skins. The door is 40" wide by 80" tall.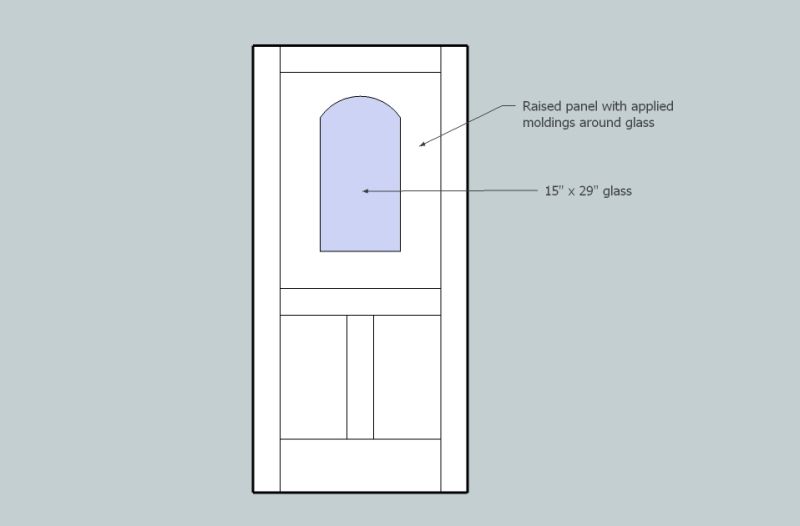 Click here for higher quality, full size image
Forum Responses
(Architectural Woodworking Forum)
From contributor L:
I'd bet the panel will crack. Why not do mullions?

---
From contributor M:
I don't see why that wouldn't work. You may consider a three ply panel using 1/4" ply in the middle for strength. That layout works for a speak easy.
---
From contributor D:
Looks common enough to me - no real issues. Panels about this wide (30") though, are about where we start suggesting they be flat plywood instead of raised solid. I don't know why Cedro Oderata is so popular. Khaya looks similar and you don't taste that bitter aspirin when you work it, especially if it's going to be painted. The design though is proven, at least in my experience, as we've built thousands of doors with speakeasy openings without any callbacks.
---
From the original questioner:
I was thinking about this more and could engineer a stave core raised panel to further combat disasters with seasonal expansion. Contributor D - do you have any pictures you could post of speakeasy doors you've built? My customer isn't 100% sold on the design and would like to see it before giving me the go-ahead.
---
From contributor G:
You should give more details about panel and glass. For example, the thickness is very important.
---
From contributor Y:
I agree with Contributor M - two or three ply panel. I do this with oval glass inserted in the panel, no moulding on either side. I use butal tape on the glass then pin the center 6" of panel together top and bottom before mounting in the door.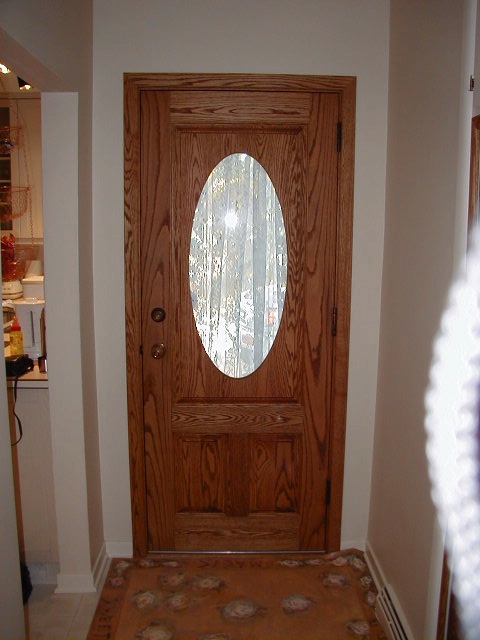 Click here for higher quality, full size image
---
From the original questioner:
To contributor Y: So the glass is sandwiched between the outer and inner panels? How would this be replaced if the glass breaks?
---
From contributor Y:
Yes the glass is sandwiched between the inner and outer panels. I loose mould the panel in to allow for removal. You could install with tight mould and route off the stick mould if you need to remove but I prefer the loose mould.
---
From contributor O:
We do this two ways, with wide variation of both depending upon design and glass, etc. One way is to frame the glass opening with stock at the same thickness as the adjacent stiles and rails, and what width looks best. This will make perhaps four odd shaped panels around the frame/opening instead of one large panel with an opening. Then the glass opening in the frame is stick molded on the exterior side and rabbeted on the interior so glass and then stops can be added.
Another way is to cut the opening into a thick panel - solid is fine, or tongue and groove. Then make a rabbeted molding for both sides of the opening that can be attached to the panel centers (and about 6" of width) from the outside. This will allow the glass to go in from the inside and the molding will then stop the glass in, or the molding can go in and create a rabbet for the glass, then the stops go in. The idea is to float the glass frame assembly in the panel with the rabbets. This is the way the glazed speakeasy is done in the photo below.
Either method allows glass service. Without easy/obvious glass service, the door can be rendered disposable. We see glass failing much sooner and more frequently than the surrounding door.
I have historic evidence of light wood stops tacked into solid wood openings (usually no larger than 12 x 18) to hold either art glass panels or single lights of glass, non- insulated. They condensed and leaked, but that was the norm 120 years ago.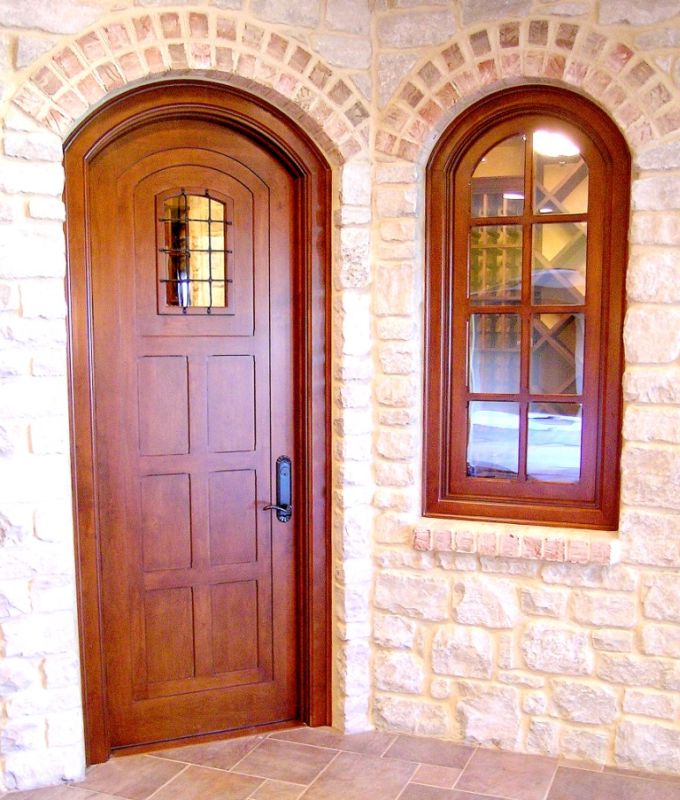 Click here for higher quality, full size image
---
From contributor H:
Have you ever painted Spanish cedar? Are you aware of its bleed-through characteristics? Stain killers work somewhat, I just need to re-paint it every two-three years. Also, the panel should be done as Contributor D suggests, just be sure that the inside of the trim is secured in such a manner that it can be removed. Otherwise this is a fairly standard door.