Installing Built-Ins Over a Pocket Door
How do you fasten a bookcase to a wall when there's a pocket door in the wall? Very carefully. June 11, 2014
Question
(WOODWEB Member):
I have a bookcase/desk built-in that will be installed on a wall. There is a pocket door located in the wall where the built-in will be. Has anyone run into this situation?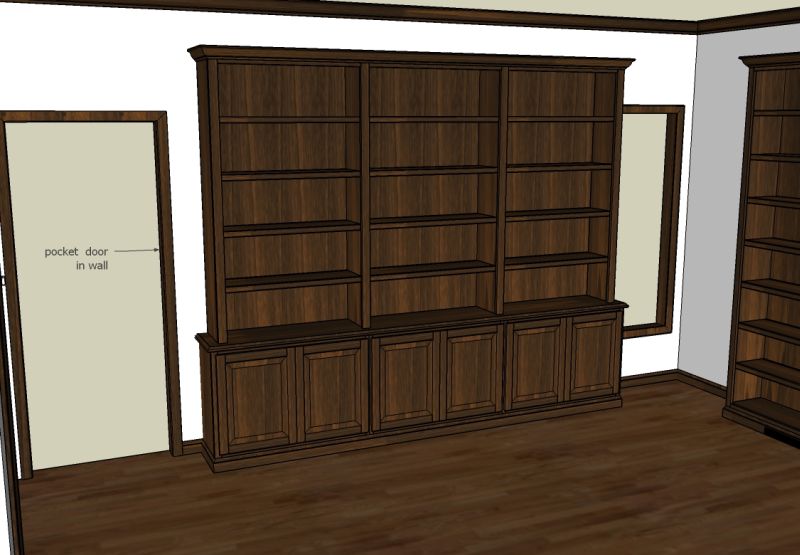 Click here for higher quality, full size image
Forum Responses
(Cabinet and Millwork Installation Forum)
From contributor J:
Fasten it to the wall behind the crown and above the door?

---
From contributor M:
The door is only so wide, so you can secure most of the bookshelves and use liquid nails where the pocket is. Also, you can put screws above the door height.
---
From contributor N:
You can fasten above the door and if needed to the floor. There is usually horizontal framing in the pocket area. If you could figure out the right length fastener that will not protrude through the framing, you could fasten to that. Just be sure your screw tip does not protrude into the pocket or when the door is slid, it will gouge.
---
From contributor R
:
Make sure door is closed first, then gently open and see if anything catches. We sometimes use EZ anchors in the drywall too, and use shorter screws to lock into the anchor. We will drill the EZ anchor in gently, unscrew it, cut the drill tip off, screw it back in, then screw the unit to the anchor.
---
From contributor T:
I have installed 3/4" dead wood in behind the drywall when the door is not installed. Remove the door for access if needed. There is a wood faced metal stud as part of most pocket door systems that is about 3/4" thick by 1 1/2" wide and in the case where I need to pull the drywall tight to the cabinets and the studs don't land where I need them, that is what I do.
---
From contributor C:
I don't get it. Why don't you just use screws the length of your back plus sheetrock and studs? If it's a big box pocket door frame, then it's a 3/4" flat stud. Use longer screws where there is more substantial framing.
---
From Gary Katz, forum technical advisor
:
There's always flat 1x4 or something inside a pocket split wall. After all, the drywall must be fastened to something. The biggest problem I foresee is that after you've installed that case, and you've been really careful to miss the pocket door by using short fasteners, and placing long ones only above the door - remember there's a nice header in there you can fasten to - you're going to relax and install that short piece of baseboard with 2 1/2" nails and the door won't come out of the pocket. I've done that too many times to count.
---
From the original questioner
:
Thanks for your responses. Right after I posted this question, I thought, "duh, there has to be something behind the drywall." I am glad I still posted it to hear how others would do it. Thanks, Gary, for the reminder about the baseboard. That is why we study history, to avoid mistakes made in the past, correct? I probably would have shot the nails in without thinking.
---
From Gary Katz, forum technical advisor
:
If you're anything like me, you probably still will.
---
From contributor Q:
I love it when we start a house with pocket doors (last one had seven) and you remind everyone to watch for the base, even mark it out on the floors, just to have all the closet cleating lock them in!
---
From contributor K
:
If you don't want to take the door out, make sure you close it prior to installation. I would remove it myself, it's not that difficult. And you can easily spot where the cross members are. And remember you only have about 1/4" of leeway for your screws to protrude. Anything over that you risk marring the pocket door.
---
The comments below were added after this Forum discussion was archived as a Knowledge Base article (add your comment).
Comment from contributor A:
We constructed our house with all interior pocket doors. For new construction adhere sheets of plywood to the drywall between the metal uprights on the wall that will have attachments made to it. Glue or construction mastic will work. I used half-inch plywood but different pocket door hardware may allow or require different thicknesses. If one knows where attachments will go, flanged stamped Tee-nuts can be installed first. These come in a variety with three small holes in the flange through which one can put brads or very short nails. I did this where a closet pole holder was to be placed. An option is to drill out the holes a bit and attach the flange to the plywood with very small wood screws. We completed this 27 years ago and the results have been flawless. I once did pull-ups on the steel closet pole!