Installing Crown Moulding Around a Bullnose Drywall Corner
Pros advise turning the corner in two joints. November 19, 2005
Question
How do most of you trim installers run crown moulding around a bullnose corner bead?
Forum Responses
(Cabinet and Millwork Installation Forum)
From contributor L:
Just like a square corner. Fill the hole with caulk (probably multiple coats) and paint the caulk the same as the wall. Otherwise, you could spend mega amounts of time and make a small section of crown with the same radius as the bullnose corner. Probably only cost you $150 a corner. (LOL.) The other option would be to return the crown before each corner and not even go around it.

---
From contributor J:
22 1/2 degree angles twice. Very easy to do - leaves very little to caulk. No way it will cost 150.00. I charge 15.00 per cut extra.
---
From contributor S:
Don't treat it like a normal 90 - that will look like crap. Cut 22.5 angles and install a small corner piece on the bullnose.
---
From contributor B:
I'm with them on the 22.5 degree cuts. A "clipped" corner on round looks better than a square one.
---
From the original questioner:
Thank for your advice. The reason I asked: the existing baseboard is installed as contributor L mentioned in his above post. The homeowner has no clue how this crown should be run, so it's a matter of conscience on my part - also a job with my name on it.
---
From contributor R:
If it was good enough for the base, then it should be good enough for the crown; what's good for the goose is good for the gander!
---
From contributor Y:
And, if you treat the crown differently, it might make the baseboard really stand out.
---
The comments below were added after this Forum discussion was archived as a Knowledge Base article (add your comment).
Comment from contributor O:
Below is what's known as a Knowleton Corner. Miter the corner like a normal one, dado the back of each to receive a backwards piece of plain old coving, slide it in and nail it. Itís pretty enough to stain, let alone paint.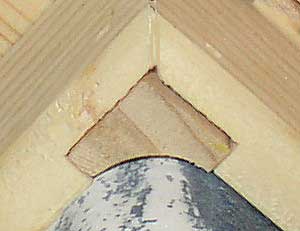 "Photo by Joe Skopec and Pat Knowlton."