Keyboard Pullout Drawer Front Hardware
Pros discuss drawer slides and drawer front mounting for pull-out keyboard trays. August 29, 2006
Question
I'm looking for a good method to put a drawer front on a keyboard pull out. It needs to fold down to allow use of the keyboard. Does anyone have a shop made design that is working well?
Forum Responses
(Cabinetmaking Forum)
From contributor A:
I have used a drawer slide with an incorporated hinge on the end from rocklerpro.com. I believe cost is about $5-$6 per unit. Part #211183 Works smoother than anything else I tried. I would not recommend it for heavy office use, but it works well for a home computer desk use.

---
From the original questioner:
That one looks like one I have tried. It seemed a little snug and had to be installed just right for it to work. Even then it was not as good as I was hoping for. Iíll keep looking.
---
From contributor B:
I have been using Blum Compact 38N hinges on the bottom of a drawer front so it will drop down and then build a thin drawer with Accuride 3832 drawer guides to slide out over the front. It works pretty nice.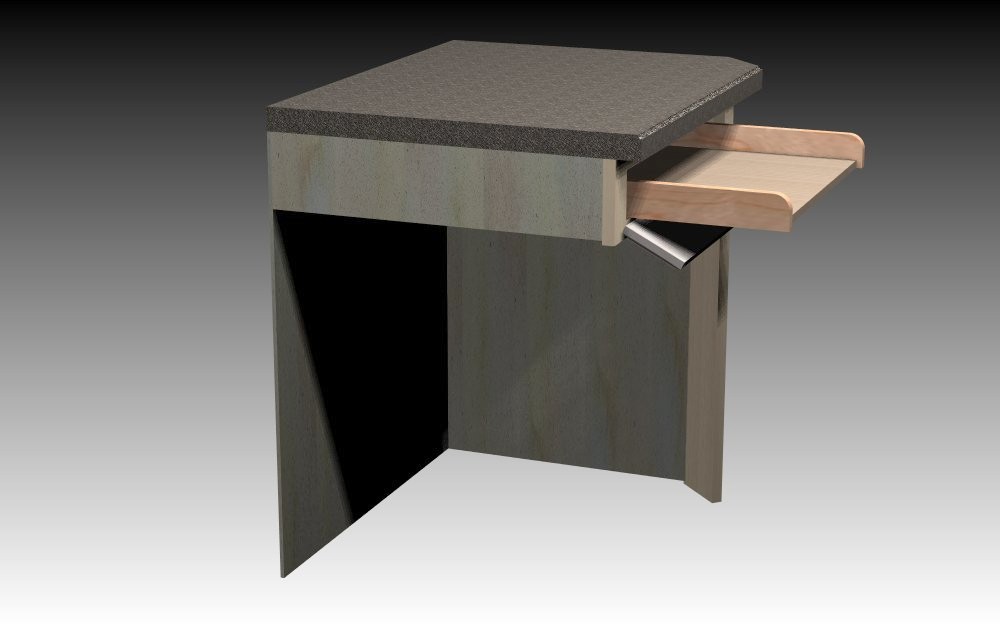 Click here for full size image
---
From contributor C:
I built a computer desk, more like a piece of furniture, with turned legs with about a 4-1/2" apron. I made a keyboard tray from plywood and installed with K&V keyboard slides to the bottom of desk top. To conceal the keyboard when closed, I installed butler tray hinges on a section of the apron so that it folds down to allow the keyboard tray to slide out. I put two pulls on the front so it looks like a drawer.
---
From contributor D:
I like to use the mortised nickel plated adjustable flap hinge with a full bread-board bottom as a positive stop for the drop face and then use the "Accuride lock-stop" slides that can be mounted horizontal to the bottom of the pull out tray. The result is a very stable and positive keyboard pull-out.