Kitchen and Cabinet Crown Molding
Matching the molding details when cabinets meet the ceiling. May 4, 2005
Question
When installing upper cabinets all the way to the ceiling, what do I do where the cabinet crown meets the ceiling crown? Stained cabs with painted trim. Do I run matching crown around the whole kitchen? Will this look right with the rest of the trim being painted? I've never run into this before. The cabinets have always been lower with high ceilings, or I have done white cabinets and run matching crown the whole room. I build mostly furniture, but I'm gearing up for mostly cabinets. With most remodels having 8 foot ceilings and customers wanting a tall upper case, what's the best solution?
Forum Responses
(Cabinet and Millwork Installation Forum)
From contributor R:
The best look, I find, is to run the crown continuous around the kitchen. This may mean blocking down the uppers a couple inches and using a wider crown than a lot of cabinets get (and finishing to match). I feel it gives a more uniform look. The alternative is to pop off existing crown next to uppers and doing returns, just shy of cabinets and running cab crown to wall. This is a fair extra dollar in labor. When explained to customer, the extra involved and the better look with continuous, and the price difference (which won't be that much more, considering the cost of kitchen), it is just a little salesmanship. Another alternative is to cut crown just enough to install cabinets, then scribe cut cab crown into wall crown, which I don't feel looks as good, since you're usually dealing with two different sizes and styles of crown.

---
From contributor T:
If I understand you correctly, you're having to tie the stain-grade crown of your cabinets into a paint-grade crown in the rest of the room. My solution to this has been to put a square stain-grade block at the inside corners where the stain-grade and paint-grade crowns meet, making it slightly bigger in all dimensions than the crowns, so there is a flat surface for both of them to butt into. This creates a neat separation and looks better than having the two crowns meet at 90 degrees and change color on the joint.
---
From contributor M:
Quite a few of our built-ins are run to the ceiling. You can either run same finish trim all the way around or, like this bathroom, run paint grade around the rest of room. Either way, it really adds to the look. If you can't match details, you don't want to run any crown around room at all. Nothing looks worse than one kind of crown on cabinets and a different detail running around room and being coped in.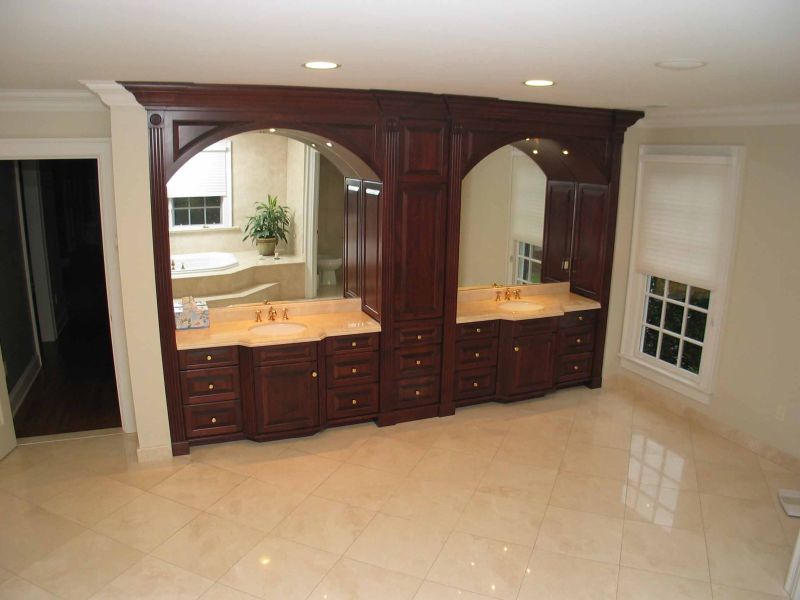 Click here for full size image
---
From the original questioner:
Thanks for the help. If I run crown the whole room, I just need to charge for it. I like the block idea. Sometimes I like using a wider/detail crown on cabs. That really wouldn't work with the rest of the room. I have seen a lot of crown that was installed upside down so coping would be tough. Now I have more options. By the way, nice cabinets above.
---
From contributor A:
I usually cope my crown into the trimmer's crown, but if you're the one doing the trim, I would run it like the picture above.