Log Handling Solutions
Loading and turning monster logs can really knock a small bandmill around. Here are tips on some subtle forms of log persuasion. February 12, 2007
Question
I have a Timberking 1220 bandmill. Like all small mills I know of, the mill is leveled by threaded rods 8" long or so. I have my mill on five 8"x9"x4' white oak blocks. The leveling feet sit in a 1/2" deep routed circle, so the mill can't slide if knocked, and the bottom of the metal foot has a hole drilled in it with a 4" lag bolt through it so the threaded rod can't spin. The mill is stable and level when cutting logs under 15" and shorter than 12'. Most of my sawing is on bigger logs (working on 5000 bf of 16'x30" poplars now!).
I load all my logs with a Hiab grapple that has 20' of reach and opens up a little more than 5'. The problem is that the mill setup gets knocked around when handling large logs, causing sawdust to get under the mill's level blocks, causing everything to lift up. When I start sawing, I have to flitch 2-4 slabs (to be edged later), then flip the log 180 degrees and take off another 2-4 slabs (also to be edged later). Next I flip the log 90 degrees and either: 1) Take off the top piece of the log and proceed to cut boards as low as I can until I'm close to the log dogs, then flip the remaining cant and saw up the last of the log (besides boards to be edged), or 2) After flipping the log 90 degrees, simply cut the whole piece in half, then I'll be able to saw two cants at once, doubling production, but this only works when there is no tension in the log so the boards remain flat.
There is a lot of handling and moving with the grapple with plenty of opportunities for the grapple to knock the mill around. I am losing too much time re-leveling the mill, and need a solution to keep the mill stable, because it is going to get tapped all the time with the grapple and the logs. It doesn't matter how graceful you are with the hydraulics, things happen. High production is hard on a small mill, but I'm making 800-1400 bf everyday, and making very good money doing so. The idea is to make this mill last and make money for a fully loaded 2" band mill. A concrete floor isn't an option. Has anybody ever done anything like this with a small mill? Also, anybody ever use one of the chainsaw mounted log debarkers?
Forum Responses
(Sawing and Drying Forum)
From contributor R:
Make a log deck to set the logs on and then roll the logs on the mill.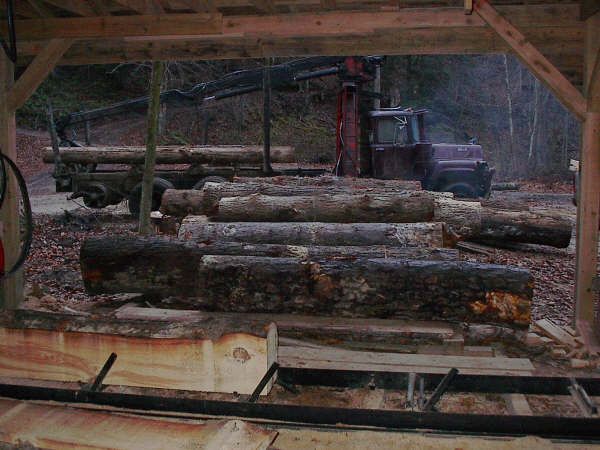 Click here for higher quality, full size image
---
From contributor P:
Contributor R's idea may sound just too easy, but he is dead on. Two big rails to set those logs on will allow you to gently roll onto your mill. The rails can be as simple as a couple of 12" logs or as elaborate as you want. A scrap or slab laid across the two can act as a brake, so that only the log(s) you want move when you want.
A good peavey and a heavy bar like either a railroad bar or a cheap digging bar from a place like Harbor Freight or Northern Tool can help you tremendously. There is a proper place for the big equipment and one for a little finesse. Huh, never thought of a peavey as an implement of "finesse," but in this case...
---
From contributor R:
Also, the chainsaw log debarkers won't do the job all that well. Get a 3000 psi or bigger pressure washer. When I get the logs on the log deck, I wash off a few at a time.
---
From the original questioner:
I always power wash muddy logs, but am concerned about saturating the ground with water under the mill, and then having it freeze with winter approaching. Could it possibly cause movement to the mill being level? If so, I'll have to set aside an area to wash them before they're close to the mill. For whatever reason, my logger has been bringing in lots of muddy logs lately, so I resorted to power washing. If there is only a little mud, I'll just blast it with the compressor cranked up to 150 psi, and it works really well, just not when half the logs are covered in mud.
Still, a log deck constructed of large beams has huge advantages and I am going to make one very soon. Flipping the logs is still an issue to knocking the mill around, though. Guess I'll just have to turn down the larger logs from now on.

---
From contributor R:
I just flip the big logs over with a cant hook. The water from washing the logs off on my setup doesn't get under the mill. The ground is sloped away from the mill and I also have a trench in front of the mill for water run off.
---
From contributor T:
I have used the chainsaw debarkers and can tell you the problem is that they are shipped with the knives set at a minimum exposure. Once they are properly adjusted, they work just fine. It would be nice if you could find a way to try-before-you-buy. You need the type of bar adjuster that is built into the head. Those that are built into the bar won't hold. You have to drill 2 mounting holes into the bar. This takes a very hard drill bit. I'm pondering whether you could set posts into the ground to a depth, say 1', below the frost line. Then set your mill on the tops of the post. It seems like a lot of work digging the holes, but it would have a side benefit of making it easy to clean under the mill. You would probably need to concrete them in so they could take some heavy hits.
---
From contributor H:
I have a Timberking B-20 fully hydraulic with log loaders and chain turner. I too have had this problem because I routinely cut 21' X 18-26" green pine logs. Since I wanted to keep the mill mobile, I leave the wheels attached and do not have a permanent setup at my site. I was using a Cat backhoe with forks to set the really heavy green logs on the mill and used to knock the mill around when the logs rolled off the forks onto the mill. (Some of the green logs weigh too much for the log loaders to lift.) I solved that problem by placing a set of log ramps to the mill and now use the backhoe to roll them up the ramps and gently onto the mill. You do have to set the ramps even with the log bed so that there is no drop or catch when the logs reach the level of the bed.
My other problem was that the logs always have to be pushed forward or backward on the bed. When I tried to push or pull the logs with the backhoe, I always knocked the mill around on the jacks and had to re-level. I solved that by using a 12 volt winch with a snatch block mounted to the mill to pull the logs back and can move the winch to the other end to pull the log. This has saved me a lot of hassle. I am getting ready to mount a hydraulic ram that will push/pull to make it even easier.
With these heavy logs, my chain log turner is unable to turn the logs. I made up a casehardened spike with a 10' length of chain. To turn the logs, I just drive the spike into the log near the bottom and use the backhoe to lift the chained spike and it gently turns the log without tearing up the log like the chain turner did. I turn the log very gently to keep from jarring the mill.

---
From the original questioner:
Just this week I drilled four holes in each of the five blocks my mill sits on, and pounded rebar through them about 30". The mill is so much more solid, it's incredible, and I recommend it to anybody with a small mill. I have yet to find out what will happen in the winter with ice possibly moving the ground, but if anything happens, I only have to unbolt the mill from the blocks and turn the legs a little, now that the blocks aren't going anywhere. No big deal.
Contributor H, I wonder if you could use a bottle jack between the mill and the log end to slide it forward or backward. I use a bottle jack all the time to level out logs and center the pith on large straight logs all the time and it works well.
I feel my Timberking 1220 is the best small manual mill out there. I ran 4 other mills over 5 years before I bought the 1220. It wasn't designed for production, so things tend to break. Every time something breaks, I beef it up a lot. I am curious how well built your B-20 is. Sounds like the hydraulics are as bad as their customer service.

---
From contributor H:
I tried the rebar idea just now and it does work great. Thanks for the suggestion. I hope you didn't get me wrong about the sturdiness of the B-20. I looked at a lot of mills before deciding on the Timberking B-20! I have a very large ranch in the Sierra Mountains with millions of board feet of pine, spruce and Doug fir. I use the mill to make green lumber for very large barns and outbuildings. The logs I use are big, green conifers, literally dripping with water, and they are heavy. I also have a 24 foot extension from Timberking which allows me to cut up to a 54 foot beam and believe me, those are heavy also. I really have not had any problems with the B-20.
True, the mill cannot lift or turn the really heavy stuff, but I am really pleased with what it has been able to provide me with. There is no problem lifting, turning or cutting 16-18 foot 24-30 inch logs. I love the mill and also find myself beefing stuff up as I go. I guess if you are into that kind of thing, it makes the process more fun. It seems that most sawyers with mills have added their own beef-ups and add-ons. (I have seen some really weird modifications made to mills that only the owner thinks are necessary. Come to think of it, maybe some of you guys could post some of your mods.)

---
From the original questioner:
Your location sounds like a sawyer's dream come true! Those big trees must be fun to drop. I shouldn't criticize their customer service so much. Before I switched over to .045 thick Timberwolf blades, I was using .042 Timberking blades (incomparable to Timberwolf's performance). I got a box of my resharps back from Timberking once and they didn't reset the blades. They did replace the box of six with brand new blades, but it was a week of down time. Since then, I always have more than 40 blades in the new to resharp to in transit cycle. Also, when I had only 75 hours or so on the mill, the idle side wheel bearing started to wear - I could shake it 1/8" in both directions - 1/4" of play! I called them up and they gave me a hard time (the mill was still under warranty). After arguing with a manager and eventually hanging up without getting anywhere, a brand new wheel and bearing showed up at my door a week later. I am thankful for Timberking always fixing problems, but I shouldn't have to go through the bull.
If your mill is so long, why do you have to push them forward or backward? I definitely get enjoyment out of beefing up my mill too. I can look back and think moowahaha in an evil laugh and see something won't ever break again!
My mill only came with three log dogs, so I made three more including some for a 6' extension. The throat adjustment clamp threads were 1/2". When they stripped at 50 hours on the mill, I changed them to 3/4". I also had an x-shaped brace welded onto the back of the 4 post mill head so it wouldn't rack anymore. It's up high and out of the way. I would like to figure out some way to move the v-belt out of the way so I could cut a 16" tall cant all the way to the bottom instead of only a 12". I would like to upgrade the 20hp Kohler to a 30hp. Oooh, the power!

---
From contributor H:
I have to move the mill all around the property. When I do, I take the extension off and only put it back on when I need to cut big beams. I used to try and cut really long 2x6 and 2x8 rafters, but found that they warp, bend and twist like crazy before we can get them nailed down and blocked. Since I use them green, we keep them no longer than 20 feet. That is why I need to push/pull the logs on the mill.
I have had this Timberking for about 8 months and have had no problem with customer service. I had two of my $75 quick release hydraulic fittings go bad, lost a fender towing from Kansas City to California, and a log lifter bracket twisted so bad it was unusable and they replaced everything immediately. I sent 12 blades for re-sharp and they never arrived there, so they replaced all 12 with new blades.
I am going to try the Timberwolf blades too - thanks for the suggestion. I too would like to figure out how to move the drive V-Belt out of the way. Maybe an idler roller and a longer belt?

---
The comments below were added after this Forum discussion was archived as a Knowledge Base article (add your comment).
Comment from contributor D:
I set my 1220 on 6 X 6 treated then adjusted the height to equal crossed 6 x 6 treated posts which make up the deck. Right now I'm using white oak slabs as ramps. They are long and strong and make a real nice incline to roll logs up onto the deck. I also use the deck to pre-clean and stack my freshly cut lumber. I have never had a problem with my mill moving. I will load large logs with the help of a 2,000 lb. A.C. winch. Its cable is wrapped around the log, and the cable is attached to chain dogs driven into the log (is a big help). The deck makes it easy to power wash the logs, and I can stage a days worth of cutting on the deck.

---
Comment from contributor W:
I have a small Hudson Mill. As for turning big logs I use a high-lift jack. I use steel pins in the ground to hold the mill. I have handled red oak logs up to 48 inch x 16 feet on this mill setup.