Lumber Choices for a Chocolate Brown Finish
Finishers discuss what wood species to start with when a deep brown color is the ultimate goal. July 11, 2009
Question
I have a client that wants some custom bath vanities and she wants them to look like classic old furniture with turned legs and curved doors on the corners. She says she wants a dark chocolate brown color on them. I have done some other cabinets in dark colors and have struggled a bit to get a color I like that doesnít hide the grain too much and still looks nice, without being blotchy. I may or may not go with a veneer depending on the budget, and the wood species is to be determined still, and I will have a say in what it is. I was thinking of either walnut, or even sapele, if they like either of these. But since I havenít done many dark pieces, I thought it would be best to get some input from folks here that may be doing this much more often. I appreciate any input you folks have regarding this project.
Forum Responses
(Finishing Forum)
From contributor L:
I would use a dye - raw umber, maybe with a little green. I have been spraying Mohawk. Most of my customers choose between more or less red or amber in the stain. VDB is good also.

---
From contributor R:
Another wood to consider is alder. Itís kind of hard to mess up the color be it a dark walnut color or even a light color. Either way you can use a dye stain and an oil based stain right over the top of it. If you had to do a little toning, both of those woods would accept a toner without ending up looking like an ebony finish. Just make sure to apply your tone coat in multiple steps so as to avoid a muddy look.
---
From contributor G:
I had a custom stain and shading lacquer mixed up that I call chocolate and I put it on maple. I condition the wood with non pigmented stain base, and then stain then the shading lacquer. You have to be careful with the shader - too much and you can severely obscure the grain. Sapelle' would be a good choice to easily make into a brown color since it is mostly there already.
---
From Paul Snyder, forum technical advisor:
Walnut is a good choice for a dark brown finish. It's already a dark colored wood and takes dyes and stains really well. Even on steam dried walnut, which washes out a lot of the color, it still looks good with a dark brown dye on it like the example in the picture below. You can use a darker dye if you want, or you can dye the wood and then use a brown stain over it to add more color or change the color of the dye. Do some good size samples to test the color and give your customer a choice. I'd only provide 2-3 samples for the customer to choose from and stick with a wood and finish steps that you are comfortable with.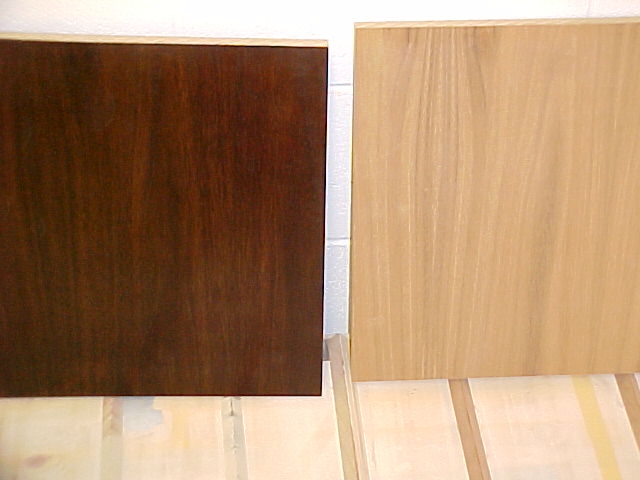 Click here for higher quality, full size image
---
From the original questioner:
I think I will show the client some walnut. She says she doesnít want to see a lot of grain, but rather a more monotone color in the wood. I suppose the alder may also work as well. I think the sapele may have too much grain variation, at least based on other projects I have done with it. Contributor G - I know what you mean about the maple, and so I am not sure how that would work out, but I think I will do a sample in maple as well as the walnut for the customer.
---
From contributor G:
If she wants muted grain, this is what she will like. You can see the grain, but you have to look. If you just glance at the wood the grain will not stand out. But they will know it is not paint.
---
From contributor C:
My favorite wood for chocolate brown is brown English oak - that said - you can make any white wood or light colored wood chocolate brown by applying a saturated solution of tannic acid allowing to dry and then follow with a strong solution of hematoxylin (log wood extract) less saturated LE will give different colors of chocolate brown - more will give almost a black brown - ebony type appearance.
---
From contributor B:
Take a look at some of the "new" roasted woods. I recently had a supplier give me some samples of roasted poplar, which looks very much like either a walnut or cherry depending on the degree of roasting. It is incredibly stable, rot and insect resistant, and cost effective. Just have to get used to the shop smelling like a house fire. I just finished some sample panels for a local shop out of roasted birch. Looked amazingly like walnut and it was a nice chocolate brown with nothing but a clear coat.
---
From contributor L:
What are roasted woods?
---
From contributor B:
Roasted are relatively new, at least to me. Under a vacuum they bring the wood to a near 0 percent moisture content. The wood is the roasted at about 100 degrees for I believe 24 hours or so. The wood, still under vacuum is then brought up to about a 6-7 percent moisture content. As a result of this the material is extremely stable and resistant to rot and insects. I did nothing but a clear coat on birch and an experienced cabinet guy guessed it to be walnut. The only thing you have to get used to is your shop smells like an old house fire.