Machinery Layout Ideas
Shop owners discuss ways to arrange a straightline ripsaw, molder, and wide-belt sander, and how to efficiently move materials from one station to the next. March 6, 2008
Question
I made the decision to buy a Weinig Quattromat and got a good enough price reduction to afford training from Weinig - which is readily available. Thanks for all the input. Next question is shop layout. I am interested in what others have come up with for layout relationships between straightline rip, molder, and widebelt and different ways to move materials - carts, conveyors, etc. - common pitfalls and cool ideas. We have done pretty well in our panel processing area, but the hardwood processing is still very rough and not lean.
Forum Responses
(Cabinet and Millwork Installation Forum)
From contributor D:
We put the Quattromat back to back with a Diehl SL 52 ripsaw. The two can share common catch tables/infeed/outfeed space. They feed in such a way as you can outfeed from one and infeed to the other. Both are located near the radial arm saw and lumber storage. We mostly cut length first - radial saw - then rip, then on to S4S. We also rip first, then S4S, so either way things are close together. If only a few boards are needed, the SL 52's massive table (like an aircraft carrier) will hold a goodly amount of material as it is ripped, then through the 4 head, and then stacked back onto the ripsaw or transport cart.
The wide belt is in the next "line" of machines (with a large joiner and a planer), so is close at hand. The molder is about 20' from the fan and fan inlet, so molder dust collection is tapped off a 13" main line and is very strong. The 4 head and the ripsaw have separate dust collection pipe as well as shutoffs. This has been in operation for only a few weeks, but is very similar to what I set up in 4 other shops similarly equipped, and worked very well.
Whether you are ripping and prepping a few boards or 25,000 l/f, you want to be able to get 16' fully loaded carts up to the infeed rip, outfeed rip, and molder without much effort. Another good thing is to be able to park the forklift at the rip infeed, with a load of 10/4 at a good height for manhandling to the ripsaw. Saves backs and related problems.

---
From contributor T:
A weak spot that we have with our S4S planer is that the outfeed table does not extend very far beyond the last roller. Unless we feed material end to end, longer sticks can sometimes tend to fall down at the outfeed in such a way that they levered up at the back and pinch between the machine cowling and the table. The next piece through will sometimes slip underneath the first board rather than just push it through. Not good.
We've minimized this problem with an auxiliary outfeed table. The ideal table length would be slightly longer than half the length of your longest molding. This way gravity would always work to your advantage.
Another thing we need to improve on is how we catch the boards at the end (and how we sustain the use of this improvement). Having some kind of cart to catch sticks will reduce planer time by about 30%. This is a big reduction in noise, electricity, wear and tear, etc.
The trick is to sustain this improvement. It's hard to convince the guys to track down an outfeed cart if they only have a few sticks to run. The solution would be to make this outfeed cart mandatory. By hinging the system you have to activate it. What would be cool is to feed this material directly onto a chop saw station. A simple flip up stop on the Tigerstop would give you the option to chop sticks or collect them for chopping later.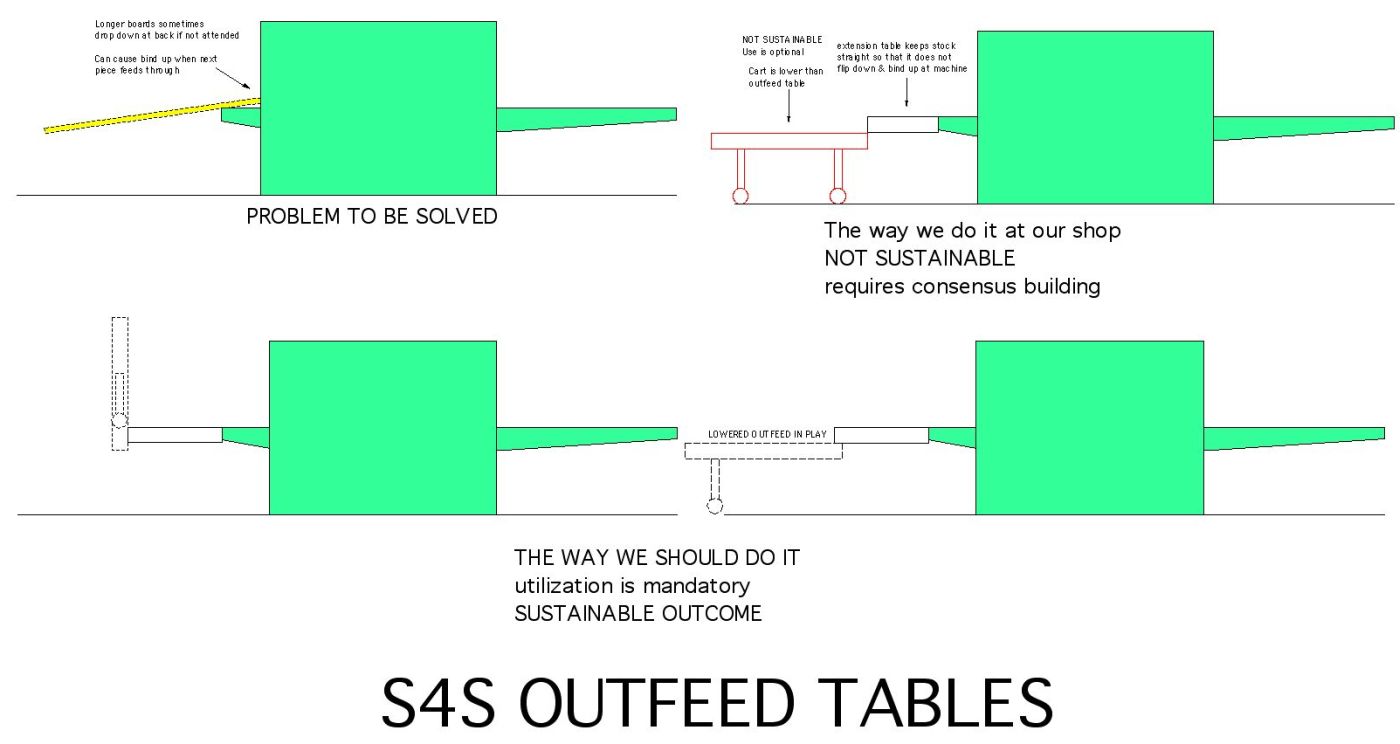 Click here for higher quality, full size image
---
From contributor J:
I had a layout with the moulder back to back with the ripsaw and that works good. Right now I have my planer back to back with the ripsaw, which works good too. I use fixed 10' long outfeed tables, then use carts to transfer except from the planer to the ripsaw - out of the planer onto sawhorses. Then into the ripsaw with no extra handling. If I plane after ripping, they can also go onto sawhorses at the planer infeed. I would love a return conveyer for the ripsaw and moulder. I could probably put one between the jointer planer so it feeds from one to the other... Ditto room for the forklift! My website has a couple pictures of the millroom, too.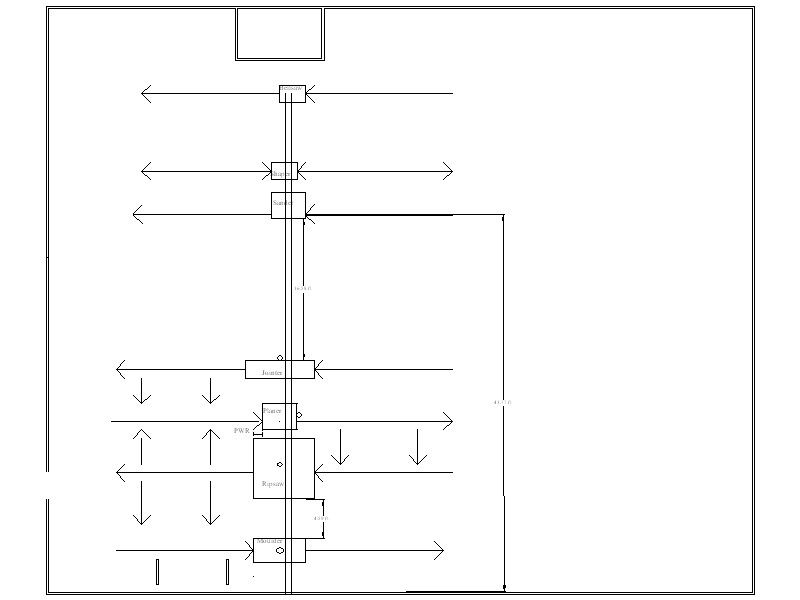 Click here for higher quality, full size image
---
From contributor C:
I just came across your other post asking about S4S machines. I think you made a good choice. The T90 is great, but Weinig is the cost effective quality solution for molders and S4S machines. The T92 was a flop for Martin; a great machine but they could just not get the price down to compete with Weinig. I always told Peter Martin if they could get the price down on the T90 by 20% and support the molding insert knives better, they would have a winner. I think they have figured out they need to focus on their standard machines which have always been the backbone of their company. They did send the USA branch all the materials necessary to have my molding knives made here, so that will help.
Some good advice here on layout. One thing I can add is we keep our jointer steps away from the S4S machine. Even with a long jointer table on the T90, some cupped or twisted boards need an extra facing cut on the jointer.
For our setup we have a tight situation that does not allow for an outfeed table. What I do is keep 2 Aigner extension tables hanging on the end of the machine that can be installed quickly to make a 10' table. Like you, a lot of times one person is just running a few parts. At least with this he can feed a few parts before making the hike to tail. I dream of a ceiling-suspended return conveyer that could be brought into play quickly.

---
From the original questioner:
Thanks for all the help. The molder is coming in 10 days and we have a plan in place incorporating many of these suggestions.