Making Checkerboard Veneer
A description of a simple way to assemble and glue up a checkerboard pattern using strips of veneer. July 28, 2012
Question
I'm looking for a source to lay up (veneer core or MDF) some checkerboard veneer for a modified chess game. Basically, I need 2 pieces that are 15" x 30" with 1.25" squares (customer is very specific about the overall size and square dimensions).
Does anyone know of a source for this work? My plywood supplier turned me on to a place in Florida and they want $250 each to do the work (on a quantity of 600 boards). This is well beyond the budget, so I'm looking for a second opinion.
Forum Responses
(Cabinetmaking Forum)
From contributor J:
I got into making chessboards for a while. If you only need two, I recommend you do it yourself. It's super easy. Cut 1.25 strips of your two species (avoid super hard exotic species) with a razor blade/straight edge or tablesaw contraption. Make sure you go over on length by about 2 inches. Also make sure you have two extra rows of veneer to get your width. Using 3M blue tape, tack one side together. Then flip to face side and tape whole seam. Remove tack pieces of tape as this is now the glue side. Using a straightedge, mark and crosscut every 1.25". Keep them in order as you go. Jog these off one square to get your pattern. Repeat tape process. Board is done.
To glue in the absence of a press, cut two pieces of PB melamine about one inch oversize all the way around. Line the top platen with 1/8 cork sheet available. This step is important. Cut your MDF piece and get out your glue. I just use Titebond. You want a thin even coat on the MDF. None on the veneer. Maybe do a test piece to get the film thickness right. Too much and it will bleed through, ruining the finish. Too little and veneer will likely pop up in places. Tape the edges of the veneer piece with blue tape so it doesn't slide all around in the press. C clamps around the edges are sufficient. Do not over tighten or you will take pressure off the center. It doesn't take a lot of pressure really. Wait 12-24 hours, remove from press. Don't let the blue tape sit on there any longer than you have to, or it will start to give you a hard time in removal. That goes for the whole process. Don't get it taped together and then wait a week before pressing. The longer that tape sits on there, the harder it is to get off. Comes off more or less easy if you are quick about it. I would say this whole process would take me about two hours.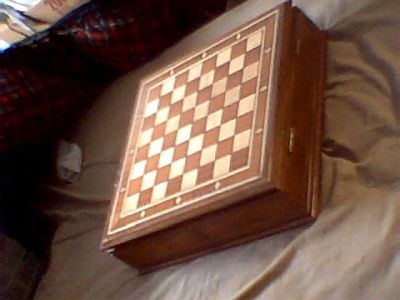 ---
From contributor K:
A visual...
---
From contributor G:
Thanks for the tutorial. I'm still looking for someone else to do this for me as the overall quantity could be 300+ boards, and I don't think we'll have the time to make the checkerboard veneer and build the boards ourselves.
---
From contributor C:
Have you tried Constantine Veneer?
---
From contributor K:
Does it have to be wood veneer? Have you checked out Wilsonart? I am sure they could customize it to what you need. More durable top, anyway.