Making Concrete Countertops
Fabricating concrete countertops is not rocket science, but it takes practice — and it isn't cheap. March 26, 2007
Question
I am starting a kitchen package in the next few days, and will be making the countertop. The contractor is cool with laminate, but the house is a 400 to 450K house in central KY (housing here is considerably cheaper than some other parts of the country). I am interested in making concrete countertops. My two main questions are, how do you get the ultra smooth surfaces, and how are the undersides treated? I have poured thousands of yards of concrete 20 years ago, but not much recently. Any suggestions appreciated. The budget isn't there for stone or SS countertops.
Forum Responses
(Laminate and Solid Surface Forum)
From contributor H:
450K house... budget not there for stone or solid surface? Seems odd. Is it a spec home? Concrete for countertops? In my opinion, it is more trouble than it's worth. They need to be thicker, 2"+, they need wire or metal reinforcement, they need polishing and grinding to get the finish you want, and they must constantly be sealed and resealed. They also take many months to fully cure, so every time you place a hot pot on them, you don't get a moisture spot under the sealed finish.
The homeowner/builder needs to cut corners somewhere else and put in what this home calls for. What do the cabinets cost? 10K? Kitchens, baths, floors, doors and mouldings are where the value is in a home. I realize that we are all broke at different levels. There is money well spent and time well spent. A concrete countertop is neither, in my opinion.

---
From contributor J:
If it were me, I would sub out the c-tops. Practicing a new trade on a client's house is risky at best. I've seen the concrete tops done on This Old House, and it's not rocket science, but like everything, there is a learning curve. And I agree with contributor H - I've seen granite in houses that were far less than 450k. How can the budget not be there for c-tops? They are the first thing people see when they walk into a new kitchen.
---
From the original questioner:
When the house was originally laid out, there was a mistake in the location of the house. It cost about 20K to 25K to jack out the foundation and move it. It pretty well shot the budget for some of the extras like the granite countertops.
The builder has already agreed to two more jobs he is doing, so I want to go the extra mile without breaking the bank. The kitchen isn't really that big, all hickory frames, doors, and drawers. KV ext. slides throughout and Grass hinges. Will be about 8 to 9K. I also have 2-1/2 baths and a small pantry. 14K+ for the job installed. It is a spec house, and even though it is not done yet, they have already had a couple of prospective buyers.
Laminate is no big deal - I usually do my own. Thanks for the input. I am also getting ready to build new cabinets for my wife, and to use as a show kitchen. Not a lot of counter space in our small house, and I may consider concrete unless I can get a good buy on granite.

---
From contributor M:
There is a book on concrete countertops from Taunton Press. The author is Fu-Tung Cheng, who is a pioneer and expert in the field, and his projects are quite inspiring. The book will teach you two different methods of fabrication, one by doing the tops in place and the other by building forms, then moving the tops to their ultimate location. The latter offers more design options.
---
From contributor R:
Back in the day, when I was an apprentice mason in Switzerland, we did concrete countertops all the time, but not for homes. If I remember correctly, it took me three years to get to that point of perfection and aggregate knowledge to execute that task well. Concrete countertops are great, but you have to find the right aggregates, the right mixing products, and you have got to be real good with a trowel. The book mentioned is good, but something more technical is best for the professional.
---
From contributor N:
I've done exactly what you want to do with a customer of mine who did not like stone or laminate. I told her we would try concrete for her if she was willing to be a guinea pig. It worked out very well, but I'll give you some pointers.
Forget that book. I tried his very expensive method first and it totally bombed. We had to toss the first batch of counters. First we made a template of the rough tops out of 2" strips of cheap 1/8" material and some hot glue, the same way I do for my stone counters. Then I used those templates to build forms for the concrete to be poured in, allowing about an inch of overhang off the front of the counter. The forms were 2 x 4's on edge with a melamine bottom. Make sure these are pretty stout because you don't want a blowout. Also, you want to make a form for any sink holes now and place in the form before you pour.
The material we used was regular 5,000 psi Quickcrete from Home Depot. This customer wanted a terracotta color to hers, so we used the correct amount of the colorant from Quickcrete as well. We also added steel mesh at the time of the pour to add some strength.
Pour the counter like any other concrete job, but make sure all your water/color stuff is measured out right, otherwise you'll get color variations in the finished product. We used a small edge trowel on the perimeter, and just work it all the way till it's cured.
The finishing part is where my stone shop jumped in. On the top we polished the surface of the counter with a wet polisher (available at granitecitytool.com) and 4" diamond polishing pads for granite and marble. 50gt 100gt 200gt 400gt 800gt 1500gt and 3000gt is standard and will give you a nice polish on the top. You can also ease any sharp edges over with this at the same time. Once it was polished, I used a sealer made for the stone trade - any good quality sealer will work - and finished it out with pure carnauba wax (which is what the guy who wrote that book recommends).
The book that was recommended will help you out, but I ended up using it as a reference more than anything. Granite City Tool has a concrete countertop division and they sell a lot of what you need.
This look is not for everyone. If it's a spec home that you want to sell quick, I don't think I would recommend it. For what we had into this thing in labor, my stone shop could have done some nice granite tops, but the customer knew what she wanted, so that's what she got.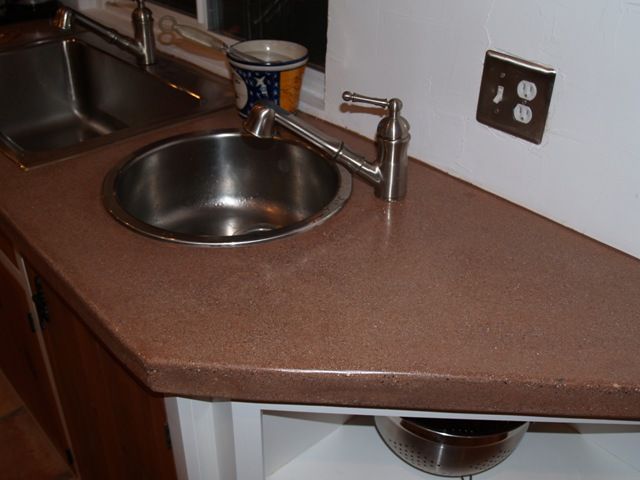 Click here for higher quality, full size image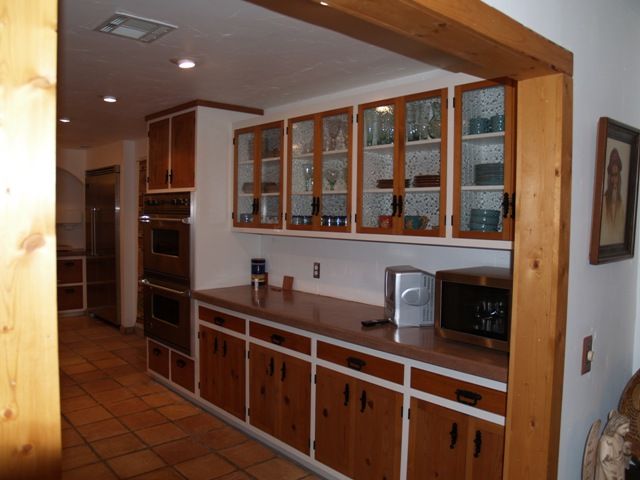 Click here for higher quality, full size image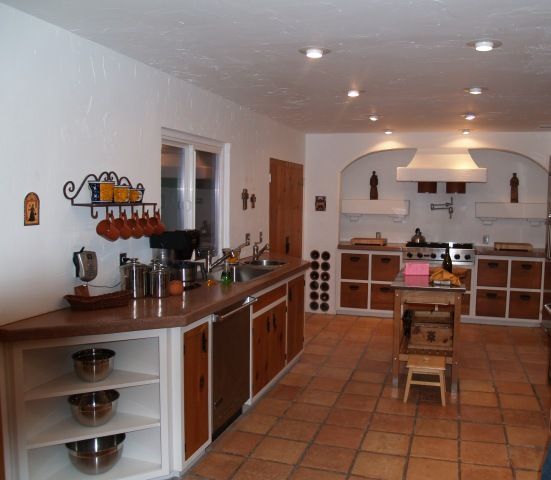 Click here for higher quality, full size image