Making Crown Moulding on a CNC Router
Tips and tricks from those who have tried it. October 8, 2005
Question
I'd like to cut curved crown molding on my 3 axis router. What methods work well? The crown pattern is traditional, measuring 4 5/8" corner to corner. 52/38 degree.
Forum Responses
(CNC Forum)
From contributor B:
We run our curved crown on a tilting moulder. However, when the radius is below 12", it is often too tight for that machine. So, we have two options. The first is to send it out to a turner who runs it on his lathe. The second is to cut it ourselves on the CNC.
To make it on the CNC, there are a couple of hurdles to overcome. The first is programming and the second is a long and stable enough bit to make the cut. Like you, we have a 3-axis machine.
I do my programming in Enroute Pro. Its 3d capabilities allow me to spin the profile along the required radius line. The software will then apply the tool path for me with the exception of sharp inside corners in the profile. For these, I measure my profile drawing in Autocad and precisely apply a straight cut bit to those points in Enroute.
If you don't have 3D software, then you can do what I do for the sharp profile inside corners. You can make x and y offset measurements in your drawing program and set ball nose bit paths every .03" or so along the profile. This way the bit will step over and down with each pass creating the profile.
Note that this can be done but is time consuming and requires a good deal of sanding when completed. The tilting moulder is our preferred method (shapers will also do the job, but it can be a dangerous process). The CNC router is an amazing machine that can do seemingly almost anything. However, it's not always the best tool for a given job.

---
From contributor C:
I use a cone-shaped knife holder from Guhdo. Part # is 4318. It takes 2 different shape knives to cut larger crowns, as the largest knife it will hold is 60mm. It takes some setup time for new cutters, but works fine. I hog the rough shape first in step passes with a straight bit before bringing in the monster. This bit is heavy.
---
From contributor B:
Are you running that cutter on a CNC router or on a shaper? If it's on the CNC, could you post your rpm, feed rates, etc.? I'm not assuming it's on the CNC because I have a cone shaped moulding head for the shaper that I used to use to run curved crown.
---
From contributor C:
I run it on our Morbidelli p2p at 6k rpm and 6 m/m.
---
From contributor T:
We have been cutting radius crown on our Busellato. I use a HSK arbor with 1 1/4 shaft from Carolina Specialty Tools so I can mount our shaper heads. The largest crown profile I have cut measures 8 1/2" corner to corner. This requires several knifes to make the entire profile. I run about 6000 rpm at 6m/min depending on size of cut. This works very well and gives us the ability to run many of our shaper knives on the CNC.
---
From contributor B:
Does that require a "C" axis on the CNC so the moulder head can rotate with the face of the curve? If so, do you also need to be able to angle the head? Or does one negate the need for the other?
---
From contributor M:
If the stock is too large for my shaper head tool body, I just rough it out with a straight bit(s) and then cut it with a ball end tool. Once you rough it, the step over is small enough to cut bi-directionally at high rates, usually 700ipm or better.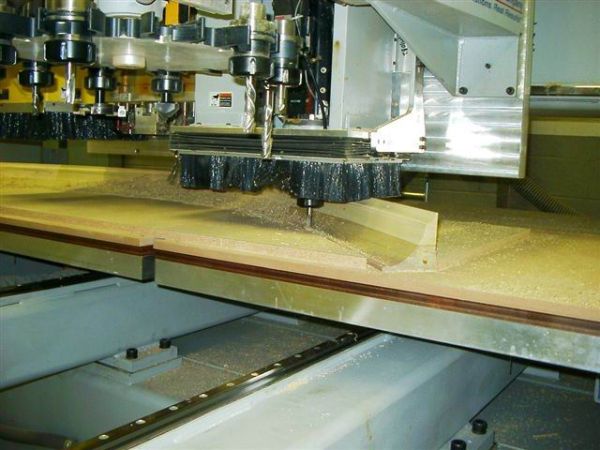 Click here for full size image
---
From contributor T:
No "c" axis is required because the spindle is still vertical. For crown molding we can not use the same knives that we use on the molder. We have to grind knives that cut the crown vertically, which requires a much deeper cut. This is why we have to step it with several sets of cutters, but when the cutters are set up properly, there is very little sanding needed.
---
From contributor B:
I see. It's actually no different than doing it on a shaper with bearings and several cutters, etc. Just safer (as long as you keep the knife projection within safe limits) and more precise, since no guide bearings are needed.
---
From contributor C:
Here's the knife-holder bit I use. The body (F min.) is about 4 1/2" wide.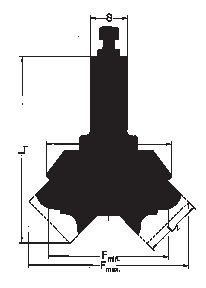 ---
From contributor I:
I would take another look at contributor I's post. We do the same using long 3/4" bit for roughing and the same bit with a .030" corner radius for finish. No special cutters needed. The difficulty here can be generating toolpath, but after a little practice, no problem.
---
From contributor A:
What software are you generating toolpaths with?
---
From contributor B:
I use Enroute Pro for the process. Quick, easy and accurate.
---
From contributor D:
Contributor M, how is your part fixtured? From the picture, I'd say you have screwed into the bottom of the piece from the underside of the spoilboard and then vacuum held the spoilboard. Or is it sitting in a dedicated vacuum fixture?
---
From contributor C:
I usually just write G-code in Xylog. I'll sometimes use our old Cim Block to establish points, but I've never been happy with the code it generates. I'll buy Mastercam one of these days.
---
From contributor M:
I used the vacuum to hold the part, plus I toe screwed the ends with one screw on each end to minimize movement on the very ends. No dedicated fixture, but I did cut two pieces of scrap to place behind and in front of the part to help locate the part and to minimize bleed off on the rest of the MDF bleeder board. I usually cut the blanks on the router, glue them up and then after curing, machine like in the picture. I use Alpha Cam to cut the profile and it is accurate. After running, we make the final cut on the underneath and back with a bandsaw in order to get a little flex in the piece. By the way, I understand Mastercam and Router Cim are able to do the same thing. No special tooling, no special fixturing, just long roughing tools and long ball ends where applicable.