Making Your Own Cabinet Jack
Whether you buy one or go to the trouble of making your own, a nice cabinet jack will make you wonder how you used to get along without it. September 10, 2008
Question
Has anybody made their own cabinet jack similar to the Gillift? This looks pretty easy to build and I'd like to make one instead of dropping that much money.
Forum Responses
(Cabinetmaking Forum)
From contributor D:
I have a friend who owns his own metal fabrication business. I asked him how much to build one and his cost on material was about 400. He did have some improvements he would have put into it, and I would have gotten away with no (or very little) labor, but only because we've been friends for 20 years. He said he would have had to charge someone closer to a thousand bucks to build one. For 1500 he said he could do one with an electric remote.
The high cost of material was doing just one. Something about you have to buy this stuff in 20' lengths, and aluminum is expensive. Kind of like needing a 4/4 x 1" x 12" piece of rosewood, and having to buy an 8" x 10' board. If you have drop lying around, not a problem, but if you have to buy the whole board, that little piece just absorbed the entire cost.

---
From contributor K:
Below is a link to some pictures of one I built. It is all wood (since I only work in wood). I built this one with a single piece mast but you could easily break the mast in the middle if you wanted.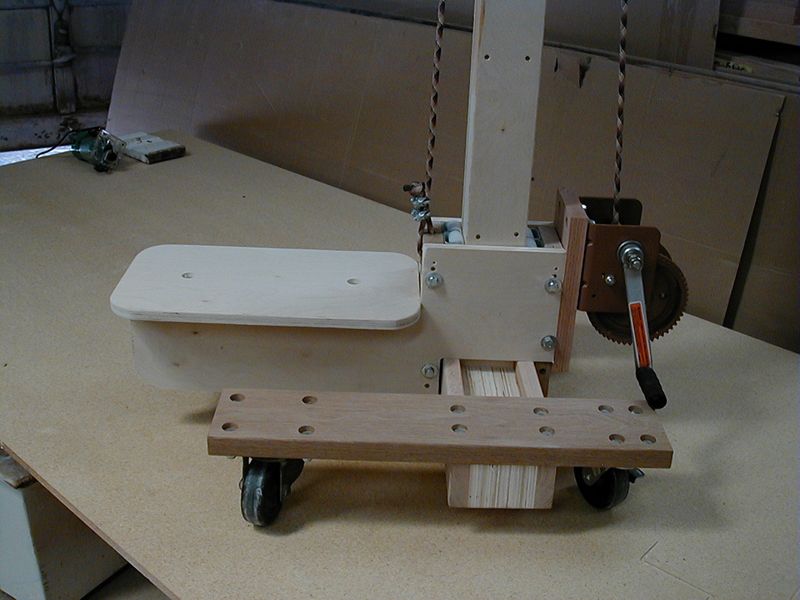 Click here to see more of contributor K's lift photos
---
From contributor B:
I looked into building my own and had developed a pretty good design. Materials were going to be around $200 and then I was going to have to pay a metal shop to do some work. I just decided to buy the Gil-lift and stop wasting time. They already had a proven design, and mine was just a prototype. The thing paid for itself on the first job, so the cost is not an issue. Never even missed the money I spent.
---
From contributor F:
Nice presentation, contributor K. Has weight of the load been an issue?
---
From contributor K:
The winch I used is a 1500 lb winch (which is heavier than needed) but makes it work very smooth. It lifts anything I have put on it with ease. A friend of mine used it to help place a 300 lb micro lam beam.
---
From contributor P:
I built one several years ago, and it worked fine, but my year-old Gil Lift is in a whole different class. Should've just bitten the bullet when I first recognized the need, rather than piddling away time and energy on my home-built copy. It's worth what they charge.
---
From contributor J:
One of the installers we hired on a school had built himself a lift with a base of wood 10 x 36 and a top of the same size. He cut two scaffold jacks down to about 14" then had PVC sleeves attached to the top or deck. He would set that thing on the base cabs or his rolling tool cart, install cabs like it was nobody's business.
---
From contributor L:
Locate an old Ford jack for a Ford pickup. Fabricate your lift mechanism and attach accordingly. Break off the point from a used 1/2" paddle bit and use your cordless drill to lower and raise the jack mechanism.
---
From contributor C:
I bought the EZ-sprednlift in the 24 inch deep model. I built a detachable wide table so I could center cabinets with fairly large cutouts in them. The winch is the only part of the package of obvious entry level quality, and if they used something other than a solid maple post to join the aluminum post sections, maybe a wet day wouldn't make it a chore to take it apart, but when you need to place a heavy cabinet high on a finished wall, scribe it, take it down, cut it, and put it back up, all without damage to the wall, all the while threading it over the 6" vent duct they thoughtfully left sticking down 18 inches canted to the back and towards the tight corner, not to mention the feed for the microwave and two independent undercounter feeds, you will begin to love this rig. I use mine in the shop for all sorts of things. Research it, then make one or buy one, but you won't be sorry you have one except when you have to find room in the truck to carry it with you. Get yourself a couple of third hands to fine tune large cabinets with, and you will be in installer's heaven.
---
From contributor O:
Contributor K, where did you purchase the plastic rollers that glide on the post?
---
From contributor K:
Those are appliance casters from National Hardware. I got them at a local hardware store. They worked great for this lift. The pulley on top is a garage door pulley.