Malachite: Another Decorative Faux Finish
The look of malachite, a semi-precious gemstone, can be imitated by the savvy wood finisher. Industry veteran Mac Simmons explains how to lay down a base coat and sealer, then apply custom-mixed glazes with cardboard grain combs for a deep, eye-catching "mineral" finish. July 11, 2005
Reprinted with permission from Custom Woodworking Business.
The colorful faux malachite finish is a popular choice for furniture tops and interior decoration on walls and millwork.
By Mac Simmons
Malachite, predominantly green with black markings, is a natural mineral and an eye-catching semi-precious gemstone. These stones are randomly banded, streaked and striated, making them extremely colorful and appealing. Malachite gemstones are highly polished and set into all kinds of jewelry, such as earrings, necklaces, pendants and bracelets.
Because malachite has such eye-appeal, it is one of the faux finishes most commonly used on furniture and other woodwork. Usually, it is used on the tops of furniture, jewelry boxes and silverware boxes. Its decorative effects add color, character and class to any piece. Faux malachite is also a popular faux finish used as an interior decoration for walls, columns, pillars and posts.
As with most faux finishes, faux malachite takes three steps to create. It starts with a colored basecoat, which is the background color. Then, a color glaze is manipulated to create the false objects, and last is the application of a clear coat to protect and preserve the faux finish.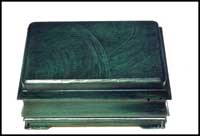 Faux malachite is often used on jewelry boxes.
Getting started
As with all finishing, you should begin with wood that is clean, well sanded and dust-free. I like to start with a sealer, such as a coat of shellac, to seal the wood, and then let it dry. Next, I apply a medium green basecoat, although other shades of green also work well. I then allow that color coat to dry.
I personally prefer making my own colored coatings. I add the "universal colors" I choose into the proper solvent and then add that mixture into my clear coating. For water-based material, I buy a clear base latex and use either artist's water or acrylic colorants. I mix whatever colors I need for each different job I do.
Once the green base color is dry, I apply a clear sealer or a coat of shellac, which protects the basecoat and ensures that the color will not change when I apply my glaze. I then allow the seal coat to dry.
Using the graining comb
You can buy different graining combs in most paint stores, arts and craft shops or in home improvement centers. But I prefer to make my own in order to do different designs in my faux finishes.
To make your own, you simply need a solid piece of cardboard or corrugated cardboard. (See photo.) Use scissors to cut out the different tines. I suggest you make up a few different sizes and shapes, as you will use these combs to first complete some faux samples and then to do the actual project.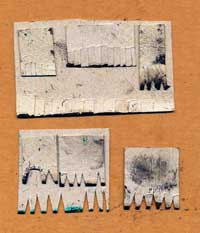 Graining combs don't have to be elaborate. This photo shows examples of some home-made combs.
Adding the colored glaze
Adding and manipulating the colored glaze are key to creating all faux
finishes. You can buy either oil- or water-based colored glazes, or you can make up your own small batch for testing.
To make your own, start with 1 tablespoon of either a Black-Oil or a Japan colorant, 3 to 4 ounces of mineral spirits solvent and 1 ounce of boiled linseed oil. This is a user-friendly formula to which you can make your own adjustments. If the color is not covering, add a little more colorant. If the glaze is difficult to work out, add a little more oil, which will give you more open time. If the glaze takes too long to dry, reduce the drying oil and add a little mineral spirits.
To create the faux finish, wipe the black glaze onto the seal coat and brush it out in one direction until you see the brush lines showing through. This is a technique where you can add more stripes to your work. A second technique is to dab and mottle the glaze, which adds a different background pattern. When making up your samples, try both techniques. They may be used in combination to give different effects.
If you look at a piece of real malachite, you will see that it is extremely colorful, with natural randomly banded, streaked and striped markings. The unusual and unpredictable markings of the real gemstone mean you have a lot of latitude in doing different designs when you create a faux malachite finish.
Manipulating the glaze
To manipulate the glaze and create the faux look, start by taking one of your graining combs, rest it on top of the wet glaze and then turn the comb in a half circle. Do this a few times to get the feel of the manipulation. Then try doing a few full circles and a couple of concentric circles, wiggling the comb to see the different affects created.
You can branch out further by using other graining combs to do some stripes, banding and striated markings in the glaze. As you learn to manipulate the glaze, you will find that working with different hand-made combs takes some practice, patience and testing. But once you get the hang of it, you will find it is fairly easy to do your own designs.
Finishing up
It is extremely important to make up complete samples for the entire process, from the colored basecoat to the final clearcoat. Doing so will allow you to gain some practice into the faux malachite process. It also will tell you if your finishing materials are all compatible with each other. In addition, making samples enables you to make any corrections in the finish or the process, so your projects will turn out just as you expect.
Once you have completed doing the designs in the glaze, you should allow for overnight drying. Then you should apply a few clear coats to protect and preserve the faux finish. Malachite is an easy and fun finish to do, and it certainly is worth adding to your repertoire of fine finishes.
Mac Simmons is a freelance writer and 40-year veteran of the furniture finishing, refinishing and restoration trades. His book, "Fearless Finishing" (ISBN 1558707581), is scheduled for publication by F&W Publishing in June 2006. Questions may be directed to him in writing c/o CWB, 400 Knightsbridge Pkwy., Lincolnshire, IL 60069 or via e-mail c/o hkuhl@vancepublishing.com. Simmons' previous articles can be found at Custom Woodworking Business.
Reprinted with permission from Custom Woodworking Business.