Matching a Dull Brown Stain
Experienced finishers advise on how to sneak up on an existing toned and sprayed brown finish. July 14, 2010
Question
Iím new to finishing. We picked up a cabinet job which is more for fun than profit and I need to match as closely as possible the existing cabinets. I'm using Homesteadís TransTint water based dye's and have access to off the shelf Minwax and Cabot stains. My finish coating is going to be waterbased poly.
What do you guys see in here? I do understand that there are many ways to get to a finish but the simplest is always the right answer. I haven't started color samples yet but I will be doing that very soon. Iím new to wood dye, toning, glazing, and shading and Iím very excited about the depth of wood finishing.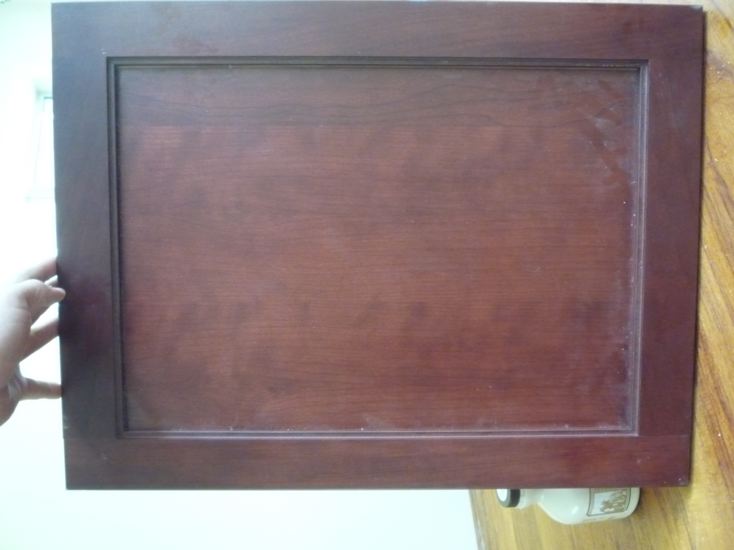 Click here for higher quality, full size image
Forum Responses
(Finishing Forum)
From contributor W:
You should try a finishing system in panel board until you make sure you get the color match. You have to find the right stain color. You can use the water based stain, or dye stain and water based coating if you like it. Try on in a piece of wood panel to make sure you get the right system.

---
From the original questioner:
What do you mean by panel board? Are you talking about a test panel with the different steps in order? I'm not set on water based topcoats but I do enjoy water cleanup. I also think the water based poly will match the original finish as well.
---
From contributor J:
If you are trying to match the cherry panel in this photo, I'd start with a brownish dye stain sprayed on to avoid too much splotching, and then toning with a darker brown with a little red maybe. The panel I'm seeing looks heavily toned (meaning the depth of color was achieved primarily by adding a colorant to a clear) and spraying. It also looks more like a pigmented toner as the grain definition is poor. You can use TransTint but the panel will probably look a little different. Make sure you throw a final coat of low satin/matte.
---
From contributor G:
It looks like an off-the-shelf MLC color to me, but there's so much dust on it that it's hard to make out.
---
From the original questioner:
Apologies for the dust - it shows up great in the photo. Contributor J - when you referred to "dye stain", are you talking about a dye that has pigments added or using dye alone? Pigmented toner as in a universal colorant added to my clear correct?
I searched here on the Big Island for a fully stocked MLC supplier but found nothing. Itís tough doing product specific projects out here without full access to one product line but in a way it makes you think a little harder. My best shot so far is Woodcraft on Oahu, although they seem to not have complete stock either.

---
From the original questioner:
I forgot to ask; if I only have access to oil based wiping stains, can I use them with water based dye and water based topcoat?
Schedule:
Water based dye
Oil based stain
Shellac sealer coat?
Glaze
Top coat
Top coat

---
From contributor J:
1. Water based dye like medium brown or maybe golden brown if you see any yellow underneath.
2. Seal - SealCoat shellac is fine, just one coat, do not build with SealCoat. Sand lightly 400.
3. Tone with dye in finish - my first attempt would be something like brown mahogany TransTint - maybe dark mission brown if the BM looks too orange or red.
4. The final two coats satin clear.
Part of learning to finish is just trying different combinations. Gradually you get familiar with predicting what the final looks like built from two different ones. Finishes that are full of depth and contrast are usually built from dye stain, seal, glaze or oil stain wipe and then perhaps a light toner but this won't work to match this sample.
I would avoid pigment wiping stain or glaze because it will add too much pore definition and highlights, normally good looking qualities, but won't match what is arguably a pretty dead looking finish to me. Also you introduce an issue if using oil based stains or glazes into a waterborne topcoat, particularly in a harsh environment like a kitchen.

---
From the original questioner:
Thanks so much for the schedule contributor J. So far I've ordered dark red mahogany, scarlet red, lemon yellow, and black. I'll be blending the dyes to get my browns. Woodcraft Oahu is running low on dye choices, stock Ďem up!
---
From contributor P:
The finish on that door looks very familiar to me. I'll guess that the hazy look is largely caused by a bright reflection in the foreground of the photograph and the door looks better in person. It's hard to match a picture, but it looks to me like the door was stained with ML Campbell "Cinnamon" stain and then toned with Microton cherry. If I had the door in hand, I could say with more certainty.
The schedule for that finish is:
Sand the wood to 150 and remove the dust.
Stain with WoodSong II "Cinnamon".
Seal with a coat of clear and sand lightly with very fine paper to smooth.
Add 1 ounce of Microton "cherry" dye to one quart of thinned finish and spray the door. Spray a second or third coat of the toner to make it darker.
Spray a coat of clear over the toner.
Here's a sample door I did with that finish (it also has a glaze around the raised panel). Another coat or two of the Microton cherry would make it darker like the door you have.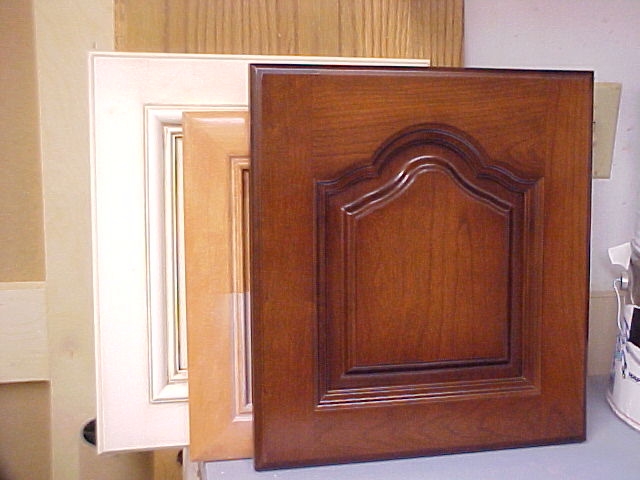 Click here for higher quality, full size image
---
From the original questioner:
Thanks contributor P. If only I had access to those colors. I don't have time to get them shipped out either. The challenge I'm facing now is that Iím getting lighter colors in the softer parts of the wood grain than the sample. I've used a few stains to try and bring out the browns I'm looking for but they also seem to lighten the veins of the wood dramatically. I would think they'd darken it due to lodging in there.
---
From contributor G:
You can get that color with just red and black.
---
From the original questioner:
How do you suggest contributor G?
---
From contributor G:
Add black (which is deep blue) to your scarlet (which is a yellow-red) and the black will kick the red towards purple while the yellowness of the red will keep the bit of brown you see in the sample. The color is called red cordovan, or oxblood.