Matching the Look of Aged Barnboards
There's more than one way to make fresh new lumber resemble timeworn barnwood. Here's a choice of methods. October 1, 2010
Question
Does anyone know if it is possible to obtain the bluish grey patina of barn wood by any means other than the actual weathering of the boards?
Forum Responses
(Finishing Forum)
From contributor K:
You can get the color using dyes and the patina by finishing with a semi-gloss and scuffing the finish to help create the look of weathering (along with some distressing), but in reality, it will not match the weathered look altogether because of the moisture content. Whatever you do, make a sample, and get the client to sign the sample.

---
From contributor R:
With wood species that are high in tannin, a solution of ferrous sulfate will do it. On wood without tannin, you will have to treat the wood with tannic acid before applying the ferrous sulfate. (Do samples first.)
---
From the original questioner:
I have no idea what that is or where to get it.
---
From contributor M:
Take a gallon of white vinegar and shove a few pads of steel wool in the top. The vinegar will dissolve the steel in a few days. Run this through a few paint strainers to remove the large particles and you have a base to dilute with water to get a reaction with the tannic acid in the wood. It is also fun to amaze your friends, showing them how oxalic acid works. Put the mix straight on a piece of oak and watch it turn black, then spray on the oxalic acid mix and watch the black go away. You will need to play with the concentration to get the correct color. This is also a great chemical stain to use on new maple when you need to match an aged piece of maple. In this case, once the mix has dried, warm the wood with a heat gun and the iron will bloom to a soft warm red tone. Like a sourdough starter, I have a bottle that I started 30 years ago and just keep adding to as it is used.
---
From contributor W:
How will that vinegar solution work with no tannic acid wood?
---
From contributor G:
Iron acetate (liquid nightmare) that you get from vinegar and steel wool won't produce the blue-grey color asked for. You will get brown (reduced) or black (concentrated).
Although I haven't tried it, I believe the ferrous sulfate that contributor R mentioned will give a silvery color.
You can add tannic acid to the wood by spraying some on. It can be found at the wine and beer supply store, or you can use strong tea. Ferrous sulfate is inexpensive at the garden center.

---
From contributor R:
I would rather just add water to ferrous sulfate than wait for steel wool to dissolve. You are making the same thing.
---
From contributor T:
This photo illustrates one technique for getting the barn wood look. The pine was wire brushed and stained with a vinegar/iron solution. The other piece is maple. The color is iron tannate, a chemical compound which is blue gray to blue black and results from a reaction between the added iron and tannins in the wood. Iíve never gotten brown. The iron can come from many sources, including iron acetate and iron sulfate. Minute amounts of iron in water and iron fasteners are common natural causes. You can see that the stain is darker around the nails on the barn wood. If the wood has no tannins, this method will not work.
Two side notes... If you make a vinegar/iron solution, leave your container lid loose as the solution forms a gas while brewing. Tea drinkers donít like tannin, so they limit their water temp and steeping time. If you use tea to make tannins, use black tea and steep it in boiling water for at least 30 minutes to extract the tannins.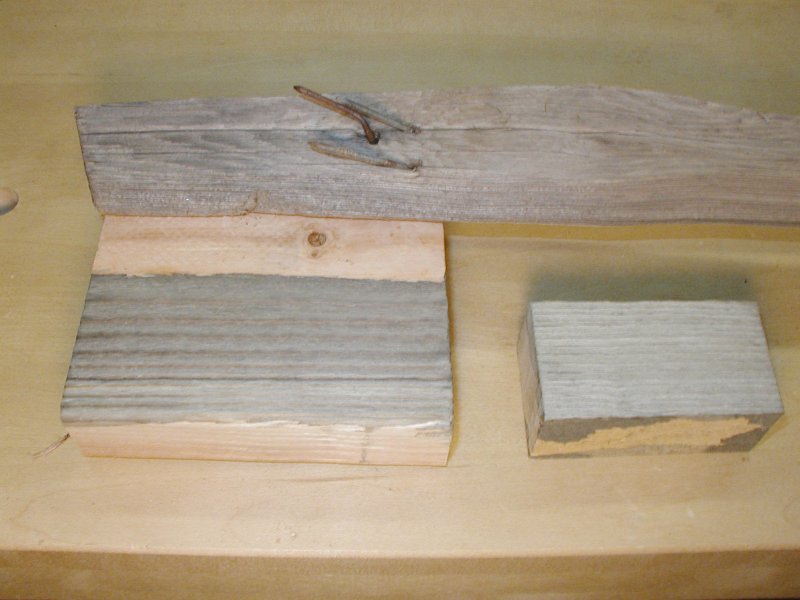 Click here for higher quality, full size image
---
From contributor R:
You don't say what your project is, so if you do not want to become a chemist, here is a picture from a job I did. The wall is actual barn wood and the beams are poplar box beams distressed, painted with a thin grey latex paint and then glazed to match the barn wood and top coated with dead flat lacquer. Matched very nice and client was very happy.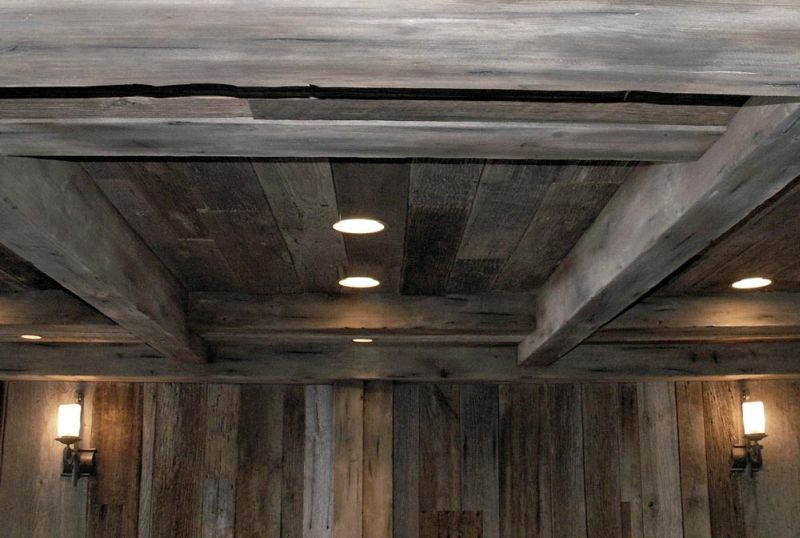 Click here for higher quality, full size image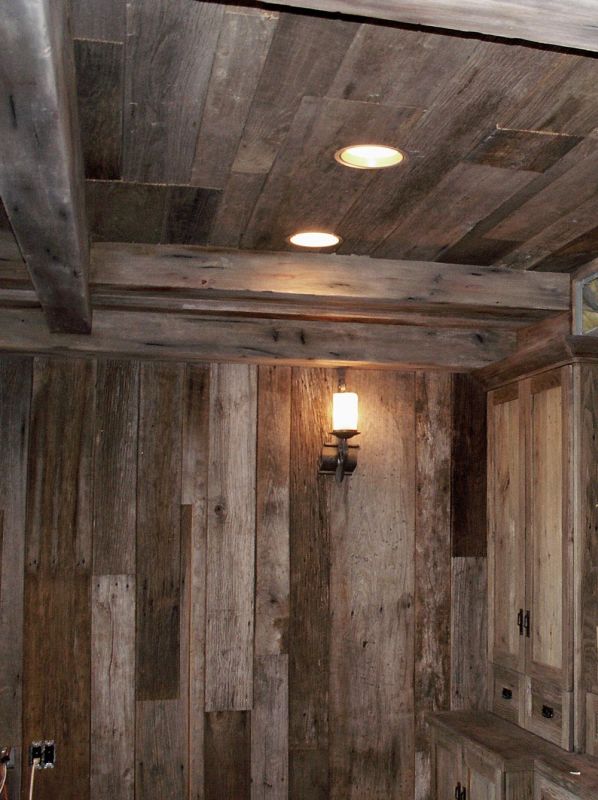 Click here for higher quality, full size image
---
From contributor N:
I agree with contributor R's response. This effect can be created using stain, glaze, and a little practiced technique.
---
From contributor B:
I have used ordinary clothing dye. For gray, I would use 3 pots of boiling dye, each with a different shade of gray. Brush or sponge it on. Play with it - you'll be surprised how easy it is. I would use rough cut spruce boards if you can find them. Then I make a block of cardboard cut to expose the ends and rub the hell out of it. Then finish with satin Varithane. With the birdhouses I make, I dip them.