Melamine: Why?
If you think melamine is for cheap manufactured imported cabinets, think again. This discussion explores the varied character of melamine, including its appropriate use in some top-dollar projects. August 16, 2012
Question
I have to say melamine is a low quality material in my opinion. As available as boxes/materials are via the web, China, Ikea, Home Depot, how and why are melamine cabs built? I have seen "wood grain" melamine cases with inset beaded FF, and the cab shop stated that the interiors hold up ten times better than pre-finished ply. With all the available sources for low cost cabs, are your still finding an ability to make a profit?
Are there still people out there that do not research before they buy or is it that someone would actually want custom melamine boxes these days besides hospitals and lunchroom type business opportunities? I realize that you can CNC a perfect melamine/particle board box but you then have to spend a fortune on a CNC machine.
I guess my question is, where else are custom melamine cases coming into play besides the above? I'm not trying to be sarcastic Iím just wondering where I may be able to fit into the business. I truly love inset/furniture grade cabinets and cases but my customers may not. If I would go this route I would have to focus on veneered particle vs. melamine. Boring machines seem key to this process but it seems like one would need a couple for quick results and a case clamp.
Forum Responses
(Cabinetmaking Forum)
From contributor E:
Well I think you will find that if you are in business you are doing a couple of things with melamine. First, the general public expects to see it used, second it is readily available and fairly inexpensive and does the job well, and third it is actually pretty environmentally friendly in that premium wood is not used to make it in most cases. This means that more of the tree and different woods can be used to make the core. Some clients want plywood cases and that is fine too. I suppose it matters what market you are targeting.
Having said that, there is a difference in the client-manufacturer relationship with Ikea, Lowes, Home Depot, and so on. My clients know me personally and I make the product and I put it in their home just the way they want it to be. That right there is the difference - personal service. Mass produced products are made for masses of people. So back to the initial subject of why use melamine - because it makes pretty good cabinets in a short amount of time in an array of colors. My clients are happy, Iím happy, and we all get to do it again tomorrow.

---
From the original questioner:
I do believe most of the general public would buy a melamine box from Lowes, etc. before going to some cabinet shop, except maybe a word of mouth customer. They can see the exact cab and style and get a quote on the spot Ė there is no waiting for a quote, etc. Also Lowes, etc. uses tried and true installers which is huge deal when it comes down to costs. Around here there's a cabinet shop every ten miles or less Ė thatís about 70 cabinet shops in a 50 mile radius. Iím speaking to small shop owners - four guys or fewer when I'm asking these questions. If youíre a twenty man shop you obviously have huge clients or regular clients for other than home type products.
---
From contributor S:
There are many grades of melamine. I have made boxes out of everything from ply to plastic, including stainless and solid wood. I used to look down on shops using melamine, but that was ignorance. Don't make the same mistake. Good moisture resistant melamine costs less, looks better, is easier to process, is just as durable, easier to clean, I could go on. You need expensive machinery to process melamine and this is probably the main reason small shops lambast it. Bottom line is the client will decide. Don't let your prejudices influence them.
---
From contributor V:
I have to second Contributor S. I prefer pre-finished ply myself, for looks as well as deliveries being much easier, but I find premium melamine to be a fine product. I am a two man shop and most of my jobs consist of a pre-finished plywood kitchen and sometimes master bath with the other baths and ancillary rooms made of melamine. This allows me to be cost competitive on a large project while being able to give my customers the custom cabinets they want. This also gives my contractors the advantage of having one supplier to deal with. The real issue is that melamine has to be treated with a little more respect than ply in the shop. The corners are more easily damaged and you can have chipping issues, as well as cutting yourself to ribbons if you're not careful.
---
From the original questioner:
I'm just weighing the options and where the opportunities are within my area, and the Milwaukee area is super saturated with makers looking for a nitch, and the melamine equipment is super expensive. I appreciate your responses and thanks for pointing out to me where I was lacking. I may have to stick with moonlighting!
---
From contributor Y:
I was a big anti-melamine advocate myself for many years. I swore that if you used melamine it was junk and it left nothing for a skilled cabinetmaker to be proud of. That was obviously before I used it. It's easy, fast, low cost, and saves a fortune on finishing. I do agree though that a beautiful custom home may not want to see melamine inside their cabinets. Although a vast majority of people when asked could never tell you what they have in their boxes. I compromised as I was losing bid after bid to big shops. I have myself and two others, so I evaluated what I was doing wrong, and the biggest problem I had was that I just couldn't compete in a down economy where everyone is a bargain shopper.
I researched melamine and found good results, so when bidding from then on I now offer three packages - an economical cabinet which personally I am not a fan of, the custom line, and lastly the premium line. By doing so it takes very little extra time in the bidding process, but it makes me competitive. The economical cabinets are not bad, and I still use Blum hinges and slides. Instead of offering the soft close undermount I install an epoxy slide, and that coupled with melamine saves me money and I pass on the savings. Try melamine once I don't think you will be disappointed.

---
From contributor G:
I agree that it comes down to what the customer wants. There are ups and downs to all carcass materials. Some shops want to make it an ideological debate. For me it is just giving the customer what they want. I do give my opinion of the advantages and disadvantages of the materials but then leave it up to the customer to decide.
To me that is the essence of custom. Melamine does get a lot of bad press because of the cabinets that are made with inferior board. If you use a good quality thermally fused melamine and good construction methods you can produce a very good quality cabinet.

---
From contributor B:
I'm a one-man show, about 90% melamine, non-CNC, all-custom. I make a very decent living with it, and my customers are happy. If melamine's atrocious to you, don't use it. Life's too short.
---
From contributor D:
The use of melamine (on particle board or MDF) or plywood for the box construction is only one small part of the equation involving differentiating quality from low end cabinetry. There is extremely high quality cabinetry produced using both materials. Likewise, there is some very low end, entry level cabinetry made from either plywood or melamine board.
There are many other details to be considered that separate premium from economy cabinetry. These would include the door style (and construction), joinery techniques, finishing, functional and decorative hardware and accessorizing the job.
The box material becomes irrelevant if the hinges or drawer sides or Lazy Susan units are of a low quality. I have seen many failures with low priced, economy functional hardware but have yet to see a box fall apart due to the material used. For residential cabinetry, the Milwaukee area is predominately face frame construction. I am familiar with this market. You are right, from Chicago to Green Bay there does indeed seem to be a cabinet shop every ten residents.
How will your frames to be joined? What size frames will you offer? What will be the drawer construction (dovetail or butt/stapled)? Will the drawers be solid wood, plywood, melamine, or metal? There are many choices here today. Will you offer your customer soft close doors and drawers? How are finished ends treated? This can make all the difference in the appearance (does your work say custom or does it say big box look-alike.
A term I have heard referring to quality cabinetry is furniture grade. Are you interested in producing furniture grade cabinetry or simply trying to compete with the big box stores on price? Are your clients discriminating home owners or price minded builders of tract homes? What is the overall design style of the home - traditional or contemporary?

---
From contributor Z:
We use both prefinished ply and melamine, but melamine is 75% of our clients request for cabinet interiors. We use Tafisa which is LEED compliant and the embossed woodgrains and textures available today are remarkable. The finest European cabinetry only uses melamine and no one can call Pogenpoll low quality cabinetry!! We are a frameless shop with great panel processing equipment and I donít think the machinery investment has to be that large in todayís market as a lot of used machinery is available. We outsource our solid wood doors and moldings, so we do not need a molder, shaper, planer, bandsaw, thickness sander, huge wood clamps, and the many other machines you need to work solid wood. No moisture problems, very little saw dust, and no shavings.
---
From contributor D:
Good points Contributor Z. More and more I see European style cabinets (with melamine boxes) that far outweigh traditional American cabinets in both the quality area as well as in the design and functionality areas. Downsview is another good example.
---
From contributor L:
If there is a lot of competition in your area and you like making wooden stuff stay in the hobby line. If you want to make it a business then do a lot of research first. Is there a market not being well covered? You don't have to sell local. We ship nationwide and would starve to death on the local market. As for melamine being atrocious I don't agree but have been using it for many years. Most shops that talk it down do so from lack of experience and lack of the proper equipment investment. The finish is many times more durable than the typical lacquer used on plywood. Pre-finished ply is usually much more durable. A great advantage to melamine is the consistent thickness, lack of voids, flatness, sheet sizes available, and well established processing system. I'm pretty sure that most residential customers can't tell a melamine interior from a veneer. As noted by someone else there are many grades of melamine and P Bd. We are a commercial shop and about the only thing specified for case interiors is melamine.
---
From the original questioner:
I stated it looks really bad, in store or in a break room, or wherever. It started out as a product used in low quality bookcases you can buy at Walmart flat packed or rta. Thereís an obvious consumer sentiment about melamine that it is not good, but I have stated that it has its pluses and places. I have been taking in everyone's posts as they come and if you read on I still think it looks low quality but it has its place and its positive uses.
If it didn't look low quality people wouldn't cover them up with solid wood doors. If I see melamine doors in a home I would assume itís for their kids room/garage or they purchased it for their dorm room and held onto it. The only experience I have building with it is some rta bookshelves that sagged and fell apart and the edge banding peeled off. The corners are so sharp one could cut themselves open on it. Itís definitely a contemporary look and people that are 25 and under have grown up with this stuff all their lives. There may be a growing consumer demand and their our future customers.

---
From contributor L:
Just to clear up a couple of your points. It didn't start out as junky Wal-Mart book cases. Actually very little of the Wal-Mart items are thermo fused melamine. It is a glued on paper over the least expensive board that can be bought, not industrial board most typically used for TF melamine. Melamine Board started out as a European product. I started using it in the '70's. No glue is used in bonding the saturated paper to the board. You can get it in very thin papers or papers heavy enough to use for counters. The saturated papers are the same type as used in HPL.
---
From the original questioner:
Melamine looks like melamine whether itís high grade or not. It seems to be that wear and longevity makes a difference. Just like HPL counters look like HPL counters. With or without a fake texture itís still laminate. Itís still associated with lower cost and overall "idea" of quality.
---
From contributor A:
Look inside a 25 year old melamine cabinet and look at the inside of a painted plywood cabinet and any questions should be answered. Not all melamine is low quality.
---
From contributor D:
There is a lot of melamine and yes, even sliding doors on this job.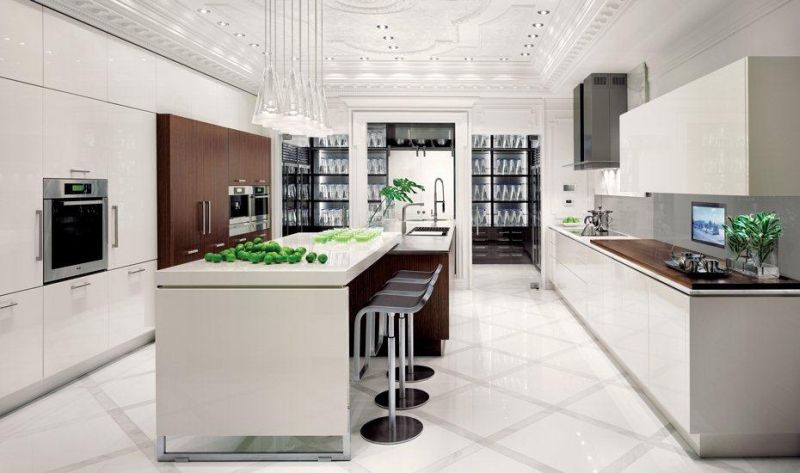 Click here for higher quality, full size image
Are they melamine or plywood?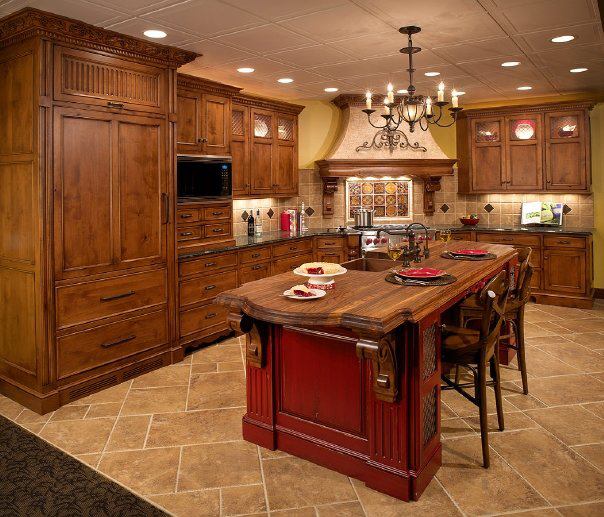 Click here for higher quality, full size image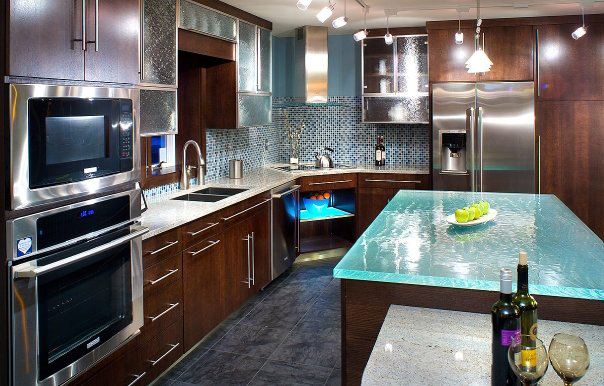 Click here for higher quality, full size image
---
From the original questioner:
To contributor D: In my posts I stated that I know of higher end cabinet shops making melamine cases with beautiful inset FF and great looking frameless, yet itís all covered up by nice wood doors, etc. Melamine has its place just not as an exterior surface.
I agree it has its great uses. Itís square and flat and I cannot say the same for ply. Again itís hidden behind nice doors and drawers. The pictures you posted may have melamine cases and it seems to be the way to go from all of the posts. I would like to see more options of surface, texture, and patterns available as I do not know who is currently producing finer quality melamines.

---
From contributor L:
Most if not all of the melamine board producers will lay up about any pattern or color that is available in HPL. Some are hooked into just one or two of the laminate producers. The quantities are typically 200 faces minimum (100 sheets two sided.) The nice thing about having it laid up is you can get sheet sizes that cut out best for the job. Lots of commercial jobs require more than 100 sheets. What does a custom kitchen take - a dozen sheets? Eight kitchens per 100 sheets! For the guys running nested that's just maybe 18 hours of router time to process 100 sheets.
It seems like a kitchen or closet shop could get something different than the stock patterns laid up and sell it as an exclusive. The thermo forming companies also can provide parts in a wide variety of HPL matches. The big office furnishing places have custom patterns printed just for them. It makes it hard to supply matching fixtures for us small shops. I have noticed that there are now some matches being sold without the high price required on the products with the real paper.
It's a bit expensive but you can provide digital images and have them made into either HPL or melamine. You can also have silk screen images made and turned into laminate. There is a world of design possibilities out there if you just make the effort. You don't have to love melamine board to take advantage of its properties.

---
From contributor C:
You really need to do some research. Melamine is a much tougher product than vinyl wrapped cases from the box stores. Actually it is so tough, a fellow cabinetmaker on WOODWEB talked about some chicken coops he made from it, and they were standing for years!
---
From contributor R:
I'm that cabinetmaker! Here we are five years later and my melamine chicken coops live on! In reality the chickens got moved a couple of years ago and the cows sneak in there now. The stuff I built out of prefinished ply didn't last a year outside. There is no doubt that many perceive melamine to be lower quality but that's all it is - perception. There are places were PB core is not good - in things that move or standalone (think furniture). In the use of cabinetry for boxes I'm not sure it can be beat.