Methods and Materials for an Outdoor Curved Stair
A woodworker gets advice about replacing a beautiful and well-made outdoor curved stair. April 22, 2014
Question
WOODWEB Member:
I have a gentle, large radius curve exterior stair repair/replacement. 6-7 treads up and about 4 1/2 ft wide, mahogany. Caped stringer on the outside and caped (narrow) stringer inside against a large radius circular deck. Curved stringer/horse material suggestion please; exterior plywood and/or thin strips of 1 X 10 mahogany. What materials are generally used on an exterior curved stair? A curved 1 X 6 band/trim sits under the twisted curved cap on the outside. Cap, also about 1 X 6 was a glue-up and sawn-out. Trim, layered and screwed. I would prefer not to have screws showing.
Forum Responses
(Architectural Woodworking Forum)
From contributor M:
Laminated would be good; plywood, not so much. Half of the plywood is doing nothing for you, so it would have to be twice the size. Mahogany or cedar would work. White oak would work if it were painted.

---
From the original questioner
:
Thanks. Straight construction-type stairs use 1 1/2" material (2X 10 or 2 X 12); I was planning to make the curved stringer about 1 1/2" (either out of plywood or thin strips of some kind of solid wood). I tend to think of laminations; has become a natural way for me. The curved caps will be done this way.
---
From contributor J
:
I've only built a few exterior wooden stairs but have some opinions anyway... Marine plywood is alright for structural stringers, provided they're completely sheathed and shielded from exposure and with scarfed joints. Any exterior grade plywood will do (including Home Depot marine grade), but these will have voids and knots (I honestly don't know how they can call it marine grade?). You may want to read up on this.
West Systems epoxy is a proven boat building glue, especially where clamping is a problem, but I think I prefer marine resorcinol and pressure clamping. This is the same glue used in the manufacturing of exterior plywood and structural glue-laminated beams (and the only structurally approved glue). I only use epoxy where clamping is problematic or impossible. Curved stair stringers are structural glue-lams and may require engineering certification.
Mahogany is only moderately resistant and too soft to walk on. It's also very absorbent which makes it a poor choice for horizontal exterior surfaces (and slippery when sealed). I would recommend mahogany (sapele) for all the brightwork (stringer facings, handrail, etc.) but not necessarily for the treads or decking. These could be ipe (air-dried) and allowed to weather naturally (teak is history). I would re-engineer the treads to be open-gap, solid planked construction and set on angle iron or cleats (as opposed to hollow treads and housed stringer).
There's quite a lot to consider when designing and building curved wooden stairs (especially exterior, open-riser stairs). If properly constructed and maintained, however, there's no reason why their lifespan could not be indefinite.

---
From the original questioner
:
What type of wood is traditionally used for wood boat decks? The exterior residential deck I've normally seen has been spaced redwood 2 X 6 planks. The large main circular deck may have been tight, no space, like a boat deck. When placing solid wood flooring down, the installer needs to account for the expansion, across the grain. When I return to this job, I need to see if the deck is free floating, not restricted.
---
From contributor J
:
Traditional boat/ship decks were overlaid with teak. These were not tight-fitting planks but spaced and filled with chalking compound. This is mostly a thing of the past, as are the "inexhaustible" teak forests. (This is probably unrelated to your external, residential deck and stairs.)
Ipe is now becoming popular for external decking in non-marine applications. The boards are placed loosely against each other and secured with hidden fasteners (splines). Stair treads could be made to match. The lumber is usually sold as air dried and seasoned specifically for external use.
Large solid (edge-glued) wood surfaces such as stair platforms, deck areas, table-tops etc., are not suitable outside.

---
From the Staff at WOODWEB:
Here are pictures from the original poster.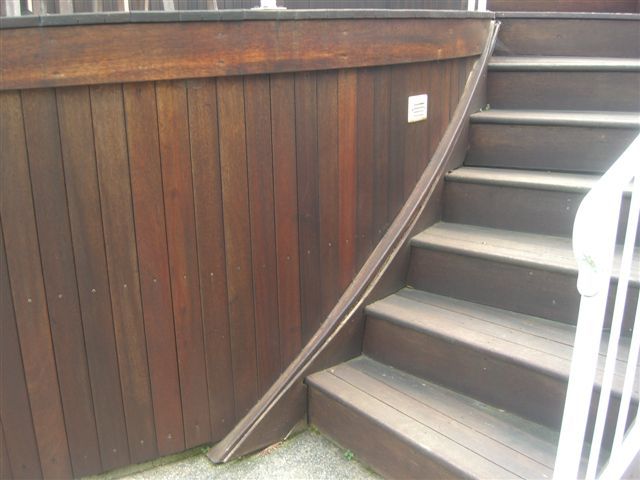 Click here for higher quality, full size image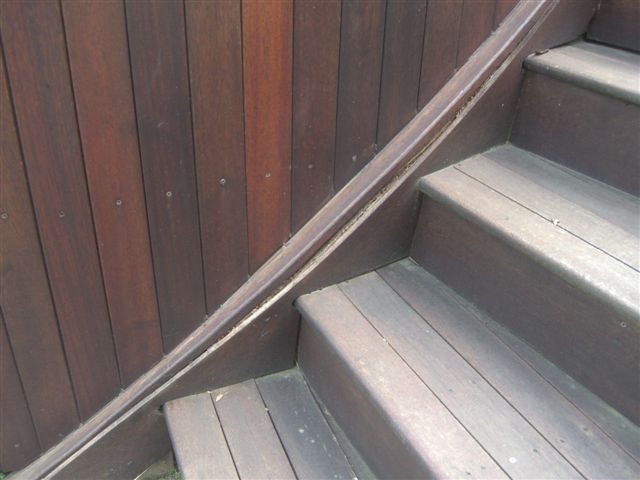 Click here for higher quality, full size image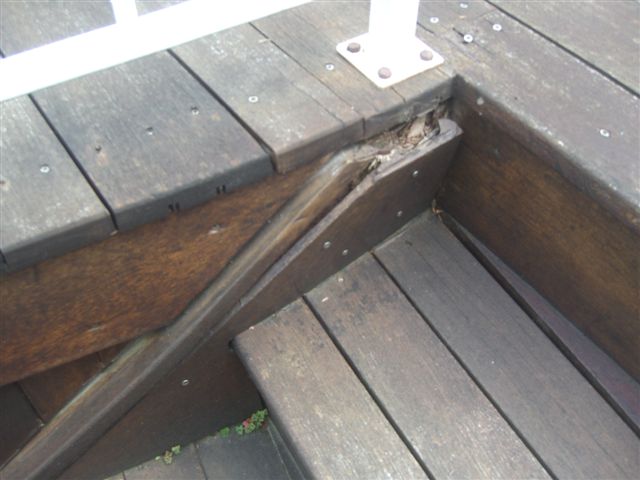 Click here for higher quality, full size image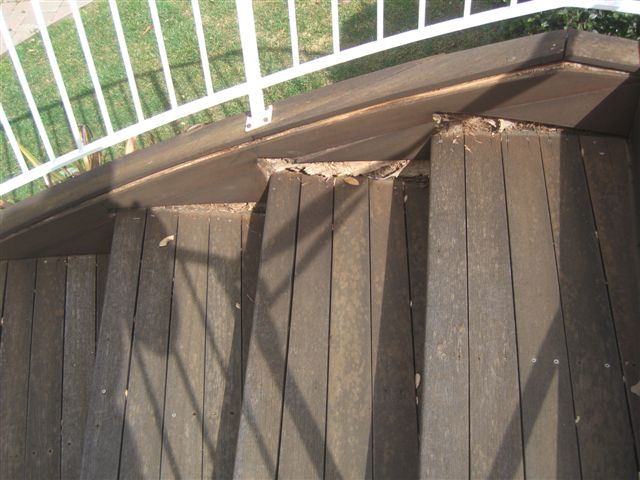 Click here for higher quality, full size image
---
From the original questioner
:
Thank you. Have some boatbuilding books and just got them out for a look. Seems like a canvas material may have been used. You have me wondering if the deck is mahogany or something else. Worried about the glue and sealer, the weather is a little cold for this.
---
From contributor J
:
You've got to go back before fiberglass to find canvas sheeting under teak decks. Anyway, these pictures say quite a lot and I'm wondering if restoration is at all possible? It looks like this was done-up rather first class. I'm also wondering what we looking at for lumber? From where I sit, it looks like a professional job that might be a shame to completely demo.
---
From contributor O
:
I built these two stairs 4 years ago for outside a place in Nantucket. I used African mahogany and glued everything with West System. I have not had a call back about any problems with them.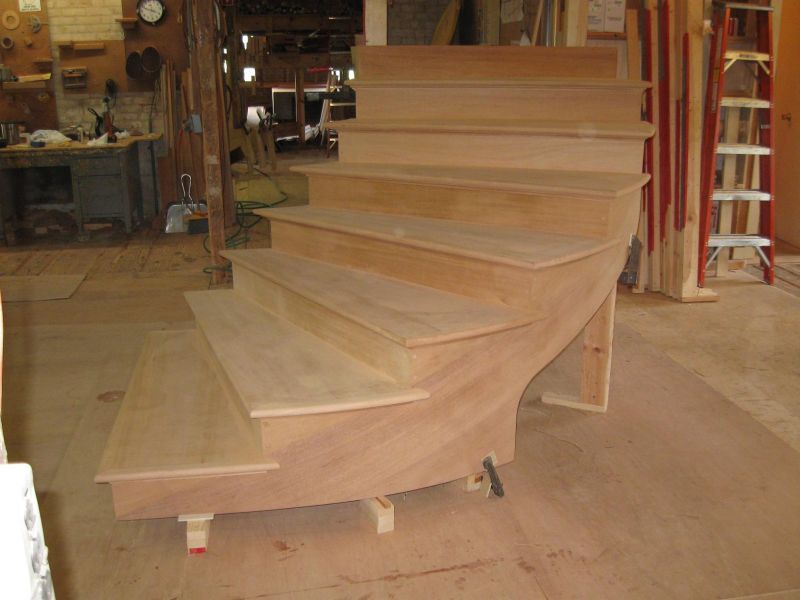 Click here for higher quality, full size image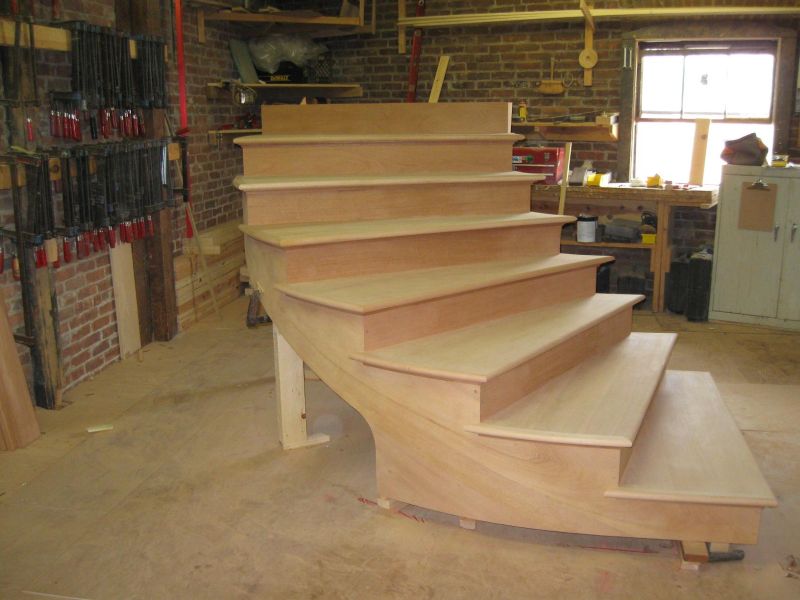 Click here for higher quality, full size image
---
From the original questioner
:
Nice.
My understanding is the deck is about 20+ years old. I'm not comfortable with solid treads outdoors. I'm capable of restoring these exterior stairs. I enjoy learning how others (skilled) have done their craft. Housing the treads was a mistake. And I'm not sure if I will replace the caps the same way. And, if I get this job I surely will request that the new owner not be hosing off the stairs. Many thanks for the suggestions.

---
From contributor O
:
Thanks. You might look into okoume plywood. It comes in 4x10 sheets that would eliminate any joints. The picture you have looks like it's a 7 rise so 10 feet should most likely work for both stringers, depending on the run and the rise.
---
From contributor W
:
That's a no brainer - you can use treated or even redwood for that with regular relief kerfs. Outside stringer gets a 1x12 face screwed to it - cap it all and put a good water preservative on the wood and bingo.