Midnight-Black Stain for Maple Plywood
Dead black is a tall order if you want a stain, not a paint. Here's advice on techniques that work. January 27, 2007
Question
For a favorite client, I'm doing a small piece that needs to be stained dark black (but not have a "painted" look). I've ebonized solid maple many times before with great luck. However, when using A1 ply, the back sides often have darker streaks in it. I'm curious, since I'm doing the dark black, if these will make any difference or not.
Forum Responses
(Finishing Forum)
From contributor J:
What stain do you use to make it black?

---
From contributor D:
The absolute nuts for this application is Dick Blick India Ink. You paint it on with a foam brush (but it's very thin so it doesn't build like paint) and clear coat over it. All the grain is visible, but the thing is the color of midnight.
---
From contributor J:
I have trouble with blacks being more dark blue or purple. Is there a dye stain that I can spray that is more pure black like coal?
---
From contributor L:
I've done the black stain on maple. I used MLC products and started off with the black stain. No conditioning of the solid or the ply was done. I was not pleased by the stain alone. I used a black shading lacquer to even everything off. I believe I used a 4 parts lacquer, 4 parts thinner, 1 part black Microton dye. I did an average of two light coats and everything came out well. The two extra coats made it dark enough so that if you looked at it quick, you might think it was a solid coat. But if you looked at it to see it, you would notice that it was stained and not painted. You could always do one coat of the shading if this was too dark. Here's a picture, but taking pictures of black cabinets doesn't do the work justice. You can see in the plywood sides that the grain is showing through. It is also showing through in the doors, the photo just doesn't show it well. This was finished with the above formula.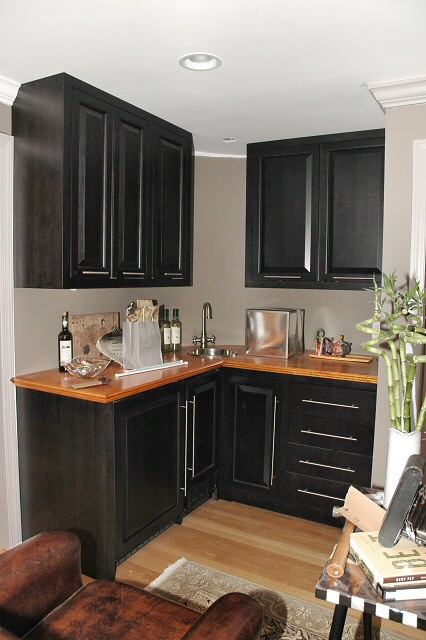 Click here for higher quality, full size image
---
From contributor C:
I agree - stain then shading lacquer is the way to go. We use Proline black mixed with a little raw umber in Paramount or Valspar WB lacquer.
---
From contributor G:
It may be just me, or is there purple in contributor L's pic? For a warm black UTC, try to find some Huls 844 CB (carbon black, AKA bone black). Chemcraft's 507 black is pretty good, too.
---
From the original questioner:
Thanks for the great input. Yes, I use India Ink all the time when ebonizing furniture. Just never tried using it on large flats of cabinets. Was worried a bit about streaking.
---
From contributor M:
This finish was done on anigre. I first use a Jet Black dye stain, as you can see the red showing through. In the second photo, I made up a pigmented black concentrate shading stain and sprayed that over the dye stain. You can darken the color by the amount of colorant you add or the amount of passes you make.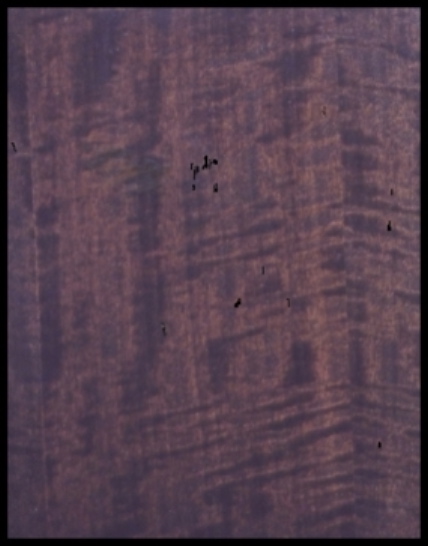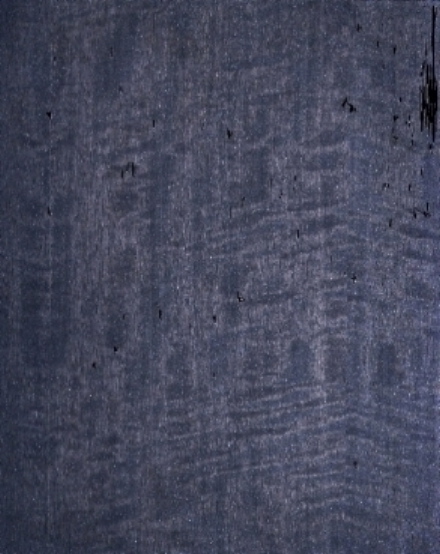 ---
From contributor L:
Where do you see purple in the picture? I know there is one small spot that shows purplish on the plywood lower, near the face frame. But that is my camera. It doesn't do black great, weak infra-red filter. If the whole thing looks purplish, then your monitor needs some calibrating. If it is just that one small spot, it's fine. The flash is a very bluish light source and can inject a blue tone into any picture if it is not white balanced properly.
---
From contributor R:
The cool thing about water dye is every time you spray on another coat, it keeps getting darker. I would spray on 3 or 4 coats of Lockwood #327 or #5791. Unlike conventional stain, you can apply as many coats as you need without creating adhesion problems. I would then possibly shade with Mohawk Ultra Pen stain in black to even out any problems.
---
From contributor O:
I too see a bit of purple on the side of the lower cabinet but I think it's just a light reflection that's bouncing off the chair and showing up on the cabinet. Nice look!