Modifications and Tricks with Small Bandsaw Mills
You can do a lot with a small portable bandmill, if you apply some creative jury-rigging. Check out this extensive set of photos. July 18, 2008
Question
Does anyone have experience with the Turner bandsaw mills out of New York? They use air filled tires for the band wheels. Sounds good to me - more forgiving on blades, less breakage. I was wondering about keeping the tension on the blade so as not to get wavy boards. I have owned a Lucas, an LT 40 super hyd, and a Mobile Dimension. Now I want simplicity. It seems the Turner mill is as simple a design as there is.
Forum Responses
(Sawing and Drying Forum)
From contributor R:
I had a Turner and the blade tension will work on just about any setting. If you start making wavy boards it's because it needs a sharp blade put on. You won't need to use water on the blade either. Blades don't break too often because of the air filled tires. I'm sure you will be pleased with the mill. It's built simple and heavy duty and the only part that wore out on me was the guide bearing, but you can buy them at just about any bearing store. They were about $2 apiece. I'd guess if you saw a lot you might wear out a set of bearings a year. I've never seen a used one for sale. Bill Turner builds every mill himself and he's built a bunch of them. So if you are not a happy Turner owner, you know who to complain to.
Here's a picture of the one I had. I ended up selling it to the folks I sold my 300 acres of timber to in 2006. They wanted it and I figured I didn't need it anymore. I'm now living in town and I don't like it, but when I find some more timber to cut up I'm going to get another Turner.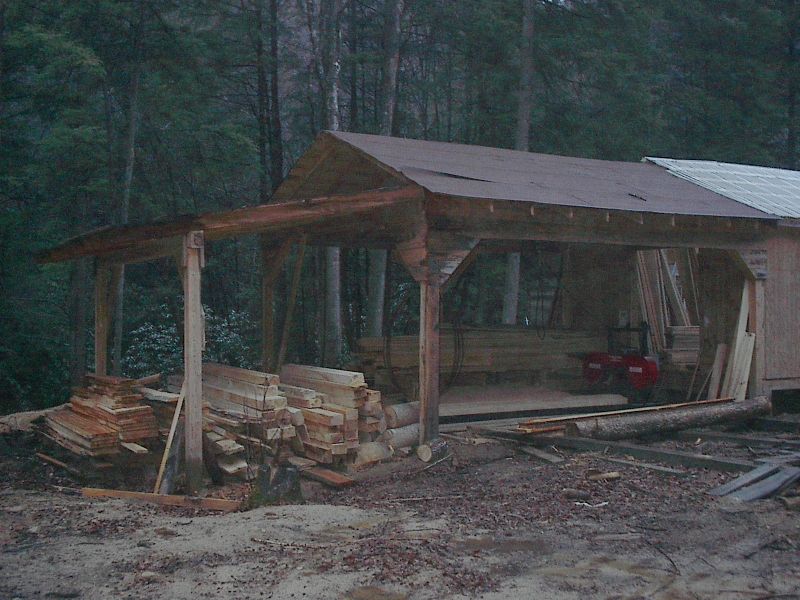 Click here for higher quality, full size image
Here's how I loaded up my log deck sometimes. Just pull the log truck up to the load deck.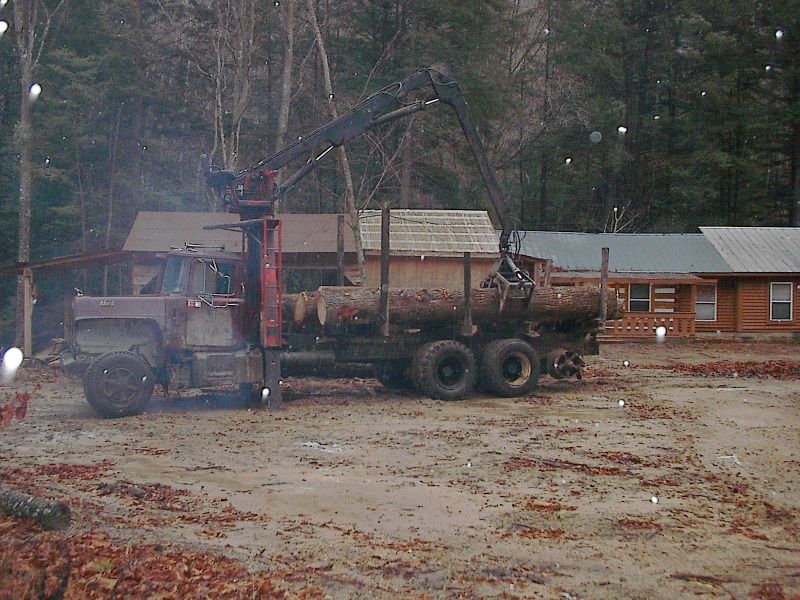 Click here for higher quality, full size image
---
From the original questioner:
I am sure a lot also depends on how rough a person is on equipment. I have talked to several guys about the Turner mill. They have not said one bad thing about it, but none of them run it professionally. 90% of my sawing will probably be on western red cedar. A pretty soft wood I think, very forgiving on a blade.
---
From contributor R:
Here are some pines I cut up.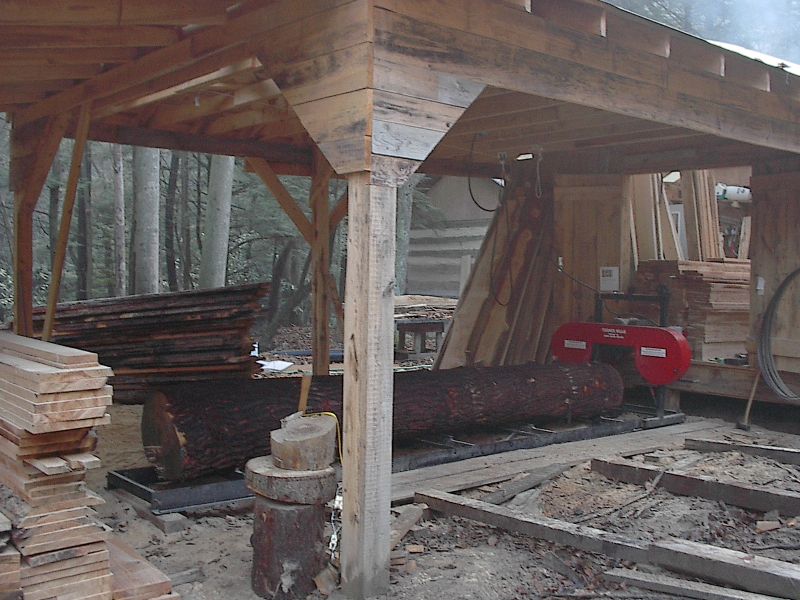 Click here for higher quality, full size image
Here's the guide bearings. As you can see, there is no steel rubbing against anything.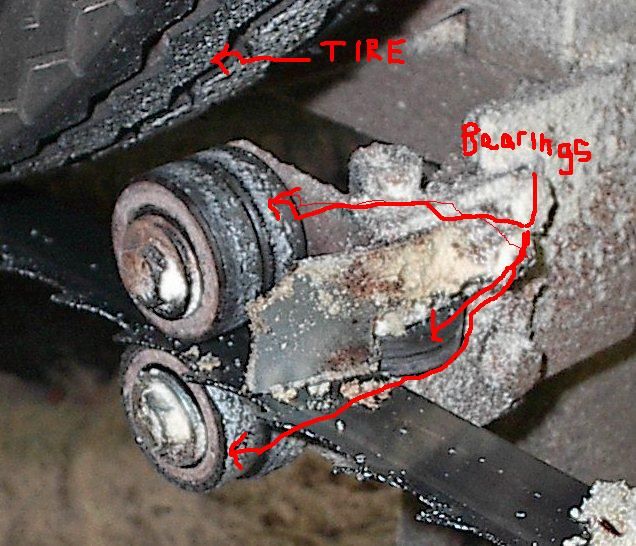 Click here for higher quality, full size image
The Turner has four back posts that work off a lever. When one moves, they all move.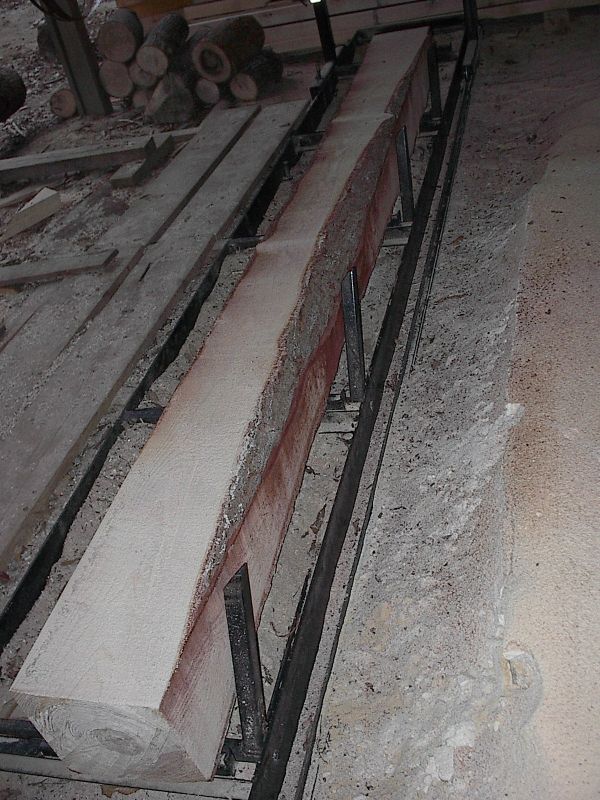 Click here for higher quality, full size image
Here's what pine boards look like coming off a Turner. The one on the top is a little over 16'' wide.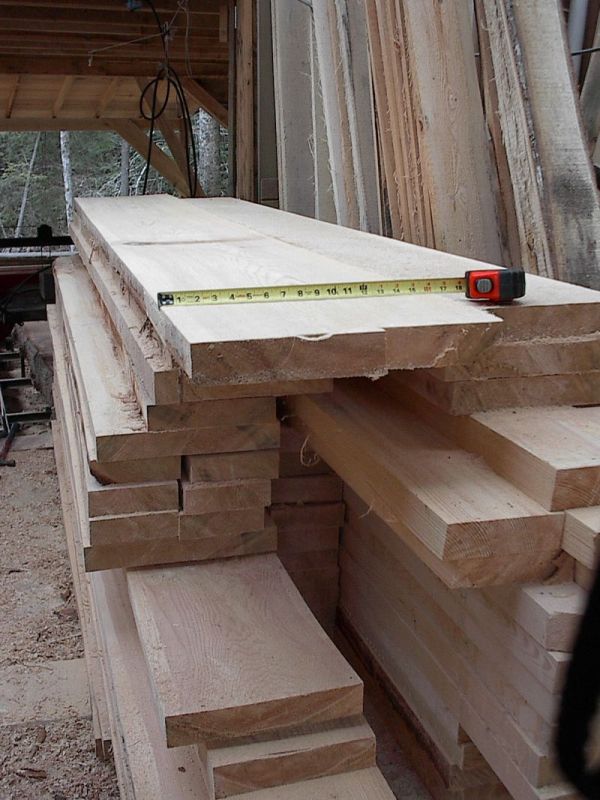 Click here for higher quality, full size image
To tighten the blade you just turn the bolt with the orange paint clockwise. The T handle adjusts the tracking. And that's about it on blade adjusting. I also went to the tire store and had them balance the tires. That helped a lot.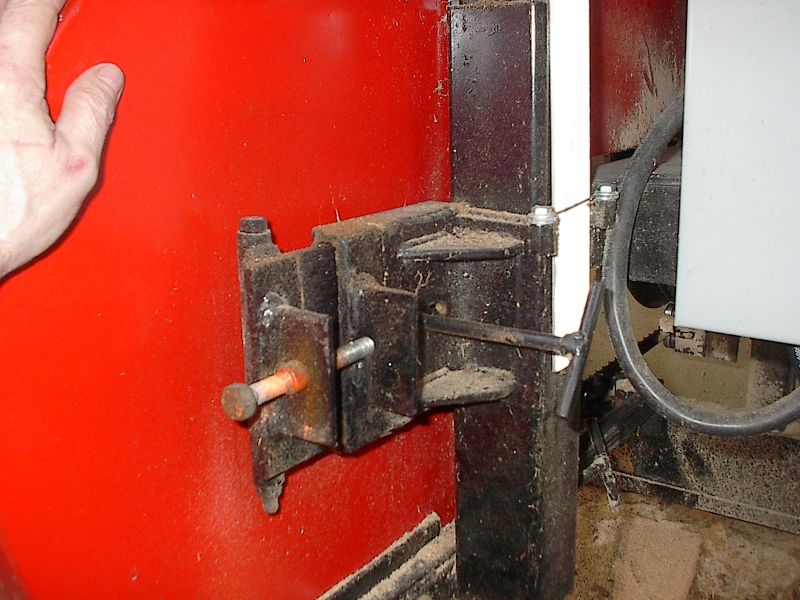 Click here for higher quality, full size image
I bought mine off of Bill Turner without the motor and I had a motor sent to his place and he put in on for free. Total price at that time was $3,400 for the Turner mill without the motor.
Here's a house I built with my Turner mill - all but the log part of the house, which I cut out with my chainsaw before I got the Turner mill.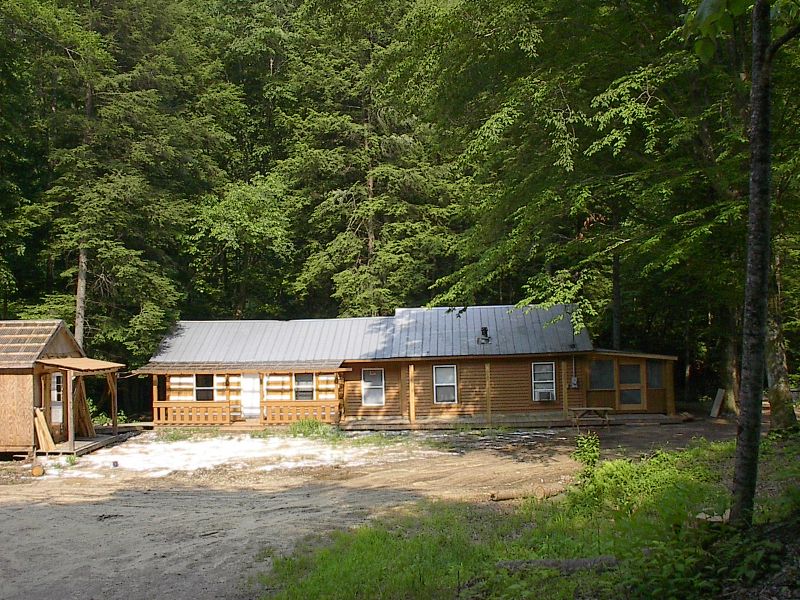 Click here for higher quality, full size image
---
From the original questioner:
Great looking boards and great looking house. I am not real mechanically minded, but I am careful. The Turner seems so simple to operate and adjustments are simple - I like that. I told Bill that I want to get the manual mill 36 in capable, but I want the hydraulic log turner and clamp and log bunks. I don't need the log loader because I have one of those Bailey log loaders on a trailer.
---
From contributor R:
The hydraulic log turner is a good idea. I would have liked to have it on logs like these. This one was 22'' on the small end and 16 1/2 feet long. That's about max on a 30'' mill.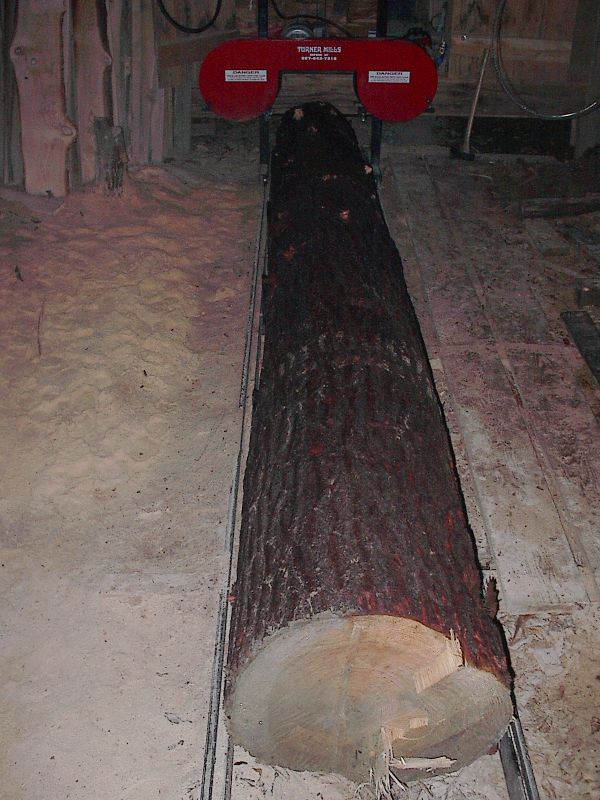 Click here for higher quality, full size image
I made a log deck and just rolled the logs onto the mill.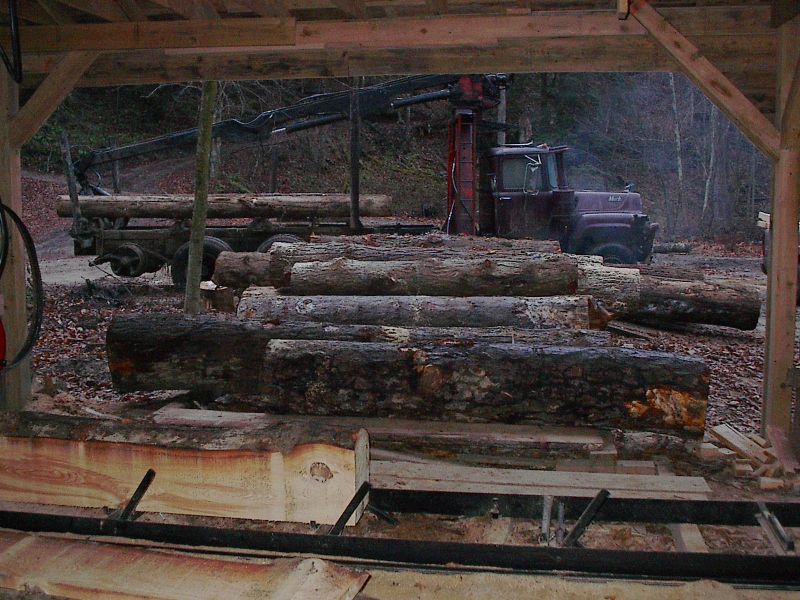 Click here for higher quality, full size image
Bucking logs here.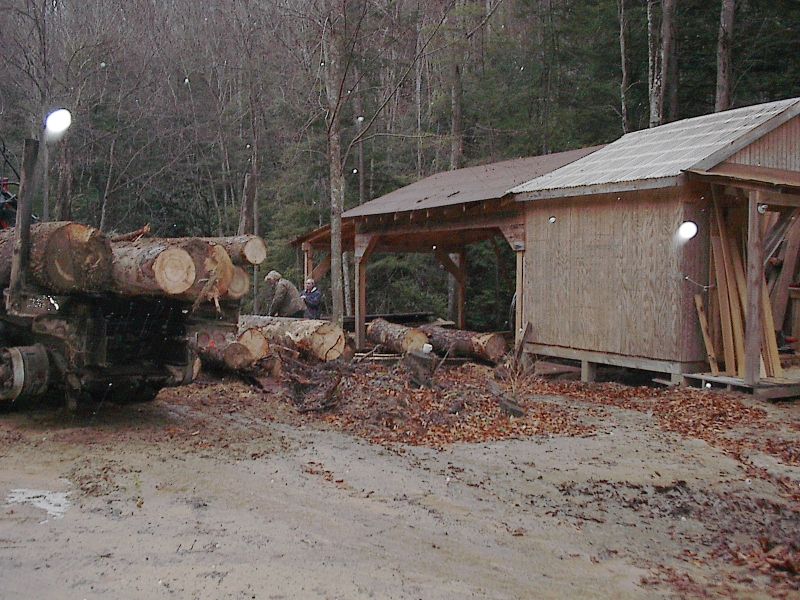 Click here for higher quality, full size image
Log deck I built. I could drive across the log deck if I was skidding a log with my truck.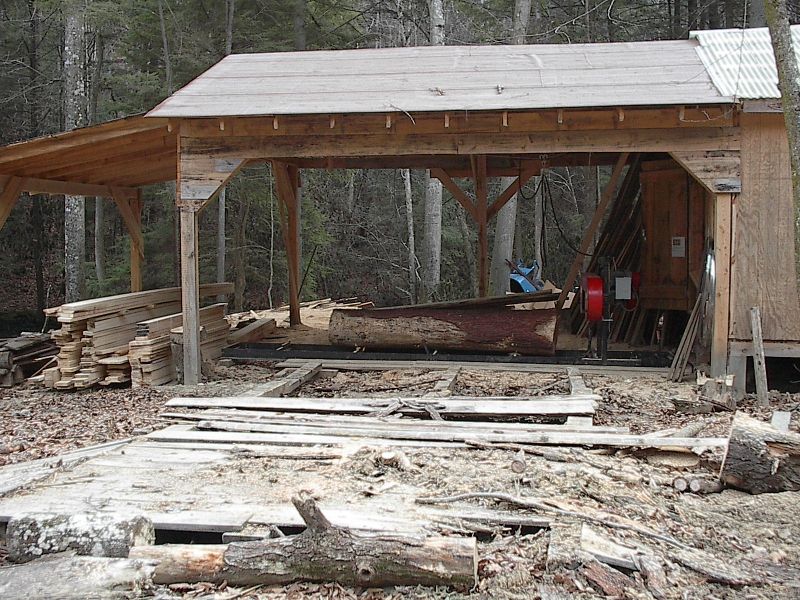 Click here for higher quality, full size image
Cleaned up sawmill shed. Just about too clean to use now.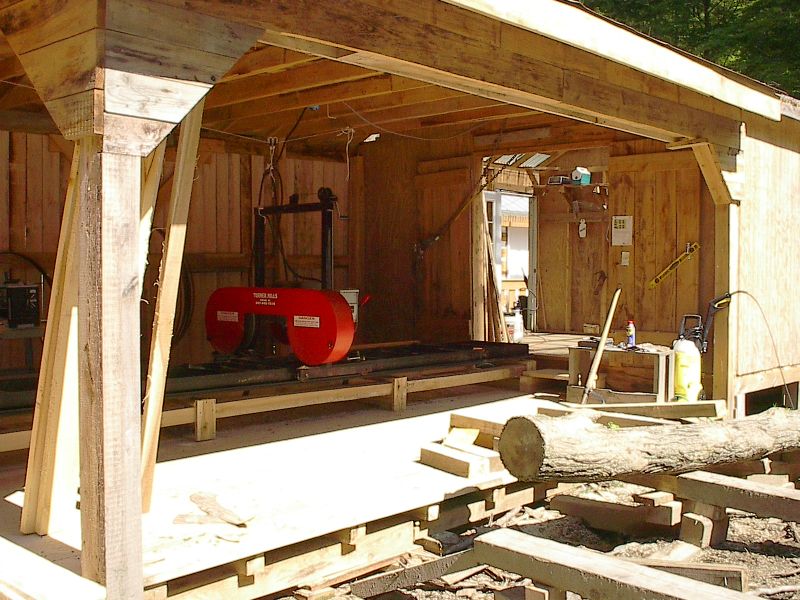 Click here for higher quality, full size image
Might be a good idea to get one of those electric pressure washers if you skid the logs through dirt. It will really save the blade life. The bigger the pressure washer, the faster the log gets cleaned.
Here's what red oak looks like right off the Turner mill.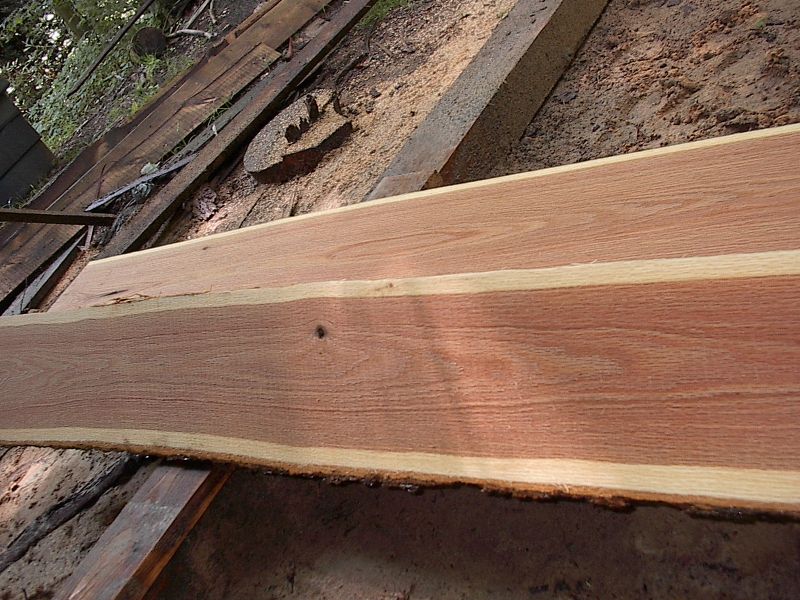 Click here for higher quality, full size image
I had a boat winch on my mill. You might think about having Bill put on an electric winch. The boat winch works fine.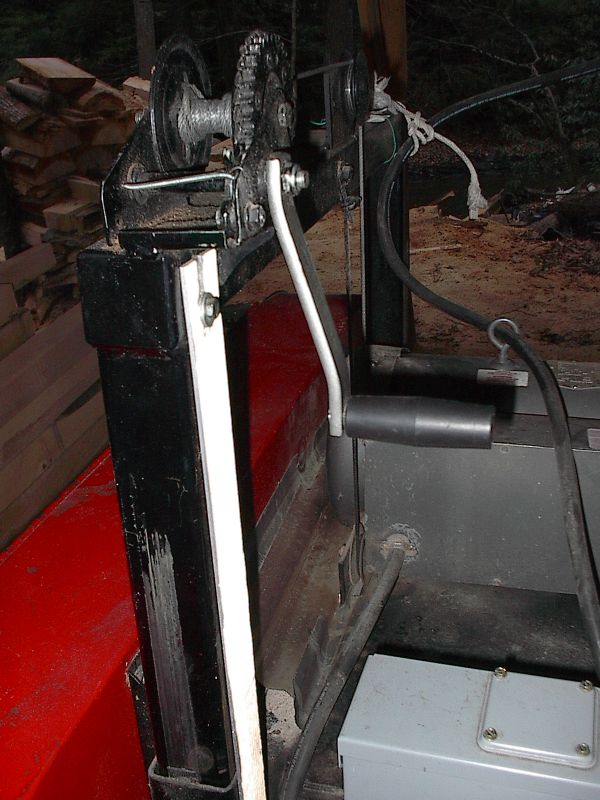 Click here for higher quality, full size image
---
From the original questioner:
All good ideas you have with log handling. I have a log loader like your log truck, except mine is on a trailer. Do you recommend using a log deck instead of your loader, so as not to damage the mill by accidentally dropping logs with the loader, or simply the deck frees up your loader?
---
From contributor R:
I might add the gears were starting to wear down. Might have lasted me another three years. And here's what I did with some of my odds and ends.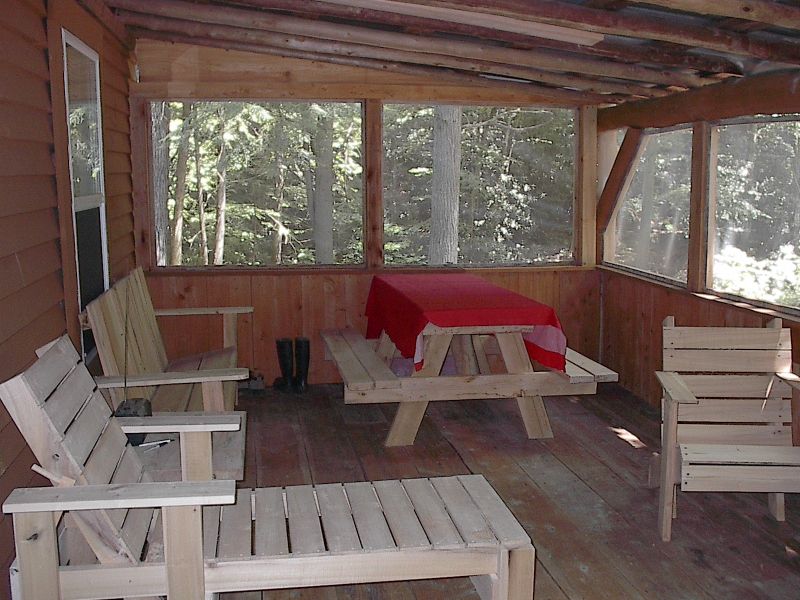 Click here for higher quality, full size image
---
From the original questioner:
I own a tree service here northeast of Seattle, and I have lots of tree and logging friends who give me a lot of wood. I don't have to skid logs out. Mostly I climb the trees and drop sections out sometimes 16'' and sometimes 20 footers depending on the room I have. I get to load the logs easy if the trees are in the front yard. In back yard is a different story. I am new to the sawmill business - still trying to find my niche. Thanks to this forum I'm learning a lot.
---
From contributor R:
Just build the log deck even with the bed of the mill, maybe a little higher on the back end so the logs roll downhill to the bed. You will need a space between the log deck and the sawmill bed of about 2 feet. Lay some boards between the log deck and the bed when loading the log onto the bed. That's what I did. I could put about 2200 board feet on my log deck. I'd get the washer out and clean all the logs off and then I'm ready to cut almost nonstop, until the slabs and boards started pilling up around me.
I think I spent most my time moving boards and cleaning up sawdust. There again, if you're not cutting too much, maybe just use your loader and put the log on the sawmill. If you drop the log, you won't hurt the bed. Might knock it out of level, though.
The Turner mill you will have to flip the blades because they cut going the other direction of all the other mills. One of the reasons for that is so you won't have to walk though the sawdust.
Here's something else you can use scrap wood for. Made from beech.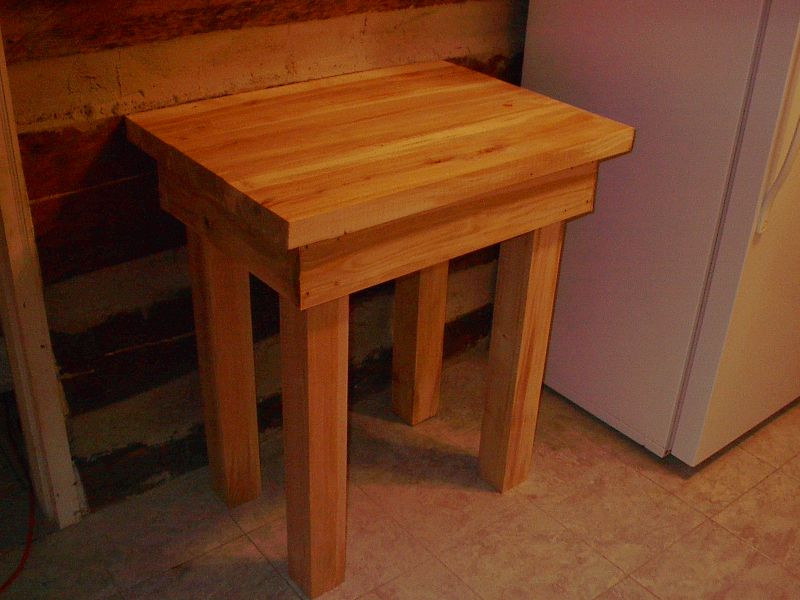 Click here for higher quality, full size image
I have no idea what folks do with green wood off the sawmill in Seattle. If you are getting the logs for free and there's a RR tie buyer close by, maybe sell 7''X9''X9' ties to them. Or maybe just sell the wood to the public. Or if there's a pallet company close by, maybe they will buy pallet cants.

---
From the original questioner:
Yeah, I can also sell quality fence boards or 4x4s. I am exploring that green market. We also do a lot of western maple and alder. It seems like I just have to start cutting and posting ads in the area. I hear that in a few years I should have more than enough contacts to keep me plenty busy.
---
From contributor R:
Here's something else you could do with short boards. Use them for cabinets. Nothing fancy and a whole lot cheaper than store bought.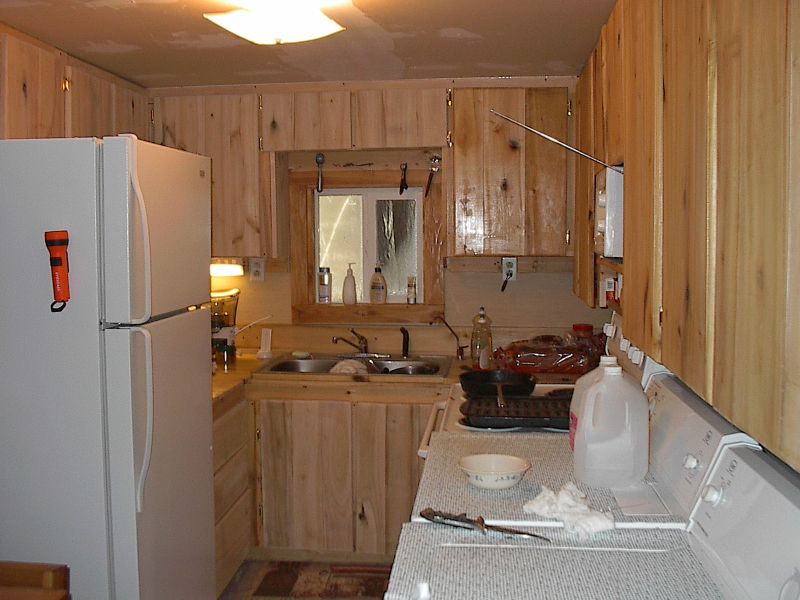 Click here for higher quality, full size image
Picture of the blade guides and the band wheels.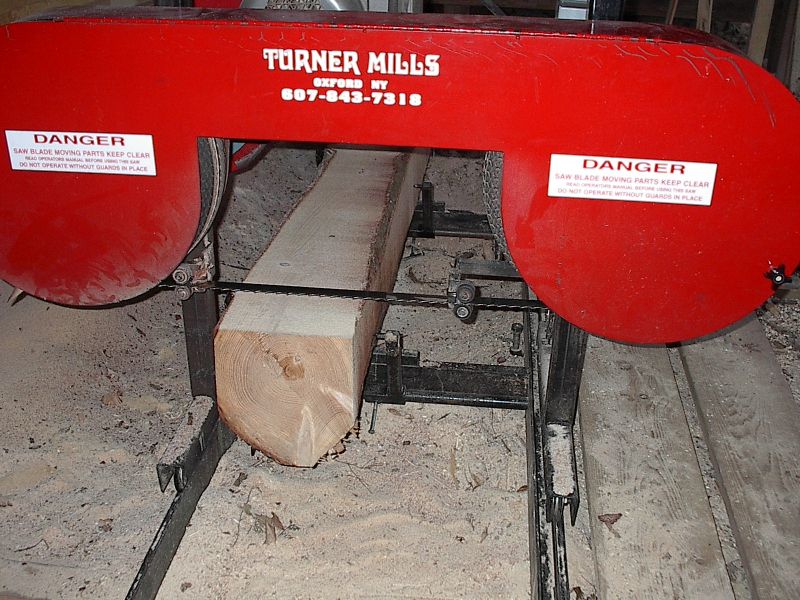 Click here for higher quality, full size image
---
From the original questioner:
Nice cabinets. I would like to be that handy in the future, but am just a tree climber for now. What about beveled siding on the Turner? Can this be done, and resaw attach? Makeshift one?
---
From contributor R:
Wood-Mizer makes a beveled siding attachment you could use. More info here:
Cutting and Drying Beveled Siding

---
From contributor E:
I never owned a Turner but from what I am reading, they must be a nice mill. I have owned two LT15's and would definitely recommend them to anyone that is looking for an easy-to-use sawmill.
---
From contributor W:
You may want to take a cant hook and try turning a 22" diameter log 16 feet long by hand about 10 or 15 times to see if you would want a mill with more bells and whistles. I moved up to a hydraulic mill almost two years ago. I suggest buying the most automated mill you can afford.
---
From contributor R:
I'd agree that a hydraulic mill makes everything easier, but look at all the exercise you will be missing out on.
---
From contributor A:
I am happy to see someone else is working the area around the greater Seattle. I have been milling here for more than 8 years. I own the largest portable sawmill business in the state. I have two mills and have cut more than 2,000,000 bf. Teaching at the college and working as a building inspector does not leave too much time to cut. I really like my two Cooks mills. I have never had many problems with them, other than the normal things.
---
From the original questioner:
I know what work it is to use a cant hook - my arthritic joints cry out each time. Years of treework, competitive volleyball, baseball and some ice hockey.
The LT15 seems like a nice mill, but I need to do larger diameter logs. As for the hydraulic models, I owned a lt 40 super hydraulic, and you still have to walk along beside it. I figure, get the hydraulic log turner and clamps (take out the cant hook heavy turning), but just manually push the saw through the logs, if I have to walk anyway. Pushing the blade through the wood can't be that hard, is it?
Contributor R, you mentioned I could use the Wood-Mizer beveled siding attachment. Have you used this? Will it fit and mount up easily to the Turner mill?

---
From contributor R:
No, I've never used the Wood-Mizer beveled siding attach.
---
From contributor A:
Cooks has a really simple bevel siding attachment that I had on my first mill. I have cut about 30,000 lf of it. It is a lot simpler that Wood-Mizer's.
---
From contributor E:
Sometimes I do push my mill by hand through the log. It only works when you have a new blade. If the blade dulls very much, you will have an excellent exercise program.
---
From contributor L:
Contributor R, did you have the power up and down on your Turner? I like the tire balance idea - will maybe give it a try.
---
From the original questioner:
You had trouble with the power up and down stopping accurately? I suggested manual up and down, but using a drill to power up when putting on a new large log to saw. I also talked with someone else who did not have a problem stopping accurately every time within 1/64 of inch. It would be nice to have a setworks of some sort to eliminate this.
---
From contributor L:
When I bought the mill I went with the 25 hp Honda over the 20hp due to the output of the generator. I have noticed when using the up/down with the engine off it moves much slower, however with the engine running it moves much faster.
---
From the original questioner:
Very interesting. The other guy I talked with said he had no problem being very accurate with stopping at the desired point the first time. Slow and easy power down. I think he said he only had the 15 horsepower motor. If this is the case, I wonder what could be done to the 25 hp engine to slow the power down. I don't want to turn off the engine every time to achieve this.
---
From contributor R:
I had the crank up and down. I believe I can figure out the problem with the electric winch going too fast. Try wiring it straight to the battery and running that way. If that doesn't work I'd make a place my te winch on the top rail and place a boat battery there and run the winch from that battery.
---
From contributor L:
Not sure, but I think I can find an in-line reducer that limits the power to 11-12 volts?
---
From the original questioner:
Do you think that will help? Are you going to rethink ordering the manual crank? If you try reducing the voltage (or whatever you said), let me know if that fixes the problem. To me it just makes sense to have the power up and down feature. Do any of you think another beveled sawmill attach (Wood-Mizer, Cook's, etc) will hook up and work with the Turner?
---
From contributor R:
They're called resistors, and that might work. Maybe try an ignition coil resistor. You can get them at any auto parts store.
---
From contributor C:
Wood-Mizer's beveled siding attachment should work on any mill. It's narrow and clamps onto the deck. Easily modified. You must have had a Wood-Mizer super before the operator's remote and the board drag back were added.
The Turner looks like an easy to use mill. I'm not sure if this is the mill that was made in Maine years ago. It had a neat clamping option where the log could be grabbed by the ends, so shorts could be easily milled.
What I think is important (hydraulics aside)... Ability to position a log best face to the saw easily and level to blade (toe/taper adjustment). I had an old manual mill with manual toe adjustment with a great clamping system. I miss that mill. Someday when I'm worn out I'll go back to that old mill for pure pleasure.
Any mill can be made to perform if the beef's there. Abusing a mill - 2 million bdft - it's seen a few wrenches. Buy the mill - seldom do you not get your money back on small mills, resale wise.

---
From the original questioner:
Good to know about the Wood-Mizer beveled siding attach. As for the toe boards, Turner sells them for $70. I will probably use my self loader to set or position my logs small end first, like you said, and use the toe boards accordingly. WRC has a lot of taper, so toe boards I think are a must.
---
From contributor S:
I've been sawing everyday for about 10 years now. If I had to turn the logs and work the tapers and everything else by hand, I'd be 6' under by now. You need to decide what you are going to do. Are you going to try to make money? Are you going to saw big logs? Is your time valuable? If you have no interest in making money and want to spend a lot of time sawing up one log, then get a small, manual mill. If your goal is to actually have a business, get some equipment that will make you money. The small hobby type mills are fine for what they are designed for, but you have to be realistic about what you will actually achieve.
---
From contributor R:
Is anyone here making a living with their sawmill without the money from their day job or their wife's job?
---
From the original questioner:
Contributor S, I think that's the beauty of the Turner mill. If I want to go from manual mill to a fully hydraulic model a year or so down the road, I believe I can convert to fully hydraulic easily. I could be wrong, but I think all their mills are adaptable.
I plan to ease into the sawmilling business - supplement treework with milling and possibly firewood sales. My log loader can work nicely for all three. I sold my Vermeer chipper a year ago and do not miss it. I do not miss training employees either, only to see them go and start their own business, thus the change in line of work. I someday hope to have enough milling jobs to eliminate the rat race of tree service work.

---
From contributor R:
That's right - all Turner mills have the same sawheads and beds. All the 30'' wides use the same parts as the 36'' ones.
---
From contributor L:
In my area there are five mills, not counting mine. One mill makes a good living. This mill has repeat customers that ignore the other four mills. This one mill turns out lumber that is constant, the operator is still young enough to put in a full day's work, and he has talent.
The other four mills? One is owned by a fellow almost my age, one is owned by a fellow who is not hungry, and the other 2 mills are owned by people who have good mills but no talent. One look at their product and you know what thick and thin means. In short, a mill is only a tool.
I bought my Turner as a hobby mill and never intended to sell a board. Do I like this mill? Yes! Would I recommend it to someone who wants to make a living with it? No!
The mill in my area that makes a good living is an old hydraulic Wood-Mizer that was bought new by a fellow who had no talent. Could a Turner mill ever be equipped to where it could keep up this old Wood-Mizer? Absolutely not!
I had Bill Turner put a one gallon water system on my mill. I've never cut a green log that I didn't get a small amount of pitch buildup. There's not a mill made that cutting green larch will not get a thick buildup of pitch. Cut a green Ponderosa pine and you will be adding dish soap to the water.

---
From contributor R:
Even if the Turner couldn't keep up with the old Wood-Mizer you are talking about, if you figure in the cost of the mills and their upkeep, that Wood-Mizer better cut a heck of a lot more wood. I'm from West Virginia and there are lots of sawmills here.
I've cut yellow pine and the only time the blade would gum up was when the blade started getting dull. It smells like turpentine when you cut it. The sap is sticky too.

---
From the original questioner:
I guess one couldn't expect the Turner manual to out-cut a LT 40. And that's probably not my concern. I would think a Turner full hydraulic could come close, don't you? Contributor L, you had some good points about youth and determination being factors. Log loading and off bearing and overall setup have to be considered also. There are exceptions to every rule. There are a lot of ingenious guys out there that prove this all the time.
---
From contributor S:
My mill came with a 35 hp gas engine and I replaced it with a 30 hp electric. So if you can, go with an electric motor. If you don't have 3 phase, put a phase converter in. In the long run, it will be worth it.
---
From contributor L:
With Turner hydraulic log loaders, when you want to use them, you either connect jumper cables to the battery on the power head or have a battery setting on the ground. Power feed? You have a 5hp Honda setting at the other end of the mill. Toe board is a hand crank scissors jack. On a trailer model you spend quite some time stepping over between the rails. Watch an experienced operator on a hydraulic mill for 30 minutes and you will see what I'm talking about.
As far as I'm concerned the Turner mill is as good as you can get for a manual mill. I bought the 36 inch carriage and make use of the extra six inches quite often. I've never broken a blade, but my buddy with the Wood-Mizer considers blades breaking as normal?

---
From contributor R:
I used a 10hp single phase which equals a 25hp gas motor.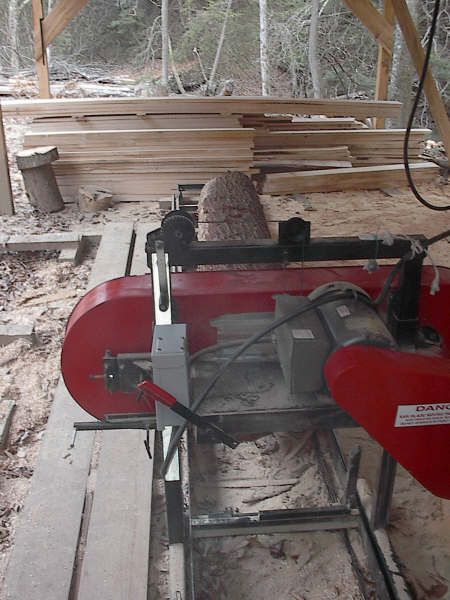 Click here for higher quality, full size image
The bandmill down the road where I was living was cutting 30,000 board feet a day, they said.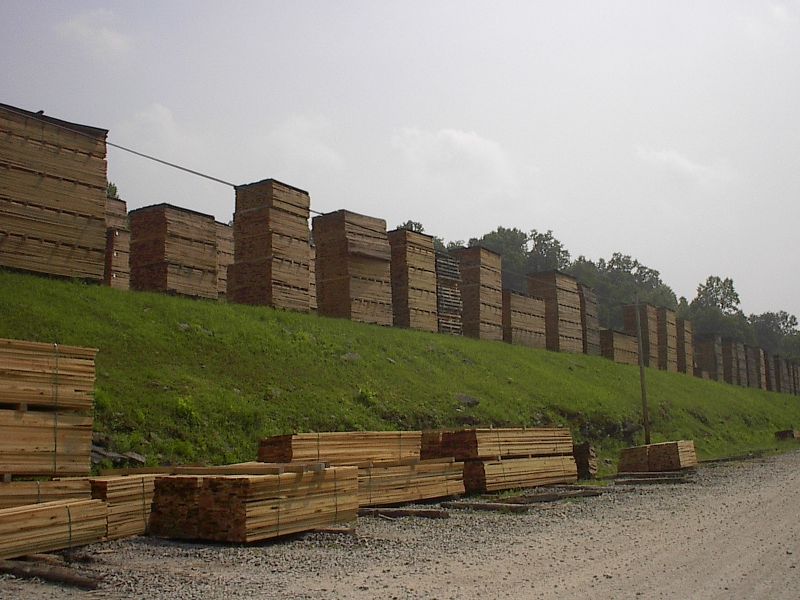 Click here for higher quality, full size image
Bill Turner was in one of those sawmill shootouts and I believe he did real good with his mill.

---
From contributor C:
Why not get an LT40? My mill buying philosophy on my last purchase was to get enough mill to do a day's milling in half a day, every day. Next to the mill, material handling strategy to increase efficiency is most important. I'd freak if I had lumber stacked around my mill when set up stationary.
---
From the original questioner:
I purchased an LT 40 super a couple of years ago. It was used, and I think it had been treated pretty harsh. I had problems with the tracking. I had a fit trying to adjust the blade guides - they seem to need constant adjusting. Someone thought the mill was crooked.
I am most interested in the Turner because the adjustments seemed so simple, and without all the electronics, I figured a manual mill would be perfect for a guy like me. Plus I have the loader to help with material handling. Should I still consider a Wood-Mizer - did I have a lemon? It's easy for some guys that are mechanically minded - they just fix anything that needs fixing. Not so for me.

---
From contributor G:
I have a 1220 and the big logs really max the mill out. I can cut them all the way through flat as can be, but loading them is quite the test on a mill... 8 log stops later and a couple of near tip-overs of the mill.
---
From contributor J:
With the big logs, and the hard earned cash, why don't you buy a swing mill? They handle them well, and a good crew can easily cut 500-800 bf/hour, and not a lot of log turning. Look at your return on investment.
---
From contributor R:
I never ran into too many logs over 30'' diameter. And to keep the mill so it wouldn't move around, I put 6''X6'' under the mill and bolted the mill down. And where the 6''X6'' ran out past the mill, I nailed down some walk boards.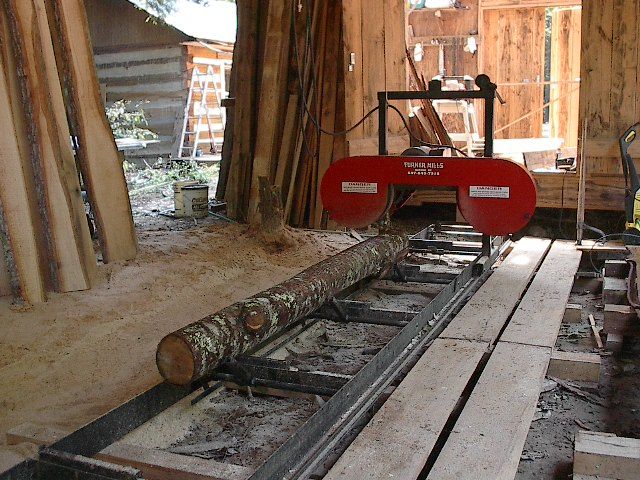 Click here for higher quality, full size image
---
From the original questioner:
I owned a Lucas mill. They can pick through a big log in no time. But the keyword you mentioned was "crew." If you're lucky enough to get a couple of good guys to show up every day, Lucas is great. Or if your 22 years old, that helps also. I thought the Peterson would have been better to have with the winch power down. The Lucas had to be cranked on both ends exactly the same turns. Lots of running around. I think a swing mill would be a perfect compliment with a band mill, if you have the money and jobs.
---
From contributor H:
I have had a Turner mill for seven years. Works great. I have only had to change the belt one time, and I pack the bearings twice a year with grease, never had to replace one. I have cut all kinds of hard and soft wood with no problems. It is real easy to run and simple to maintain.
---
From the original questioner:
Do you have yours mounted on a trailer, or on heavy skids? Do you have the 36" model or the 30"? How big are the logs you normally load and cut? And is it for personal use or do you make money with it?
Contributor R, if you were looking at Turner mills again, would you consider the fully hydraulic mill Bill has?

---
From contributor R:
I'm not sure. The fully hydraulic mill costs a lot more than the manual. I can cut 500 board feet a day with no problem with the manual, which equals a big pickup truck load. If I'm cutting for myself and a few locals I might get the manual. I'd say with the fully hydraulic mill you'd need a helper and a tractor or a forklift. But if folks were going to hire me to come cut logs for them, I'd get the fully hydraulic mill.
---
From contributor H:
I have the 30 inch trailer. I have cut logs up to 28 inches in diameter. That is big as it will take. Turner has a hand wench setup you can get for turning logs, or you can make your own like I did. I cut logs almost every day. I have a small operation, only myself, and do fine selling rough-cut lumber from my own woodlot.
---
From contributor R:
To get some idea of what I can do by myself with a Turner... In the picture below I cut one tree down and cut it up in less than 8 hours and a day. There is 640 board feet there.
So I guess the question is, can you sell that much every day, week, or month?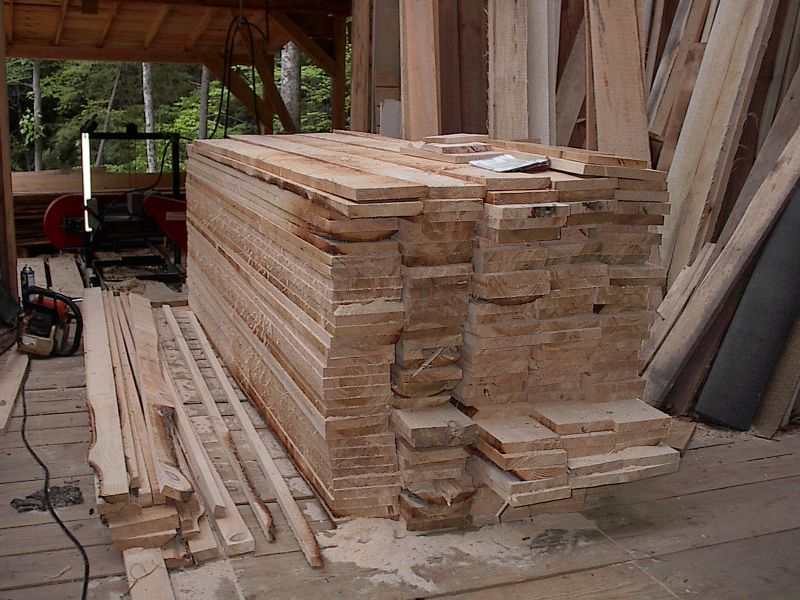 Click here for higher quality, full size image
---
From contributor T:
Contributor R, how fast do the different bearings wear on your mill? I find it pretty problematic that that my carriage track bearings only last about 150 hours and the grade 8 axle bolts wear about 1/4 the way through by then.
---
From contributor R:
I can't figure out how the carriage track bearings are only lasting 150 hours, and you are wearing out the bolts on top of that?
I see you have a Timberking 1220. I was thinking you had a Turner. Maybe the ones from a Turner mill would work? Here's what they look like on a Turner.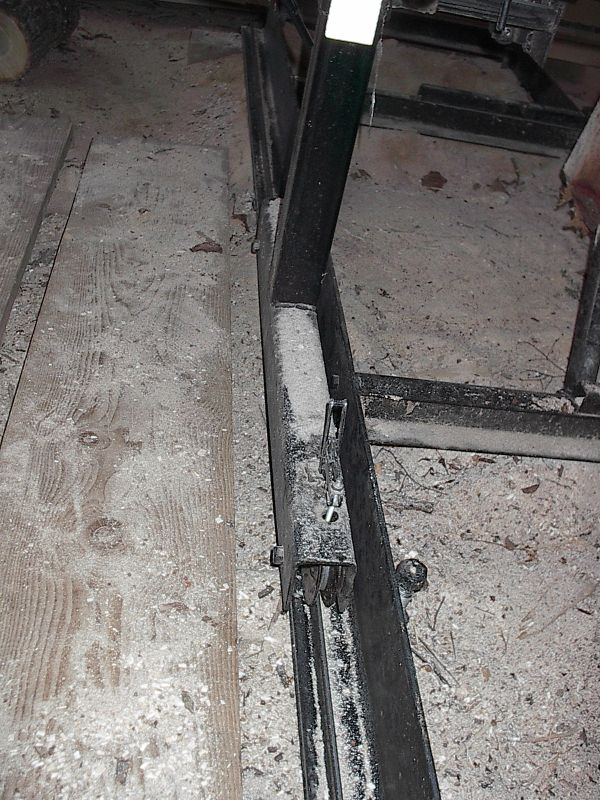 Click here for higher quality, full size image
---
From contributor T:
The problem with the track bearings... The setup's like this - two 3/4" steel rods welded to the mill's frame for tracking, and on the carriage itself, there's four wheels made to match the 3/4" rods that have a bit of a gap on top when in contact with each other, so there's room for wear. The wheels are about 2" in diameter, and the bearings in them are doubled up and pushed in, one on each end of each wheel. The bearings are needle bearings, just needles and a cage, but they seem to do the job. I only change them because I just happen to be down there changing the axles. The axles are just a 3/8" bolt that goes through the carriage frame (channel steel), through the wheel bearing, and out through he channel steel again on the other side. I see your picture, but what kind and size bearings and bolts does Turner use?
What is everybody doing with their dust? Not as far as getting rid of it, but as far as dust masks and respirators. I was born with bad asthma and had some bad attacks. I pretty much outgrew it, and haven't had a problem in just about 15 years, but lately I've been developing a bad, deep cough. I need to figure out a dust collection system in addition to my dust respirator.

---
From contributor R:
I never took the wheels off to see what size bolts they were. I'd guess the wheels are 4''.
I throw the sawdust over the bank, and I don't think I was breathing much dust, so I didn't use a mask.

---
From contributor B:
I have had a Turner mill for 5 years now and love it. The only problem I have had is 2 bearings and one tire (tire was my own fault). This is a well built mill and cuts perfect lumber if you know what you are doing. Mine is a ground model with 20h Honda and 28 in log max. I have run this mill almost every weekend and cut both hardwood and softwood with no problem. After going to the sawmill shootout and looking at the other mills, I would buy a Turner again. Now if I were going to start a large scale business, I would be looking into a Baker or Wood-Mizer.
---
From the original questioner:
I am planning to use it 3 or 4 days a week, cutting western red cedar mostly. What do you think about the Hudson 36" model compared to the Turner? There is a dealer close to me.
---
From contributor T:
I looked into the Hudson mills years ago and when I did, the horsepower ratings were extremely low for their size capacity. Not to knock on them at all, for Hudson makes many interesting products, and I couldn't manage as well without their chainsaw debarker, but when you stick 6.5 hp on a mill that can cut 18", and just a 23 hp on a mill that can cut 52", you're really in need of more power.
---
From the original questioner:
What is the hardest part about running your manual mills? Is it the loading of the logs? Turning the logs? Offloading the slabs? What if the manual mill had hydraulic log turner and clamping ability, yet was still manually pushed through the log?
---
From contributor R:
I'd say turning the logs isn't had at all. Pushing the mill though the log isn't bad either. Loading wasn't hard. The biggest things are the sawdust, slabs and lumber building up. If you cut 2000 board feet you'll have lots of sawdust, slabs, and boards that need to be edged, plus all the lumber. And I'd say all this ends up taking as much or more time than the sawing.
---
From contributor T:
I wouldn't say anything about running a manual mill is specifically hard, but dragging a saw carriage through and back through and back through and back through and back, flip the log, through and back through, and on and on... I think you can figure out on your own why it takes a lot of physical energy, and is physically draining.
I'm fortunate enough to have a hydraulic knuckleboom with a five and a half foot grapple which I load every log with, flip large logs with, and offload all wood with. Before I got the boom I loaded every log with the mill's stock ramps with spring clips, and that was totally impractical for even medium sized logs. I remember wrapping chain around the logs, hooking it up to my truck, and pulling it on so that the chain would unwind as it rolled on.
Any manual mill setup it a hell of a workout no matter how you do it. But simply analyzing your setup and configuring it to flow with a dedicated area for loading logs, offloading boards, offloading and reloading flitches, sawdust, tools, and whatever else you need will help you from creating more work for yourself by always having to move things.

---
From contributor J:
Some of my customers have logs that were on a slope, and no equipment to bring them up... so milling on a slope means extra huffin' to pull that carriage back to the top of the log. Of course it's gravity down through the log, but just the same, manual is labor.
---
From contributor R:
Here's the way I did it. Push the saw carriage though the log, stop and remove slab, pull back saw carriage lower and push saw carriage through log, stop and remove a board that will have to be edged later. About now I'd flip the log 90 degrees and keep doing this till I'd get a cant. And from there, most of the time, I'd just cut the cant into boards. If you have a real nice log, though, you'd want to flip it more to get grade.
---
From contributor T:
I'm curious what everybody's opinion is on what is better - take the first cut and a few flitches (however many doesn't matter), then either flip 90 degrees and continue 90 degree flips until to a square cant, or take the first cut and a few flitches, and flip 180 degrees and continue that way. I'm imagining situations where either one could be a preference depending on the dimensions desired to be sawn, but just looking for a general opinion.
---
From contributor N:
When I'm sawing for grade I take a slab and 1 or 2 boards and turn the log 90*. Take a slab and 1 or 2 boards and turn 90*. I continue until I get to whatever size cant I want, usually 6". If I'm sawing for a specific size, such as building lumber, I will turn 180* until I get to the width of the lumber I need to cut. Turning the log frequently will give nicer, more uniform lumber. It relieves the stress more equally as the log is sawn.
---
From contributor E:
Contributor R, am I understanding you to say you push the carriage through the log by hand? Does the Turner have any kind of manual or other driving mechanism to push the blade through the log?
---
From contributor R:
That's right, nothing put pushing by hand and it doesn't take much effort.
---
From contributor E:
You must be one big bad dude!
---
From contributor R:
5'8'' and 160 pounds and 59 years old. It's not really that hard to push.
---
From contributor V:
I like to flip 180 degrees. Then on the third side I will take 1 or 2 cuts and be into boards with 2 square edges. If you only flip 90 degrees, you end up with more boards with raw edges to edge later. Edging is the least favorite operation for me.
---
From contributor R:
Here's another trick. Say you want to cut a clear face parallel to the face of the log. Start with the opposite face and when the clear face comes up, it will be parallel.
---
From contributor T:
When sawing a log and breaking it down to a cant, I'm curious who favors saving the flitches to be edged at the end of the day, or who edges them when they are done with the cant. I have found it time saving to sometimes once to a square cant, stand up boards to be edged on the side of the cant where the blade enters, so you are edging boards and sawing boards from the cant at the same time. It will add more time flipping the flitches, but it's time you would spend anyway if you were to edge later.
---
From contributor J:
I guess using a swingblade mill, you wouldn't have to roll the logs to edge or saw for face. How do the bandsaw mills handle that? Just a lot of log turning?
---
From contributor R:
The way I sawed flitches is I'd wait until I got a bunch of flitches. I don't know if that's the best or fastest way, but that's the way I did it.
---
From contributor Z:
I don't keep up with the forum regularly, but saw your message and wanted to reply. I work for a small nonprofit about 2 hours north of Mr. Turner's location. We bought a 30" manual with a 10HP engine last fall. We have over 100 acres of woods and have trees falling down all the time, so we figured we would buy a mill and make the good parts into lumber instead of firewood. I only got about 1200 bf sawn before the snow came, but that was mainly because I had other jobs I had to do. The mill is very good, and my only problem has been heavy logs pushing the mill out of alignment. We skid logs with a tractor, and use two 4x8 timbers for now as a log deck. One of the logs I cut was a 30" x 8' ash, and that was hard to turn manually, but we got some nice 20" wide boards. I am only 21 so I do not have to worry about arthritis yet. I recommend the Turner very highly.
---
From contributor D:
The easiest way, in my opinion, is to keep the unedged flitches in a stack as near to the sawmill as possible, and when your cant gets down to about the size you want to edge your flitch, place the flitch against the side of the cant, and edge at the same time as you cut the next board off of the cant. That is how I used to do it with my Wood-Mizer LT15. I have since bought a couple of extra bed sections. Now I just drag the flitches toward the ends of the mill, sorting as I go, so all I have to do on an 8' log is handle each flitch 2 times at most!
---
From contributor I:
I am in the market for a portable sawmill. I spoke with the people in Oregon at Mobile Manufacturing. Can anyone give me feedback on this mill? I also am interested in a hobby mill from Australia, I think Skillmill? Not the same category as the Mobil mill.
---
From contributor T:
Seems like it's about time somebody out there invents a high hp large blade, automated hydraulic swingblade mill. Now that would be a nice bang for the buck.
---
From the original questioner:
I owned a Mobile Dimension for a short while. You must have a loader to load logs. It produces a crazy amount of sawdust. But you can cut an amazing amount of lumber. You can cut all day and not have to change or sharpen the teeth. You can even go through small nails no problem. Having a resaw or small bandmill would be a great compliment to it. I think they are even selling thinner kerf blades with 12 teeth instead of 6. Hard to get the last 3 or 4 inches of the log cut though. Moon boards is what I called them.
---
From contributor T:
Cook's sawmills seem great. If I had the money it would be an option. Cooks does also make a small automated mill that is loaded with hydraulics, but the smaller frame is a turnoff for me. I have bent the crap out of my Timberking 1220 frame so many times over and over, and chopped it up and rewelded it so many times. I'm learning the hard way, but will have the greatest appreciation for a large deck when I can afford it!
---
From contributor R:
Here are some pictures.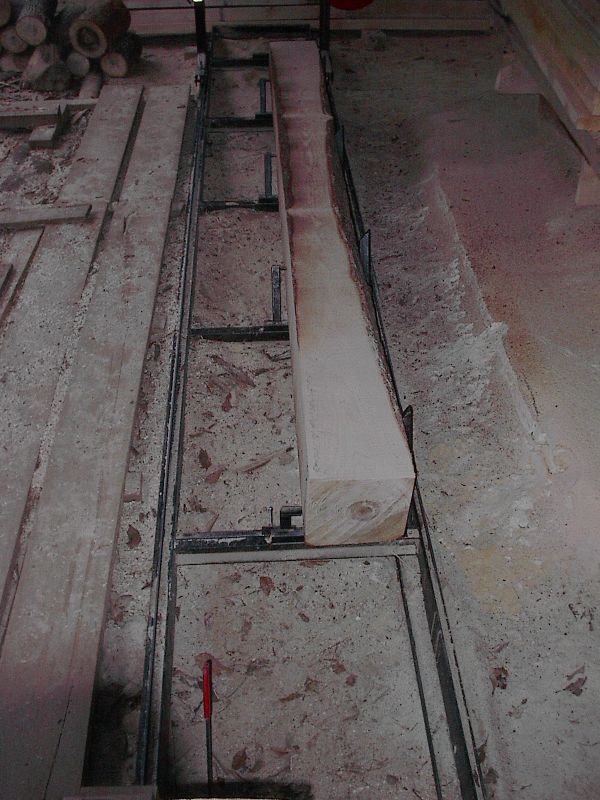 Click here for higher quality, full size image
The 5 log bunks are made of 3" channel and spaced 3'6" along the 20'.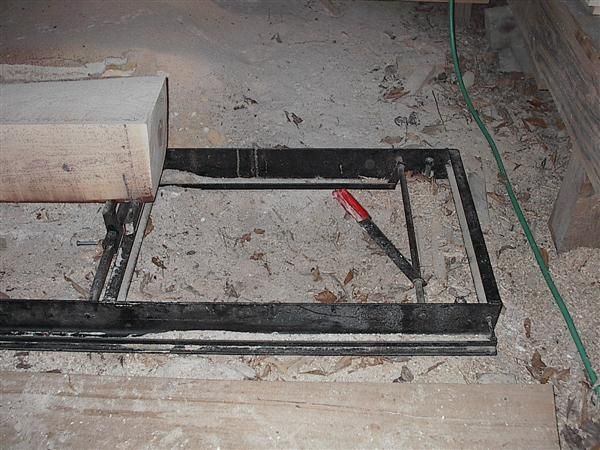 Click here for higher quality, full size image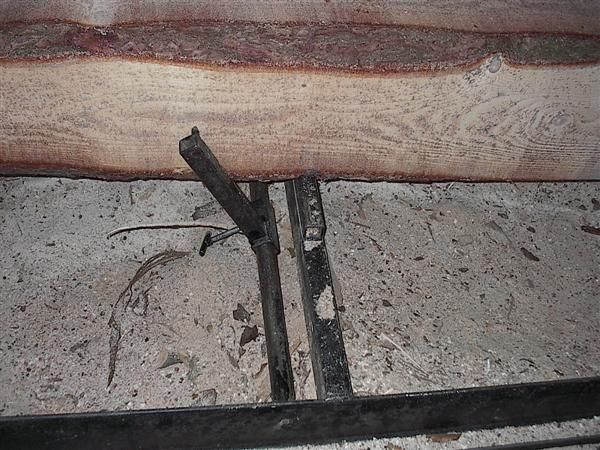 Click here for higher quality, full size image
---
From contributor V:
I have been sawing with my Timberking 1220 for a year and a half. I picked it up in Missouri and towed it home with my GMC Sonoma. The mill was set up dead on from the factory, and while I check it for correct alignment and guide clearance when cutting, I have yet to make an adjustment to it. I believe it is quite a capable personal size mill. I have milled quite a few logs larger than the one shown here (a 22" diameter cherry), but don't have any photos of them. Most recently, I have been sawing poplar between 18" and 26" diameter. Two weekends ago I squared a cant at 16" and cut it into 1 x 16 sheeting for sale at a local farm auction along with 3 other logs which I was able to square at 12". The saw is equipped with the 15 hp Kohler Command Pro. If I had it to do again I would opt for the 20 hp. The modifications I plan to make are to add a manual toe board to speed the leveling process.
I am a weekend sawyer who sells what I cut, but I do not operate this saw 40 hours a week. Although it is equipped with a water tank, I only use a soap and water solution if I see buildup on the blade. I like to run the Timberwolf blades, but have had better luck when sending them to Timberking for resharpening.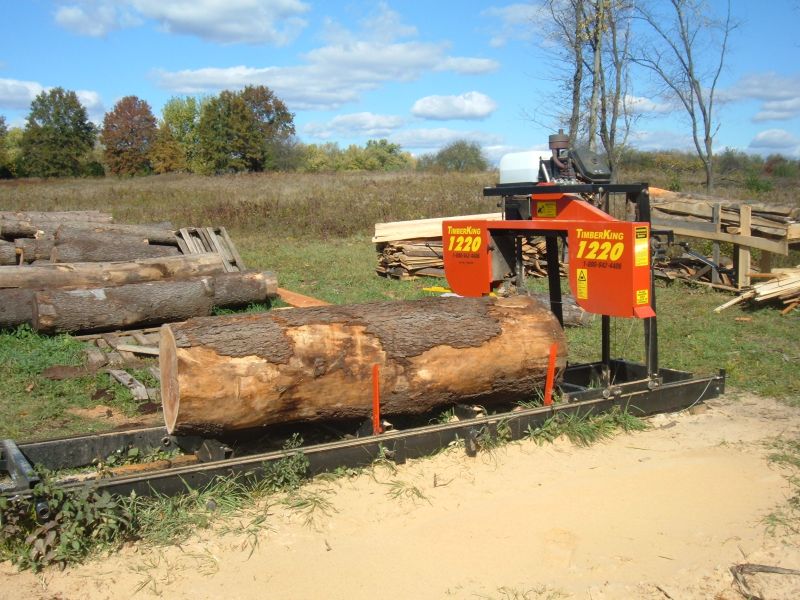 Click here for higher quality, full size image
---
From contributor T:
Here is the Timberking 1220 mill frame.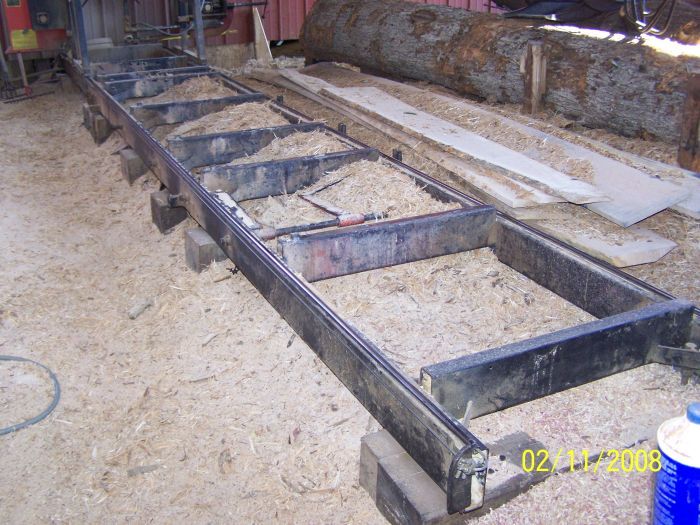 Click here for higher quality, full size image
Here is the stock 3/4" leveling legs, and the 1 1/2" leveling legs that I added, after I dropped a log on the mill, bending two 3/4" legs to about a 25 degree angle! I can laugh now, but I wasn't laughing then!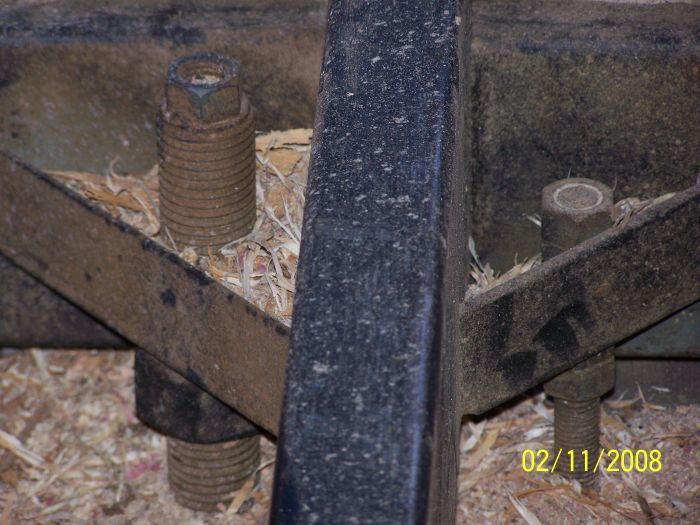 Click here for higher quality, full size image
Here is one of 8 bearings that the mill carriage rides on in contact with the frame. The 4 bolts (axles) that go through these (the bearings are doubled up) are what I have to change out every 150-200 hours, because the bolts wear down and I have had a few wear the bolts halfway through, making them look like a mini cam shaft. I really feel these bearings are very undersized.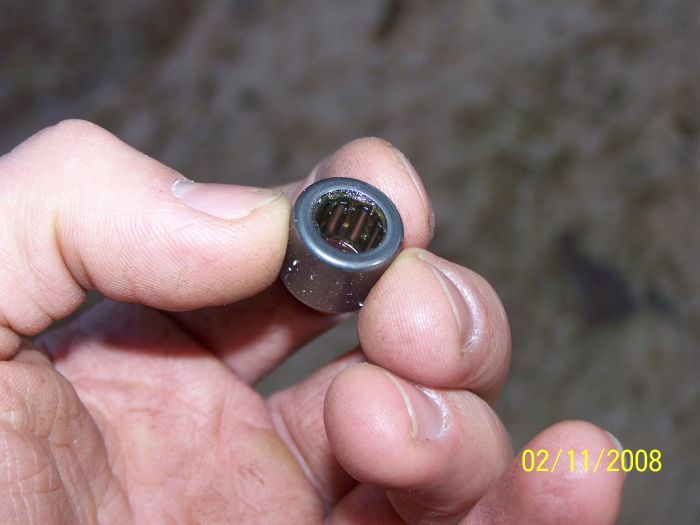 Click here for higher quality, full size image
---
From contributor R:
Photo of the Turner drive axle.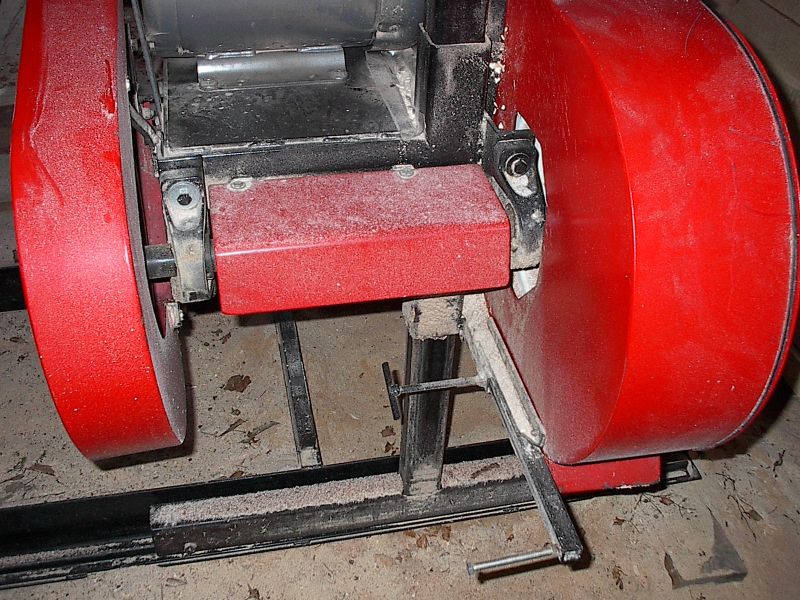 Click here for higher quality, full size image
---
From contributor T:
I've hear just about every Turner owner on this site say that the Turner doesn't need lube because of the tires. I don't understand this. I run water with dish detergent, and in the winter I mix in windshield washer fluid. I also have a spray bottle always handy with diesel and bar oil at a 50/50 mix. If I run the blade without anything on it, pitch is going to build up no matter what the species. If it's not pitch, it will compress onto the blade and cake up. This is expected with any bandsaw blade, and as we all know, if this happens, it increases the blade thickness and decreases the set, causing the blade to bind. This, as far as I can see, will occur on just about any wood cutting blade.
I run the water and dish detergent mix all the time to keep the blade clean, not necessarily as a lube. The diesel oil mix is for when I can see or feel something building on the blade, and clean it instantly.
My water jug is gravity feed onto the top of the blade before it enters the wood, after the guide bearing. I do get better cleaning results when the sliding throat's c-channel steel fills up a bit with sawdust and holds the liquid mixtures like a wick onto the bottom side.
So how is it that your blades stay clean, and how long of a blade life are you getting? I use a Log Wizard, so my logs are clean, and I average at least 600 board feet per blade, but if it's really clear softer wood, I can achieve 1,000 BF fairly easily, without pushing and distressing the blade. I got five resharps out of my last forty .045 x 13'9" x 3/4" blades, and just got a new set of 30.

---
From contributor R:
I'm not really sure why the tires don't need lube. Maybe it's because the tires keep the blade cool. I'm guessing the blades will cut a 1000 board feet in clean logs before needing changed. Also the tires make it so the blades don't break much. The reason may be the air filled tires take more stress out of the blade than steel on steel does. The blades will last many resharpenings.
---
From contributor W:
I worked on and designed machines and cutting tools for about 40 years. Looking way up on this post there is a picture of contributor R's guide bearings. If you look at them closely you will see about .125 or 1/8th inch build up on the bottom and top bearings. The bearings should just about touch the blade on the bottom and top when they are clean. So 2 X .125 is 1/4 of an inch. So where does this space come from? It comes from the deflection, bending, flexing of the metal which the bearing axles are bolted to. The bearings are also running in an out of round condition which causes vibration and other conditions which leads to premature failure. The bearings or rollers on some mills should always be clean and the only way to keep them constantly clean is to use lube. If your bearings or rollers have buildup, your tires or v-belts, which most mills have, have buildup also. I run lube.
---
From contributor H:
I have had my Turner about 8 years and have never had to run lube on the blade. Once in a while I will put on a little fuel with an oil can, and will cut 1000 bf on each blade. I have cut many 1000 bf and only changed one belt (that they sell at the NAPA store), and one throttle cable that is the same as on any lawnmower. I pack the bearing twice a year with grease and have never had to replace one.
---
From contributor R:
Here's a picture of the other side of the guide bearings. A little sawdust on them doesn't hurt anything as far as I can tell. I cut lots of southern yellow pine and the only time I'd get any pine tar buildup is when I was sawing with a real dull blade. But for hardwood there's no reason to use lube.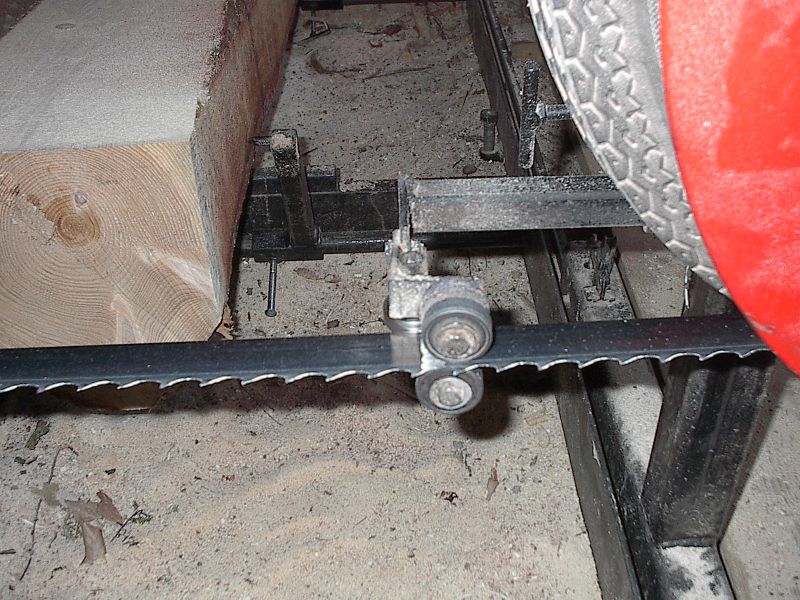 Click here for higher quality, full size image
Also the bearings were a little out of adjustment, but as long as it cuts straight, I let it go.
---
From contributor L:
That's a good shot of the guides and a clean blade. There are a lot of non-believers about the advantage of using tires over steel wheels. More important than not using a water lube is the lack of blade breakage compared to mills with steel drive wheels. If you look at the blade tension used by mills with steel drive wheels, in comparison to a mill that uses rubber tires, it doesn't take a college degree to understand why the breakage is less. A mill with rubber tires you fine tune blade tension by air pressure (45-55 lbs). This results in the blade running much cooler than steel wheel drive systems. On a steel wheel system there is no give, but there is on a rubber tire system. I've yet to have hairline cracks develop in the blade gullets on the Wood-Mizer blades I use on my Turner.
The big downside to a rubber tire system is if you break a blade, about 1/2 the time it will ruin a tire. I've yet to break a blade, but when the blade starts to get dull, I change the blade.
When I bought my Turner, I had a small water system installed. The only time I've had to use it was when cutting green West Coast larch and Ponderosa pine. I run my mill alone, I don't get in a hurry, I don't break things through stupidity, and if I did, it would be a lesson learned and you can bet it wouldn't happen again.

---
From contributor R:
That's true - they just didn't believe you don't need to use lube with the Turner. Also with the steel wheels or the blade riding on the belt, they both need to have a crown so the blade will track right. Not so with the tires.
---
From contributor T:
The Timberking 1220 doesn't have a crown on the wheel tires. The wheels do have to be tracked properly. You guys still have not explained how pitch buildup on the blades does not make it bind up it the wood, even just a little bit. I can see advantages for the tire, instead of a v-belt. It makes sense to me that the tires have a forgiving point, for they hold a springy resistance held by the air pressure, but as I run my v-belts, I never break blades anyway, so where's the real advantage? I broke one blade when I first started running the TK1220, but even though it really was my fault for running it too long, TK's blades are horrible, and too thin at .042. Now I run .045 Timberwolfs, and I have never broken a blade to my own fault. The only time I broke a blade was three times in a row, and it was the manufacturer's fault on bad welds. Out of the four blades that I have ever broken, I have caused no damage to the tires.
Contributor R, your picture of the guide bearings with the pitch built up on them shows the Turner with some sort of wiper contacting the blade. What kind of material is it? You must have to wipe off caked up sawdust from it every now and then. I would like to experiment and see if this is why you don't have a pitch problem, for the Timberking doesn't have this. Do you have a wiper on the underside?
Also, are your bearings part number 1621dctn? Looks just like the Timberking's. The TK's bearings are bad for cold weather, because the seals don't hold water out very well. If water gets in and freezes, the seal blows and the bearing freezes shut.
I didn't think any sawmill manufacturers were still making steel wheels that directly contact the blade. Is this what you guys are talking about - steel wheel, no tire, and direct contact to the blade? If so, who's making that? I'm definitely a believer that they would be junk.

---
From contributor S:
I have a Cook's sawmill and resaw and have been using steel wheels everyday for years. I believe Baker uses steel wheels on their sawmills and on their resaws. The wheels have to be crowned, but last for many years.
---
From contributor R:
That's just wet sawdust on those bearings. It will come off easy. That metal thing in front of the bearings is just a piece of aluminum, like from an aluminum ruler. It's there to sweep off the dust, but in the photo I didn't have it adjusted real close and dust was getting under it and that is the reason for a little dust on the bearings. And I'm not real sure why the pitch doesn't build. And check your wheel with something flat and see if it doesn't have a crown. I think the big bandmills have steel wheels, like over 25'' diameter. Cooks makes a band roller to flatten out bands.
---
From contributor R:
I'm curious if the texture of the tire affects the blade's cleaning. Even though the blade makes direct contact on half a blade's full rotation, upon riding the first wheel, it may depress any sawdust and make it cake up onto the blade, then when it rides on the second wheel, it hits a different texture and causes some sort of effect as it does this spinning and rotating fast while running? Do you get what I'm saying?
I will also add that if I'm resawing reclaimed wood, I don't add my normal mixtures, and don't run the water. Just a dry blade, and if it really needs it, I spray just a bit of the diesel/oil mix, and have heard for that situation Pam cooking spray may work better, but haven't seen the need to try.

---
From contributor R:
It's a 13'' trailer tire on a 13'' trailer rim. Comes out to being about 20'' diameter. Nothing special. People have been building these mills from the Bill Rakes plans. I think they sell the plans on eBay.
---
From contributor O:
I run a Baker 3638D with steel wheels and a 1.5" saw. I rarely use anything on the blade. I cut mostly hardwoods, but I do run straight diesel when cutting pine. From what I learned running a large industrial operation resawing lumber, adding fluid cleans the wheels and guides, as you said. Sawdust buildup is what generates heat in system, so in a way, the end result of the fluid added, is a cooler blade. At my former job, we ran a 54" centersplit resaw, at 120 fpm, with no fluid ever. It ran vertical, so sawdust removal was pretty good. We also ran 2, 2 head, a 3 head, and a 5 head Baker resaws at 60 fpm, and never ran any fluid... no problems with either machine. On these machines, we split green yellow pine from time to time, and would squirt a little diesel on the wheels once or twice a day to clean everything off.
---
From contributor W:
I am glad to see someone address the real issues that I posted above. I was not questioning the type of wheels, v-belt, tire, steel, etc., but trying to make the point that buildup of any kind is bad for any part of a mill and what it can lead to. I shudder at the thought that I had a total of about a 1/4" of buildup between two guide rollers or bearings. Those small bearings really take a beating without buildup, water, ice, etc.
I spent $26,000.00 for my last mill and I am darn sure not going to abuse any part it. I guess working on precision machinery spoiled me, but these machines have to have the same care as a $375,000 machining center if they are going to function properly each time you fire them up.

---
From the original questioner:
Contributor S, which Cook mill do you have? How long have you owned it? How simple is it to operate and maintain? Is blade breakage really a problem for you? What type of wood do you normally saw?
---
From the original questioner:
I was pretty sold on the Turner mill. But seeing a Cook - the strength and simplicity, along with the power up/down feature, and mostly power feed - has got me to look much harder at the Cooks. No hydraulics either. I really appreciate all these posts. It has made me research so much more this time.
---
From contributor V:
I had the opportunity to run the mill I was interested in before I bought it. If you contact the manufacturers of the mills you have interests in, they may be able to put you in contact with local owners willing to show their equipment. I am on such a list with Timberking. You may find that there are features of various mills which you may not have even been aware of.
---
From contributor S:
I've had the Cook's mill about 10 years. Not hard to operate or maintain. The parts they use are available from other sources, but they seem to have pretty competitive prices, even with the shipping. The mill has a 30 hp electric motor.
Until recently was sawing mostly cherry, but have sawed a fair amount of walnut. There's been a major downturn in the wholesale market for cherry lumber, so right now I'm sawing RR ties from red and white oak.
I also have a Cook's sharpener and run Timberwolf blades. Blade costs run less than $00.01 a bd /ft if I don't count my time spent sharpening. Blades last longer if you take them off while they are still sharp.
I used to have employees, but now work by myself. The mill goes more than fast enough to keep me busy. A big mistake I've seen people make is to focus too much attention on the equipment. You need to spend as much or more time thinking about how you are going to market your lumber. Having a bunch of lumber sitting around doesn't pay the bills - you have to have cash flow. That's why I'm sawing RR ties. It's a little hard on the back, but it's a steady market.