Modifying a Table Saw for Better Dust Collection
Ideas for rigging a hose fitting and a funnel to the base of a table saw for effective capture of sawdust. April 19, 2011
Question
I've got an older Powermatic 12" table saw, and whenever I use it with dust collection I need to get down on the floor and hook the 4" flex hose up to a hokey PVC fitting which is just stuffed into the outlet hole in the cabinet (pic 1).
Is there a better fitting I could use? Haven't gotten around yet to doing a permanent setup. Running separate hoses to all my machines because I move some of them around a lot.
Also (pic 2), what do you do to seal up the big opening on the side? Now I use a cardboard cutout I made, which fits around the motor. Does a fair job of sealing that opening, but I'm wondering if there's a better way.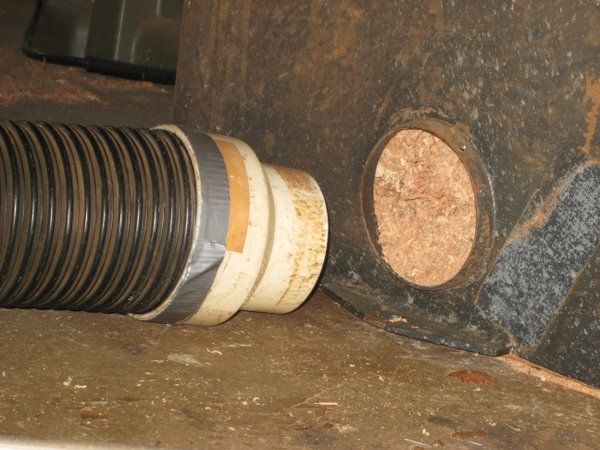 Click here for higher quality, full size image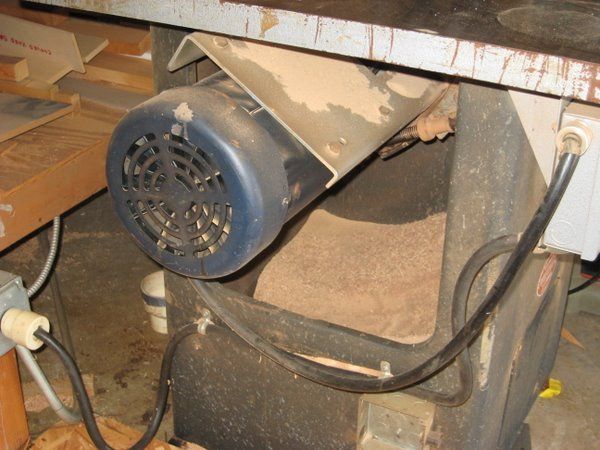 Click here for higher quality, full size image
Forum Responses
(Dust Collection Forum)
From contributor J:
You can buy a welded flange that can be screwed to the cabinet so that the hose slips over it. Is that the sort of thing you're looking for? I know Oneida sells such things. Looking at those pictures, I think I'd also build a square plywood funnel/hopper sort of thing in the bottom of that cabinet so that the dust falls naturally towards the outlet rather than piling up in the corners. With such a small flex hose, you'll never get any dust collector to evacuate the dust otherwise.

---
From contributor E:
Get a toilet floor flange. Attach to your dc hose. Pipe side of the flange. Use 3/4" ply (ply makes it easy to attach/adjust screws), cut 4" hole to align with saw cabinet hole. Secure ply to saw. Attach flange with 2 screws. Use the slots and you can now twist the hose on and off. Adjust the screws to hold the flange snug. You will not have to keep adjusting the flange screws once you set it up. Like contributor J said. Add a funnel inside. I've added a scrap of laminate inside. Helps a lot.
---
From the original questioner:
Oh, that's some good advice, especially about the toilet flange. I'll go check one out! I'll look at that Oneida site also. Really need to complete my dust collection setup. Good advice about making a funnel too. Really appreciate the advice!