Narrow Spice Rack Door Ideas
Cabinetmakers kick around ideas for detailing the door on a five-inch-wide pullout spice rack. January 11, 2008
Question
I'm working on a design that is tight in space along one wall where the cook top goes. We were going to do a 5" spice pullout on either side of the cook top in the base cabs. However, they don't like the idea/look of putting a narrow width raised panel door or a plain slab there to cover the pullout.
I thought about putting a slab on it, and covering with a split or full column, however, I'm not sure that a knob would look right on a column. Are there any options? A touch release spice rollout? As the last option we are thinking about putting door mounted spice racks on the upper cab to the right of the cook top. Is this even done anymore in nice kitchens?
Forum Responses
(Cabinetmaking Forum)
From contributor J:
A Blum spice rack option might be an ideal.

---
From contributor G:
Would you be able to extend an adjacent door to cover the spice rack? Not sure I would like it, but as a last resort, do anything that works.
---
From contributor B:
I've done a fluted leg on the front of a base spice pullout. If you rip the edges at about 85 degrees instead of the usual 90, it isn't really noticeable to the eye, but does make it easy to grip and pull out.
---
From the original questioner:
Thanks for the replies. I tried to suggest putting it into a drawer similar to a Blum model and that was a no go. The idea with covering it with another door might work. They are dead set on symmetry, though, so I will have to run some numbers. I like the idea of tapering the column, personally, but I feel like they will not like it. I will run these options by them.
---
From contributor B:
On this job, I didn't bevel the legs at all, but routed a finger grip to open the spice rack. You can see what I routed out in the right side of the picture. They wanted symmetry but didn't need two spice racks, so I gave her cookie sheet storage. With the door shut, both look identical.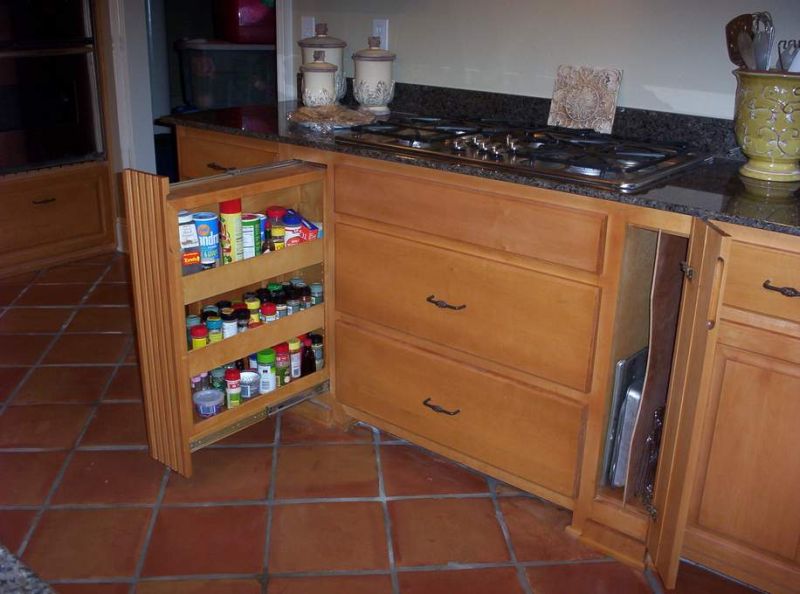 Click here for higher quality, full size image
---
From contributor S:
In all the years that we did kitchens, the general feeling from the customers was that the spice rack needs to be easy to access. Putting it below the level of the cook top was not a favorite of anyone who cooks a lot. Using the space for cookie sheets, etc. was a better idea. People like to have spices where they can reach while standing in front of cook top. Anything at counter height or above is preferable. If that is the only space you have, then there is a drawer kicker sold by Lee Valley. It is bigger than your average touch latch and mounts at the back of the cabinet.
---
From contributor A:
Have you or your clients considered a drop-down rack which mounts to the bottom of the upper cabinet(s)? You can buy these ready made or fabricate your own. They work similarly to the drop down cookbook holders. By raising the bottom of the cabinet(s) to which the rack attaches, and using a false front, you can just about make it disappear when not in use. You might also be able to sell the idea of a shallow drawer(s) mounted to the bottom(s) of the upper cabinet(s). Both of these approaches, as the others, have their compromises. Either of the two above approaches won't work on any cabinet which has a counter light installed. The pull out drawers are inconvenient for anyone who isn't on the tall side.