Notching Out Dovetail Drawers
Notching out for drawer hardware is tricky, slow, and sometimes blows out a dovetail. Here, custom furniture makers suggest ways to handle that delicate operation. October 19, 2005
Question
Does anyone have a simple and, more importantly, fast method for making the 3-3/4" notch in a dovetailed drawer box? This notch is necessary for the Blum motion device. I know of two machines manufactured for this purpose, but they seem very pricey for what they do. We are now notching by making multiple passes on a table saw with a stack dado installed. This takes too long. Is there a better way or do I have to give in and put down about $5000 to get a dedicated drawer notcher?
Forum Responses
From contributor L:
Why don't you make a jig for your router? You will only have to make it once and it should fit all of your drawers except maybe the smallest ones. Once you have done that, you should be able to do a drawer in about 45 seconds (or less). Worth a shot. Or you could drop $5K on the Blum machine… not!

---
From the original questioner:
I tried exactly that already. Still have to make saw kerfs on the table saw at the start and end of the 3-3/4" notch in order to have squared corners. Even with the saw kerfs, I was blowing out a bottom corner of a dovetail joint every 10 drawers or so.
---
From contributor L:
Set up a router jig with replaceable blow out blocks to prevent the splintering of the router cut. Use a down spiral solid carbide bit; the bigger the diameter, the better. Make a pass on the front of the wood and then a pass on the rear, then cut all the way through. Don't just try to do it in one pass - it is faster, but it will leave ragged edges on your cut. Here is an example of a jig with a moveable clamp-like action on the blow out blocks.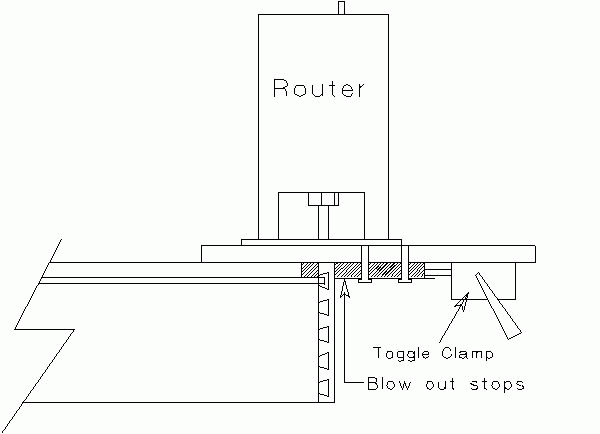 Click here for full size image
Image by Leo R Graywacz Jr.
---
From contributor B:
You are making it too difficult. Just cut off the bottom of the drawer back and slide the bottom in. There will be clearance for the Blum Motion and on narrow drawers, there is nothing left after cutting the notch anyway.
---
From the original questioner:
Been there, done that! That is what we do with butt joined corners. We are talking about dovetailed boxes. Ripping off the bottom edge of the back also removes the last dovetail, which is visible with the full extension slides. I have actually thought about dovetailed joints on the front of the box, and a butt joint at the rear, which would allow me to slide in the bottom and eliminate having to make notches. I don't know if my customers would accept this. I don't think I would if I were buying custom made cabinets.
---
From contributor B:
Just have the boxes made by somebody like CCF Industries in PA. They build them, assemble, cut the notches in and clearcoat the boxes. CCF does a great looking job and will make them out of all types of wood and whatever construction type you want.
---
From the original questioner:
You make a good point. I do outsource many components. For example, I would never even consider making my own raised panel doors or making my own moldings. Funny you should mention CCF. I bought boxes from them for years. I sat down one day to figure out how to keep more of the money I take in. When I did the math I found that if I were to purchase a dovetail machine and a drawer clamp (cost $12,000), I would be able to recoup the cost of the equipment in two years time just by eliminating the costs associated with having drawers shipped. Word got around that I was making my own dovetail boxes and other shops approached me about making drawers for them. I ended up making drawers for several shops in my area and recouped the cost of the equipment in less than a year.
---
From the original questioner:
Good news! It seems I'm not the only one having difficulties with producing that 3-3/4" notch efficiently. Please read part of an email I received from Blum today:
"In mid-March we are introducing our new Integrated Blumotion with Tandem. With the new Integrated Tandem you will have to notch out the bottom only 1 5/16"."

---
From contributor D:
They are doing the same thing with Tandembox. Apparently they will have them rolled out by the end of summer, as my rep has already seen the beta models.
---
From contributor T:
I notch before I put my boxes together. I set up stops on my slider (Exactor) on my table saw and a dado blade with a blow out block. This may not be the most efficient way, but I don't have any problems. I use 5/8 sides and don't have any problem with that small corner piece staying on.