Pedestal Table Dimension Limits
A furnituremaker gets advice for making a scaled-up version of a pedestal table at a customer's request. March 13, 2014
Question
WOODWEB Member:
I am being asked to build a larger scale version of a pedestal table I built. Client wants to go from my 44" dia. to 5.5 to 6 ft closed and with 2 -18" insert leaves. I'm thinking about how to support this much structure on a pedestal. I have never seen a table this large that was as stable as I prefer. Too much leverage when you get out that far from the base. Is there a tried and true maximum overhang for a table top to its base (and then with 3' more of leaves)? Do you think I should try to steer my client away from a pedestal and to 4 leg version?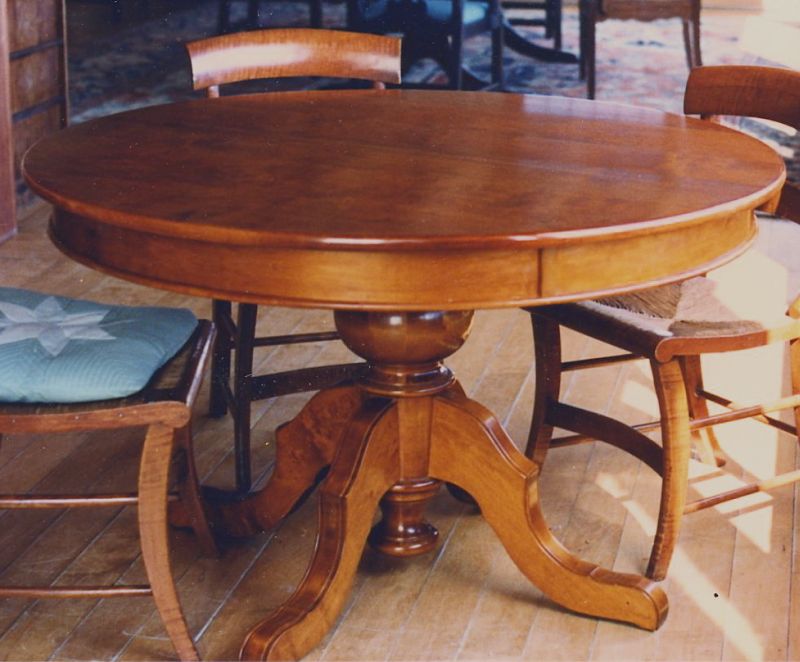 Click here for higher quality, full size image
Forum Responses
(Furniture Making Forum)
From contributor D:
The commercial solution is to have a split pedestal - turning and all - with each half attached to each table half. Odd when open and less than right when closed.
When I made a 7' pedestal table that needed to go to 12', I put in two drop down legs - one at each end - that literally dropped out as a leaf was pulled out more than 16" or so. These leg assemblies were a pair of tapered 2x2 about 12" apart with a short stretcher about 8" above the floor, hinged to the underside of the top about 20" from the end (to avoid knee knocking).
The drop down legs were the best solution I have seen, and made it stable and doable. It did take some engineering and evolution to make it work well. The only problem was remembering to swing them back up as the table was closing - took 2 people and some stooping. But it was never a complaint.

---
From contributor P:
1) Ask them where they intend to store the leaves. And hand them an 18" x 72" piece of MDF so that they can understand how (not) easy it is to handle a leaf that size.
2) I have done 6 foot diameter rounds, with leaves, on a single central base, but it was a lot beefier than your design.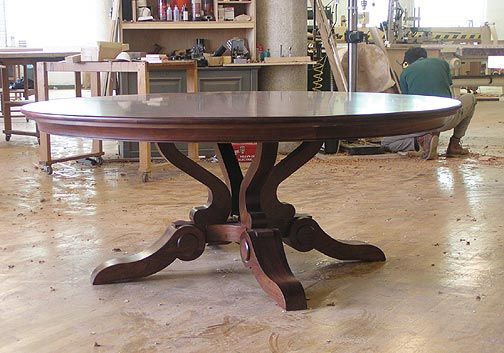 Click here for higher quality, full size image
---
From the original questioner
:
Thank you. You are both acknowledging that my table as built can't just grow and still be stable. The split pedestal is a no go. Yeahm they are ugly! I like the drop leg idea, though that will need some smart engineering. It would certainly afford the greatest degree of stability with the table fully extended. Lovely table, contributor P. Is the spread at the base as much as 4' for that 6' top? Looks like it might be even bigger. When it is fully extended does it feel solid with normal use?
---
From contributor C
:
I did a huge table that opens to 28" and is just 7" when closed. I made a separate case to hold all the leaves (all seven of them) and have it on wheels.
I initially got complaints because it takes two people to open but they learned to live with it. They also had me put wheels on it that of course had the table rolling around, so we got locking casters and one or two of them broke because they forcibly rolled the table closed with them locked and then broke the extra legs, but I fixed them up and have no complaints in quite a while.
All in all it was a great project and it really stretched me to my limit. Now I can do it again and make fewer mistakes next time (everyone makes them!). Take into account that the client wants the best of both worlds and that doesn't always fit with reality.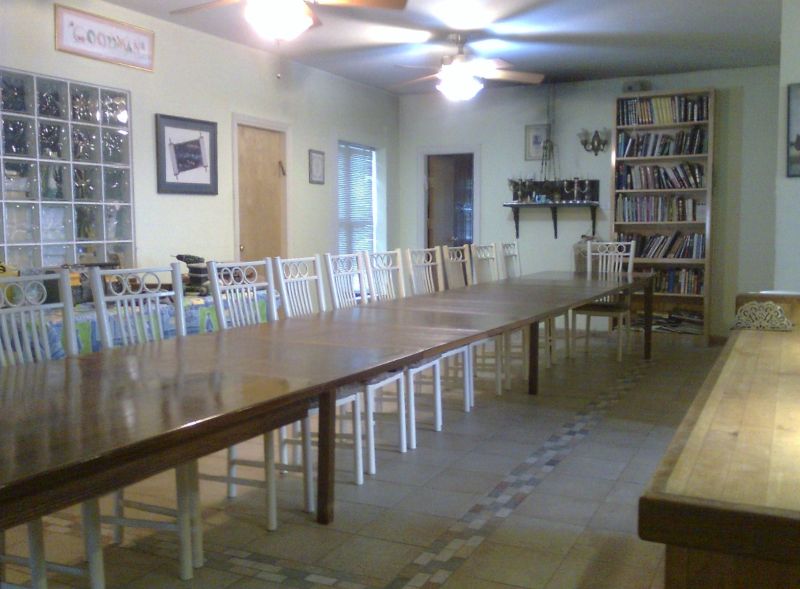 Click here for higher quality, full size image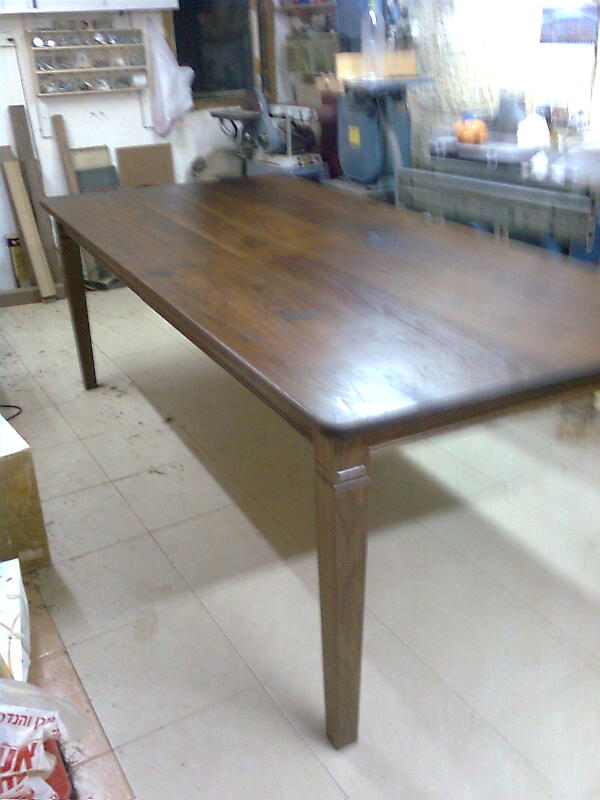 Click here for higher quality, full size image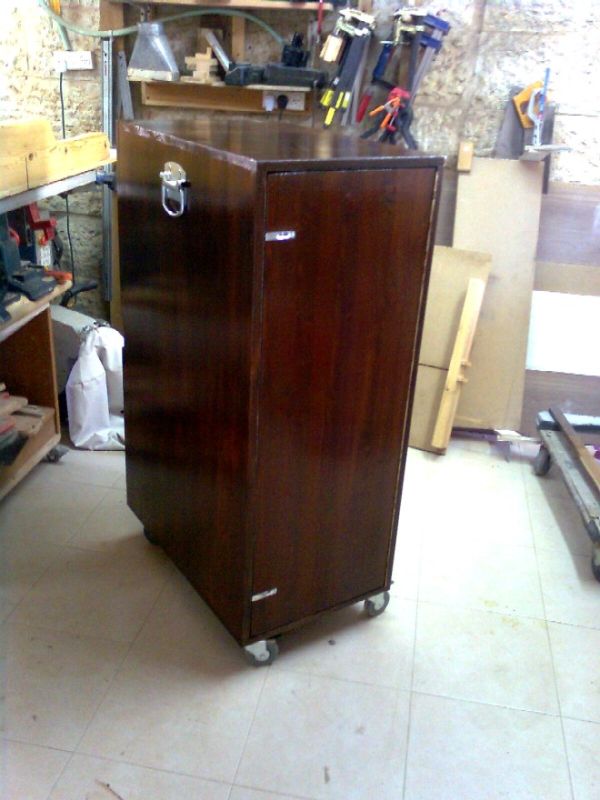 Click here for higher quality, full size image
---
From contributor G
:
For a fixed pedestal I use the ratio of top to base - 1:.666 and it works fine. Yes, it can be stretched downwards. We make a table 56" in diameter with one 22" leaf and a fixed pedestal. The base is 42" and it works fine although couldn't take any more leaves with getting tippy. I agree totally that a split pedestal is the way to go, a fixed pedestal is faster for smaller batches of one-offs. Disagree? Let's get a discussion going.
---
From the original questioner:
Your formula of the top to base ratio using a fixed base is great info. I absolutely prefer a fixed base and will argue hard not to need to build a split pedestal (pull apart pedestal). Those can work well if they live in one home forever, but if moved from a wood floor to a carpeted floor or worse still, to a tiled floor, they become cumbersome at least and unworkable at worst.