Port Orford Cedar — Milling Tips and Uses
Ideas on how to saw a nice Port Orford Cedar log, and for what to make with the wood. October 25, 2006
Question
My neighbor took down a Port Orford cedar. The largest piece is about 16' long and 20" diameter at one end and 30" diameter at the other end. I have another 12' piece that goes from 20" down to about 15". I am a novice woodworker and have no idea what I want to build with it - furniture possibly, maybe a mantel - maybe sell some of it. Any suggestions on the best way to mill it? This is my first try at getting a log milled.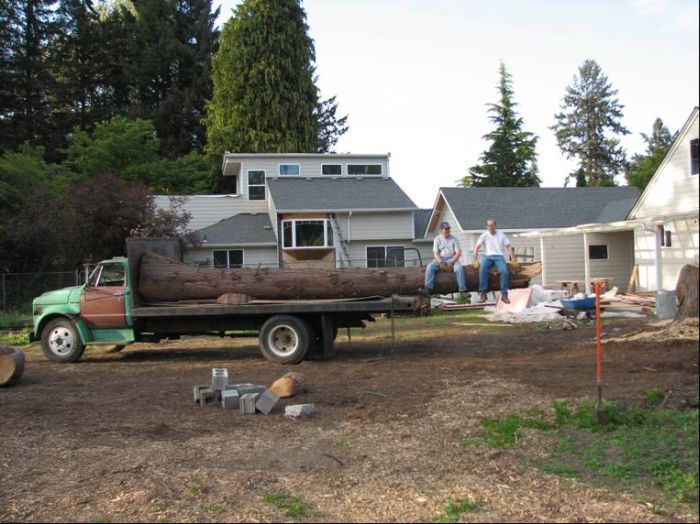 Click here for full size image
Forum Responses
(Sawing and Drying Forum)
From contributor I:
I've sawn a couple of Port Orfords about like that. We call it Lawson cypress here in NZ. The wood is a bit soft for furniture, so unless you are going for the rustic look, there is better wood for that. I've cut it into 4x1 boards and used it for T&G paneling and closet lining, which worked great. I've seen it used locally for a large timber frame building, so your idea of cutting a mantle from it is probably fine. It's great for outdoor use, deck furniture, etc, any place you would use red cedar. The heartwood is very durable and the wood is fairly strong for its weight.
Looking at the log, it seems to have a few knots in it, so you aren't going to get big clear boards from it, but a few knots are a good feature in paneling. If you want to sell it, find out what people want before you saw it up. A full width (live edge) slab from that log might make a nice bar top or a lot of small tables?
The wood is easy to air dry, it's natural durability resists staining while drying and it doesn't shrink or split much. That means you can dry big pieces of it successfully. I've got a 24" x 2 " x 12 ft slab in the shed, waiting for an inspiration.

---
From contributor K:
I'll suggest a mantle at four inches thick. Then it can be resawn or surfaced after it has dried to the dimension you like. Some of my customers like thick mantles and some like thin. Choosing where to slice the log will determine the angle of the barky "live edge". Don't worry about knots, they add character.
After you let it dry, the wood will have a patina. If you trim sand or grind, you will expose new surface area with different coloration. A gas torch can be used to oxidize and darken the new surface area and help match up the coloration.
It may be too simple, but I'll suggest milling the remainder into 2x8 or 2x6 and using it for a couple of picnic tables. There will be enough trim left over to make some paneling or a garden bench. I don't know anything about cooking salmon on planks, but my neighbor says it is a miracle of culinary art. Someone else will have to suggest a recipe and plank size. Cooking planks could be a good use of the funny odds and ends from the tree. They can be gifts along with the sawdust as moth repelling and scented sock drawer cachet. All your Christmas gift giving solved!

---
From contributor A:
Find a bandmill. It cuts very easy. I cut it into 1x5's, let dry for 5 months on stickers, then planed one side and nailed 'er up. It had a golden red color. Soft and easy to work with. If it was my log, I would cut it into 4/4, 6/4, 12/4. And when you feel like building some outdoor furniture, you have your stock.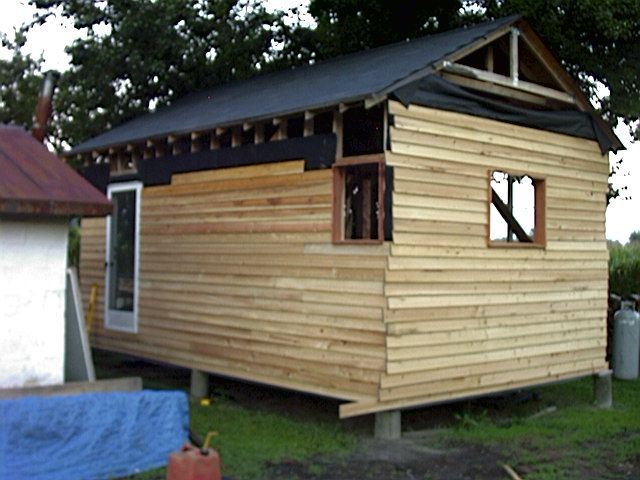 Click here for full size image
---
From contributor S:
For what it's worth: The gray unpainted houses seen in older sections of Oregon coastal cities is untreated and weathered Port Orford cedar. It turns a natural gray so well liked that many paints and stains duplicate it. Heartwood is highly rot and fungi resistant and makes excellent outdoor wood. Some people call it "stinky cedar" because of the aroma of fresh cut wood. VG clear, tight grain is also used as sound boards in musical instruments. Fine grained PO cedar is used for arrows and is a premium wood for that. Check with a local bow maker (bowyer) if you want to sell it. They buy bolts cut to length and know what they want grade wise.