Preventing Sagging in a Large Driveway Gate
Advice on bracing and post details to prevent a large, heavy gate from sagging in service. February 6, 2010
Question
I will be building a driveway gate that is approximately 5' tall and 8' wide, constructed of cedar. I will mortise and tenon joints, epoxy as glue. Set on strap hinges. My concern is sag at the 8" point. What would you suggest to compensate for sag?
Forum Responses
(Architectural Woodworking Forum)
Geoff
From contributor O:
Personally, I would need a lot more information about the construction of the gate before I would dare to offer any advice.

---
Leo G
From contributor G:
A wrought iron diagonal brace from the top of the hinged side to the opposite corner will hold it for a long time. Best to put it on both sides so it doesn't twist over time.
---
From contributor W:
I've done them. To compensate for sag I run the post up maybe 4' above the gate. Attach a cable with one of those turnbuckle tensioners from the top of the post to the far corner of the gate. It can be tightened as necessary to compensate for sag.
---
From contributor C:
I've done them too and the best way is a 3x3 steel frame, hinges with Zerk fittings and the cedar attached to the frame. No need to tighten a steel cable - no sags, runs or drips.
---
From contributor S:
I did one last year from Maro Macho wood with two 96"x96" gates and weighed 350# each. The posts are 4" tube steel set 4' into concrete with the post 1" out of level to compensate for any settling. The footings had 4' of counter balance so that there was very little force applied to the post after the gate was set in place.
The adjustable hinges were custom made and had 1" of adjustment. i tapped two 1/2" bolts behind each bolt hole on the hinge leaf and by moving the bolt either in or out it would move the center line of the hinge pin up to 1" to over compensate for any sag. The gate was reinforced with a 1x2 tube steel frame that was dadoed into the frame and bolted through. One year later there was only about 1/2" of settling with one side of the gate.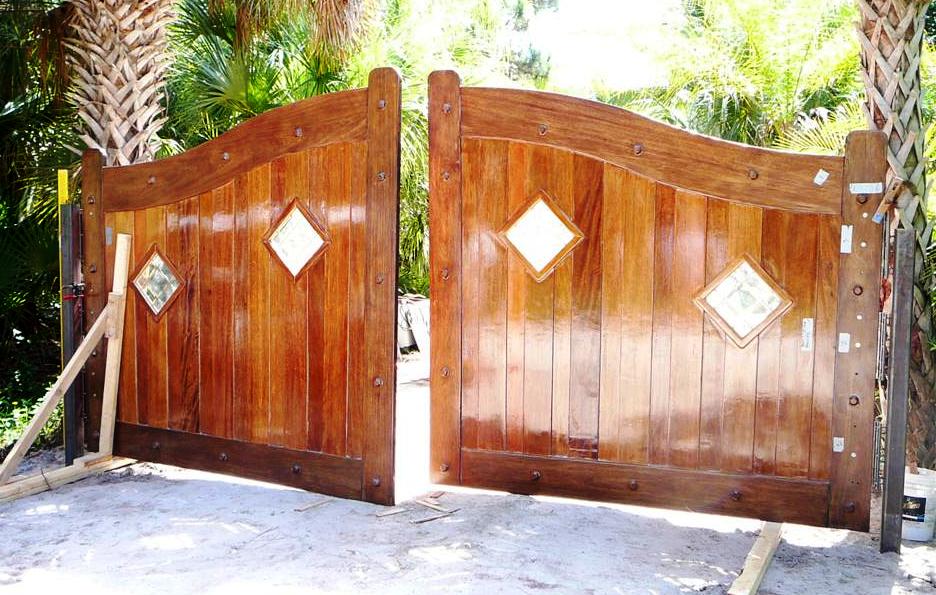 Click here for higher quality, full size image
---
From contributor F:
I would use 4"x4"x1/4" posts and dig them 3feet deep. Use J-bolts for the hinges and you should be good. I build automatic driveway gates for a living. Let me know if you have any questions and check us out.
---
The comments below were added after this Forum discussion was archived as a Knowledge Base article (add your comment).
Comment from contributor J:
I used a pretty simple approach. I purchased a swiveling 3" rubber wheel from the local hardware store and attached it to the bottom frame of the gate. I had to notch out a section of pickets to allow the wheel to swivel when the gate was opening versus closing. I also added to turnbuckle cables to prevent further sagging. Total cost was around $15 and two hours labor.