Price and Quality for Interior Doors
Custom woodworkers have to charge for quality that typical mass-market interior doors can't match. October 17, 2011
Question
I'm trying to price interior doors for a client. I've received quotes from other house-door companies and they seem to be able to do it for pennies! How would you price a solid lumber - 1 3/8" oak 6-panel door? I'm based in Southern California.
Forum Responses
(Architectural Woodworking Forum)
From contributor S:
Yes, there are lots of companies out there that build cheap doors. They do it by volume, and cutting costs at every opportunity. Particle board cores, membrane veneer presses, faux joints and more make it possible. These are not doors in the traditional sense. Market pressure, customer indifference (or ignorance) and globalization insure that this is the way of the future.
These low dollar products have little to do with the body of knowledge about proper door making. Species, exposure, joinery, glues all are selected for ease of manufacture and not the final product. The rotted doors in the attached photo are a good example of a major low-ball player's work 12 months after their one year warranty ran out. I spent some time years ago trying to compete with them and came away knowing it was futile. Far better to build and sell what we make, the way we make it than it is to beat our head against their wall.
It is the details that make the difference in this type of work. If you want to play in that market, you will have to find things that distinguish your product and justify your price. Both a Kia and a Maserati will get you to the coast, but there is a notable difference in how that trip goes from one car to the other, and not everyone is driving a Kia.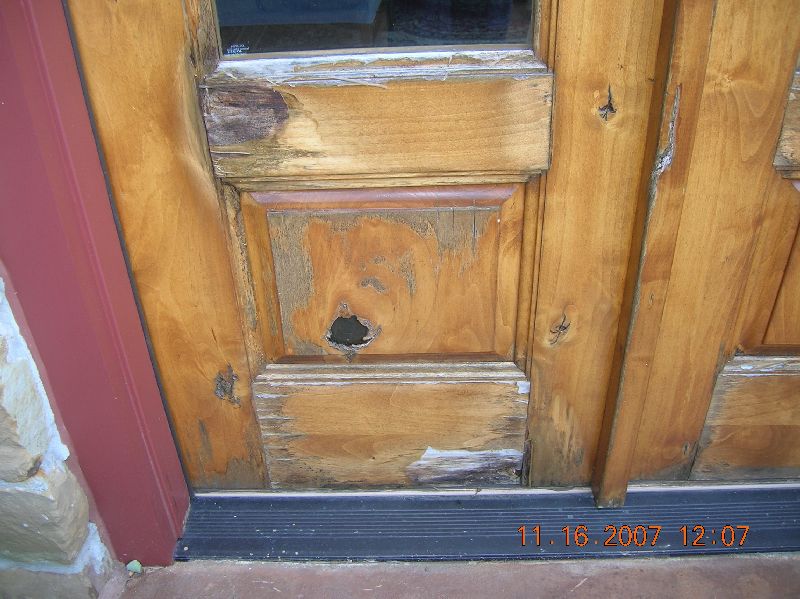 Click here for higher quality, full size image
---
From the original questioner:
Thank you, that makes me feel a little better. I was afraid that coming in so much higher, if it were to be worth my time quoting in the first place. Hopefully the quality will sell the price!
---
From contributor A:
Not long ago I was befuddled by the exact same thing. A local building supply was selling interior red oak six panel doors for a little over a hundred bucks, depending on width. We can hardly get the material for that. One day I went over and checked them out. Full of defects, warped, and not one would have passed a decent shop's quality checklist. They were solid oak however, which seemed to drive the sales. Rows and rows, hundreds of them in the warehouse.
I thought maybe if they were decent we could possibly buy some and put them in nice frames or touch them up a little. This was a tip from a customer of ours who thought we could work magic on them or something. I do listen to our customers - one of them is extremely talented and can build doors himself, and sometimes does. He turned us onto a small time mill in the backwoods of PA where we now get the best walnut at decent prices. It's these personal relationships that make the job so much better than placing bulk orders for thousands of Chinese slabs over the net.

---
From contributor S:
Commercial customers are a bit more savvy, but the overall 'consumerist culture' that this country has now based its economy upon dictates ever cheaper prices, to where some products have a difficult time performing the job they are manufactured to do. The company that produced the alder doors in the photo above has changed its name for the third time and improved marketing, but is still making lower quality of very low real value. They appear to be very successful, since success is measured in sales.
The average buyer has no idea that the container load of Chinese doors is any different from the products other people produce, because as small shops we cannot overcome their broad presence and we have no way to educate the masses that are considering such a purchase.
The other real problem is that the consumer has a bad experience with crappy doors, and blames the industry as a whole - not the consumer culture or the market 'values' that determine such things.
The owner of the doors in the photo above - there are several openings in the same shape - was furious with me for 'taking advantage' of him when I priced replacement doors and suggested installation, finish and hardware solutions that would help prevent more problems in the future. I got the abuse, not the fabricator of the doors. Three years later, he is still trying to find someone to replace the doors for what he paid the first time.

---
From contributor F:
I build interior doors, but not any traditional styles. There are so many places you can get a traditional style door it just doesn't make sense for me to build one unless it was something very unusual. Instead I build contemporary doors with 1/4" glass or acrylic panels. I use my own custom made profiles, loose tenon joinery, and solid 8/4 stock to build them. A typical door with jamb and casing installed would be a bit over $2k. Though I don't usually do just a single door so the quantity brings the cost down a bit. I'm just finishing up a job consisting of 29 doors total. All this to say if you can provide something the other guys can't, there are people who'll happily pay for it.
---
From contributor W:
My last run of 30 custom interior doors sold for $1100.00 each. Seven foot tall 2 1/4 thick brown ash rail and style full mortise construction with 2 1/4 thick black walnut panels. I supplied the client with a product that they could not find anywhere else. I made a sample door and when compared to anything commercially available my doors were beyond comparable. I should of charged $1500.00 each. It took four months to sell that project.
---
From contributor Y:
We recently made several cherry doors to replace doors in an office that were only about five years old. The original doors were 2 1/4 thick by 95 x 42. They only had 1/2" of some white wood edges and 1/32" or less veneers. I'm sure they were originally slab doors that the contractor modified for the glass leaving just 6" stiles. The owners didn't even comment on our price for the replacements (I had expected lots of moaning). Traditional construction of staved core, sawn veneers, M&T. We won't do solid lumber stile and rail on big doors, been there done that.