Proper Depth for Frameless Cabinets
In a long discussion, cabinetmakers share observations, opinions and experiences about the dimensions of frameless cabinets. December 14, 2005
Question
In 20 years of business, this is the first time a client has requested frameless from me. So I have a couple of stupid questions.
The cabinets themselves are really 23 1/4" deep and the door makes up the last 3/4" for a total of 24", correct? How far down do you keep the components from the countertops (probably stone), 1/8", 1/4"?
I am building a tall pantry unit with a pair of doors on top and a bank of three drawers below. I am assuming that I would keep the drawer fronts slightly inside of the total width so that they match the doors above, because the Euro hinges require 1/16"-1/8" inset from the outer edge of the cabinet.
Forum Responses
(Cabinetmaking Forum)
From contributor F:
I don't do frameless these days, but it is the same. 24" net deep carcass. 25" deep countertop overhangs doors by 1/8" to 3/16". Yes, the drawer fronts would be sized in the width to match the width of a door or pair of doors that are in line with it. As far as components, I think if you build to net at least a 36" high countertop, you will have it covered.

---
From the original questioner:
So that means, when cutting stock from plywood, I can't get two strips out of it? 24"+24"+1/8" > 48". When building frameless cabinets, do you order 5' wide ply instead of 4'? Or do you cut your stock at 23 7/8" (plus edgebanding thickness)? Then you can get your two strips from your ply. Same thing with 12" standard uppers - does that mean you only get 3 strips instead of 4, as you would in FF cabinets? On the lower cabinets, do you use a solid top or just strips in the front to complete the box look?
---
From contributor J:
Best thing to do is run out and find Danny Proulx's book "Building Frameless Kitchen Cabinets". It is a complete manual of how to build them and will answer any questions you have. While you're out, buy an English/metric tape measure. Fastcap has a great one.
Depths: I go with 600mm/23 3/4" so as to get two rips/sheet. Uppers - 300mm/11 3/4". I don't work to 25" counters since all the jobs I do usually have stone or solid surface and are custom fit. Solid tops are best, but you can do cleats in front and back.

---
From contributor F:
I think you run into trouble on the finish ends unless you use a thick edgeband with regard to multiples of 24" and 12" plus saw kerfs. If you use an applied frame and panel finished end, this becomes a non-issue.
On the rest of the carcass parts, you have the thickness of the cabinet back to make it possible to net two base cabinet rippings and 4 wall cabinet rippings from a standard 48" wide sheet.
I think most makers use 3" or 4" wide stringers on the tops of base cabinets instead of a solid top, especially on a sink cabinet.

---
From the original questioner:
Thanks. Finished ends are always a small problem anyway. You always need a larger piece so that you can do a wall scribe on FF cabs. So that wasn't really an issue.
---
From contributor C:
I hate to disagree, but the finished cabinet depth is supposed to be 24" including door thickness, with the 25" deep counter depth overhanging 1 full inch. You were correct in your initial dimensions of 23 1/4" box with 3/4" door. Go to any kitchen dealer and look at all the showroom setups and this will lay to rest any doubt in your mind who to believe.
---
From the original questioner:
Oh good.... conflicting answers. I would tend to think that a total 24" depth would be correct, as long as there was a door or drawer front on it. If it was an open shelving style cabinet, I would think the box itself would be 12 or 24" deep. Okay, set me straight now. Can somebody measure one and confirm the depth? I have no real cabinet distributors near me that I can take a quick measure from.
---
From contributor K:
I thought base cabinets needed to be 24" to fit appliances. I used to think on islands and peninsulas it was okay to build a 23-1/4" base plus 3/4" back panel until I had to fit a set-in range. Needless to say, it didn't fit. It needed the whole 24".
---
From contributor U:
I build my bases 23 3/4" deep and uppers 11 3/4" deep, plus edgeband (.020), plus doors (13/16") with 25" countertop.
---
From contributor G:
We build 95% frameless. Our base cabinet sides are 23 1/8" (with banding), plus 1/8" for bumpers, plus 3/4" front. Overall depth 24" from face of door/drawer to back of cabinet. On base cabinets, we maintain a reveal of 1/4" from the top stretcher (bottom of countertop) to the door/drawer front. We also use stretchers instead of a full top, and they are 4 1/2". That gives us better strength, and allows us to use two holes 64mm apart for screwing into the stretcher (leaving about 1" from the edge of the stretcher to the center of the hole).
We make our upper 15" overall, but that's where I'm probably a little different. I don't think 12" (leaving about 10" inside) is enough depth in uppers. We also make tall cabinets 26" deep to allow for the countertop to die into the sides. For finished ends, we use separate applied ends, mostly beefed up to 1 1/2" thick. We also do separate toekicks.

---
From contributor Y:
"thought base cabinets needed to be 24" to fit appliances"
You're right. 23 3/4 is used by shops who cannot get oversized sheet goods.

---
From contributor G:
A 24" cabinet, to the face of the doors/drawers, will fit appliances just fine. We do it all the time, and have no problems. In frameless, the appliances sit flush with the front of the door/drawer. In face frame, they sit flush with the front of the face frame.
---
From contributor P:
The base cabinet box I build is 24" deep, plus the 3/4" for the door or drawer front. My overlap of countertop is 3/4", for a total of 25 1/2" on base cabinets. Wall cabinets, the box is 12" deep plus 3/4" for the door.
---
From contributor M:
I have always built my bases at 24" with a 3mm edgeband. I have not paid that much attention to yield because I nest my parts and then cut them on the panel saw. I figure that it will put shelves, toe kicks, and stretchers where I can't get another 23.875". Around here, we use 25.5" countertops, and don't have a problem. For a reveal, I use 10mm (3/8") between the top of the drawer and the countertop. And I am sure it will come up, but I use 3mm (1/8") reveals between doors/drawers. I take the external box width and subtract 3mm for the size of the door - or 1.5mm on each side. When you put two boxes together, you have a 3mm gap.
This has made me think about bringing the width of the sides down if it does not interfere with appliances. I think in cabinetmaking, there are two kinds of fights. One between the frameless and face framers, and the other when frameless guys try to tell how it's done!

---
From contributor A:
Real European frameless cabinets have these dimensions:
Base - depth 550mm.
Upper - depth 340mm.
Door/drawer front 19mm.
Countertop 600mm.
---
From contributor M:
What are you using for base height? Size of toe kicks? I think we would have problems using 550 here. I think we have bigger sinks and appliances.
How do you handle the stretchers for the front of a sink unit? What sizes of doors/drawers for base units do you use? I am looking for combinations like 1) 1 drawer over 1 door, 2) 3 drawers, and 3) 4 drawers. I have been using 157mm for the top drawers, but this is too narrow to feed through the bander. So I have been making them 320mm, banding them on all sides, and then ripping into, and banding the fresh edges. How are you all doing it?

---
From contributor D:
What if the doors aren't 3/4 or 19mm? I've seen cabinets with 1/2"doors and drawer fronts. And what about inset doors and fronts? Do you then end up with 1.75" of counter overhang?
---
From contributor C:
The total cabinet depth including door or drawer front should be 24". If your fronts are not 3/4", adjust the case depth accordingly.
---
From contributor O:
I do mostly frameless for kitchen cabs and I think some guys are a little carried away with specifics. As I usually install also, I know that a stove will generally stick out roughly an inch from your cabinetry (custom or store bought), a dishwasher has room to spare behind it, a refrigerator will stick out a couple inches, and not many people are doing compactors anymore. As for countertops, they are templated and the depths can be varied, so although 25-1/2" is standard, there is room to play.
That said, my cabinets are 23-1/2" deep with solid wood doors being 13/16" or ply 3/4" thick and bumpers are about 3/16". Overall, roughly 24-1/2". An eighth of an inch either way won't kill you.

---
From contributor E:
One thing to add to the post about dishwashers having room in the back. I used to think that too, until a customer bought a new flush mount dishwasher that was designed to be installed so that the front of the door is flush with the front of the face of the cabinet. Those need every bit of the 24 inches to install to get that look.
---
From contributor A:
If your cabinetry is only 24" deep including the doors/drawer fronts, you won't be able to fit a subzero 700 series refrigerator in them. These are totally built in refrigerators and require 24" deep carcasses in order to work. A couple of other appliances are similar.
---
From the original questioner:
As a matter of fact, that is the refrigerator that is going into this kitchen. And they actually suggest a cabinet that is 25" deep, not 24". 95% of the time the refrigerator cabinet is a specialty item and most non-custom cabinets would not even offer that type of a box.
It seems that there are three ways of thinking on how to build frameless cabinets.
1. True European design - 550mm (21 5/8") lowers and 340mm (13 3/8") uppers.
2. Standard - 12" and 24" depths including the door/drawer.
3. Extended standard - 12" and 24" boxes, then add the doors/drawers.
I see reasons for using all three methods. True European, if you are over the great pond; 24" total if you are using standard prefab 25" countertops; and the extended standard if you are building a totally custom style kitchen with new modern appliances that require the full 24" interior depth and you have access to custom made countertops.
I will build somewhere in between. My boxes are going to be 23 3/4" deep, then have 3/4" doors/drawers on top of that. It will require a 25 1/2" deep countertop. The only reason I have chosen this depth is because of the dishwasher. If I didn't have this in the cabinet line, I would have chosen 24" total depth. Thanks again, everyone, for your input.

---
From contributor I:
You hit it on the head. There's a post here about what a custom cabinet is. That's where the dimensions come into play. If you're doing custom, you have to build what will work for the client, the space and the appliances. And even though the appliances are supposed to be the same, they aren't. It never hurts to have an extra 1/4" behind them to plug things in or to not pinch a hose that will burst three months from now.
---
From contributor T:
There really is no "standard", but here is a typical vertical section of a lower kitchen cabinet that I thought might help. You can alter the figures and materials to meet your standards.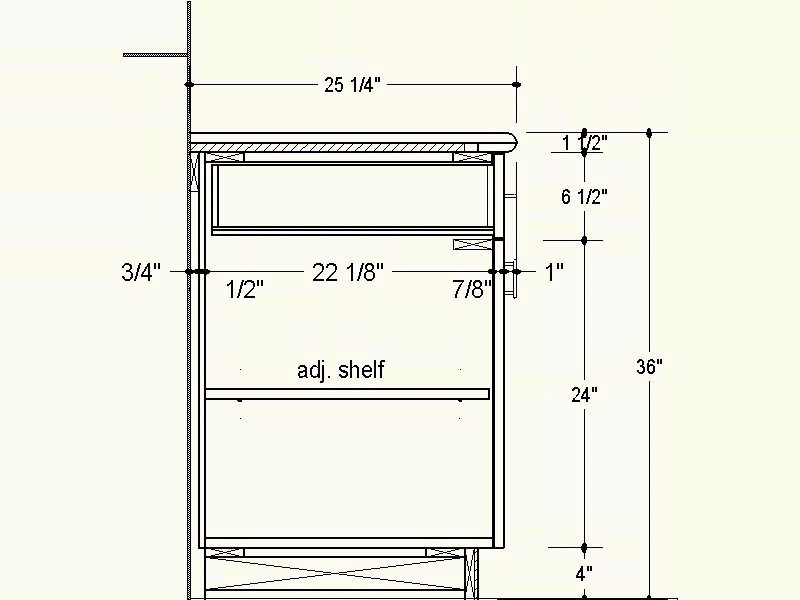 Click here for full size image
---
From contributor O:
Actually, most if not all subzeros require a side panel, as they are made to be built in. You would want your side panel deeper than your cabs, anyway, so the countertop dies into the panel with no overhang.
---
From contributor X:
I have been building frameless for about 15 years. I started out with standard dimensions and soon learned that American dinner plates won't necessarily fit into a European upper cabinet. Now I make all uppers 13 1/2", lowers 24" (25" countertop) and tall units 25". I make face frames for many of the built-ins, e.g. warming drawers, microwaves, ovens, etc. Refrigerators get their own side panels and pilasters depending upon design and space requirements.