Pull-Out Drying Racks
Ideas for drying racks for laundry-room cabinets. December 30, 2005
Question
I am putting together a proposal for a laundry room. Client would like pullouts that are flat and stainless wire mesh to lay clothes flat on to air dry. Is there something like this that I can just buy outright? If not, I am thinking of making a hardwood frame perimeter with a rabbet in the middle to drop a piece of wire grate into. Any suppliers for rigid stainless wire mesh? Size would be approximately 22d x 42w.
I checked rev-a-shelf out and everything is too small. My backup plan is to buy a wire shelf kit, use the shelves and mount wood blocking on sides to mount slides to.
Forum Responses
(Cabinetmaking Forum)
From contributor B:
Try mcnichols.com or gratingpacific.com. If what you need is not a commonly stocked item, you may have to have it fabricated.

---
From contributor D:
Try Hafele.
---
From contributor P:
I was asked to do something similar a few years back and after racking my brain to come up with an appropriate material for the mesh part, I hit upon the following idea. It worked so well and was such a hit I've done it a few times since.
The material is one of the rigid plastic grids that typically drop into the ceiling frame under florescent lighting in offices. It's about 3/8 inch thick, is 24 x 24 inches (but could be carefully cut to size), the holes are 1/2 X 1/2, and it cost a whopping $6.00 or so. I just dropped the grid into a rabbetted frame and used Accuride 3834 slides so the whole thing could be accessed. (3834's have an extra inch of over travel.) The one in the picture is actually above a half-height water heater and uses the heat given off by the heater to dry items. Works like a charm and looks pretty good, too.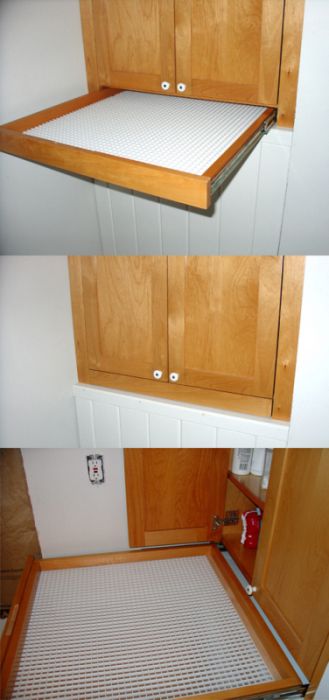 Click here for full size image
---
From the original questioner:
Very nice. Great idea and economic, too.