Pull-Out Trash Can Drawers
Turn a drawer upside down, stick a trash can through the bottom, and screw a cabinet door to the front — presto! January 26, 2009
Question
What are you using for trash door hardware? I'm referring to the flipper door inside of a hinged door that you push inward to put trash in the trash can.
Forum Responses
(Cabinetmaking Forum)
From contributor C:
I basically build a 6" tall drawer that is installed upside down. Two holes are cut in the bottom (which is now the top) for two 35 qt cans. The door is attached to the drawer. It looks like a cabinet with a door, but it functions like a drawer. I know Rev-a-Shelf carries a very similar product, but it's much cheaper to build it yourself.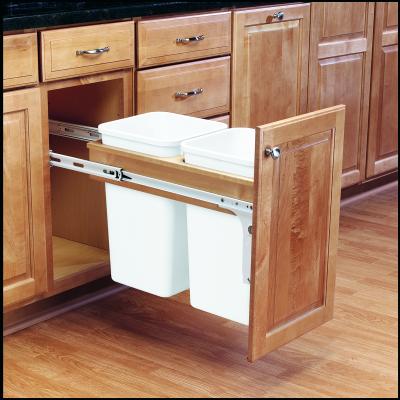 Click here for higher quality, full size image
---
From contributor G:
I have used your method when making kitchens and the customer wants a pullout trash can. My current application calls for a door within a door that you push open and drop your trash into a trash can. I cannot locate a decent pivot hinge.
---
From contributor R:
In order for the door to hang properly when idle, you need to center the hinge pin on the centerline of the flipper door. No real hardware is necessary. Cut the opening in the door, and add a slot in each side for a hinge pin. Set the hinge pins in the flipper door, slide them into the main door, and then use a plug to fill the slot, trapping the hinge pin in place.
---
From contributor D:
Hafele has what you are looking for.
---
From contributor S:
Unless the client specifically wants something different, we use the upside down drawer method to keep things simple. My next one I'll be adding a small wire frame basket behind the trash can to hold a box of garbage bags.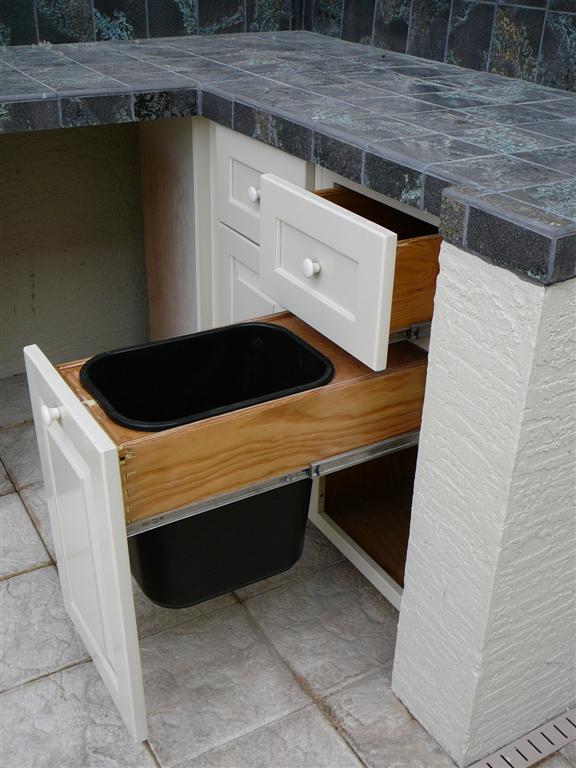 Click here for higher quality, full size image
---
From contributor A:
Stanley makes a Window Spring Bolt/Flap Door Hinge that you can use. Our local hardware supplier, Charles McMurray, sells them (part #1697US2C).