Qualities of Butternut
Fuzzy, soft, and nice to look at — woodworkers share their experiences with Butternut wood. December 12, 2008
Question
I have an opportunity to purchase some butternut at a good price. Have not yet seen it but some is supposed to be good quality and some average. I'm not familiar with this wood at all - my supplier doesn't stock it. Need your thoughts and opinions on it - like it, hate it, machinability, etc.
Forum Responses
(Furniture Making Forum)
From contributor A:
It's a very attractive wood and machines very easily. I like it a lot. What are you going to use it for? That might be the best guide as to whether it's a good purchase for you or not.

---
From Professor Gene Wengert, Sawing and Drying Forum technical advisor:
Butternut is quite soft and is prone to fuzzing when sanding. It is not highly desired for a lot of uses, but does find frequent use for carving, as its softness allows for easy carving. It glues well.
---
From the original questioner:
Thanks. I didn't have any specific uses in mind. A customer's father had some walnut that they wanted me to build some pieces from and he offered the butternut. Always worth checking out the unknown. If I was a carriage builder I'd jump on it.
---
From contributor Z:
This is a butternut kitchen we recently finished. The finish is just a clear with brown toner to even out the color. The columns, appliqués, and corbel were maple dyed and toned to match the butternut.
Like Gene said, the wood is very soft. The kitchen was a rustic look with knots and small imperfections, so if they do get minor dings or impressions, they will blend right in.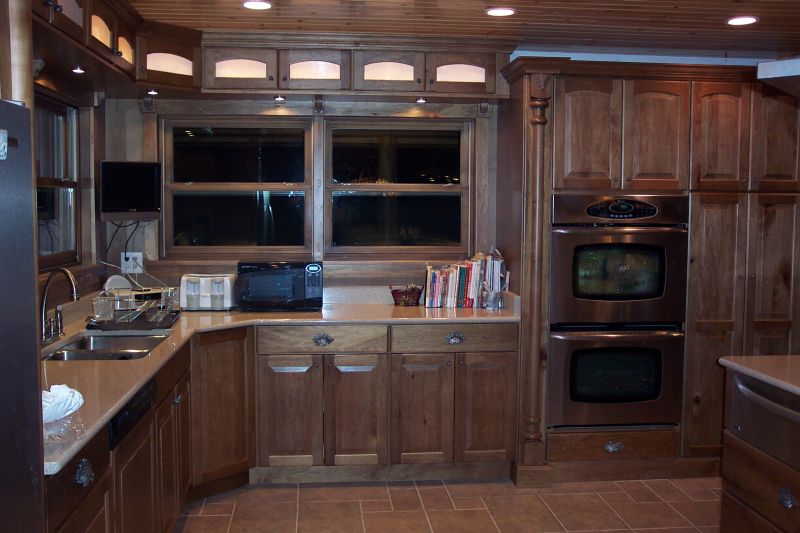 Click here for higher quality, full size image
---
From contributor W:
I agree with Doc as to its softness and fuzziness. The color is really nice, so use it on projects where that can be shown off. Do not use it in chairs. I made a simple side chair, shipped it to the customer, and the short grain in the back broke with no recognizable damage in the packaging. I made a second (customer demanded butternut even after my explaining), being extremely careful on shaping to keep the back and back legs straight grained.
Some refer to butternut as "white walnut," but it is nowhere near as strong.

---
From contributor S:
I use it all the time for carving and it carves very well. I would not use it to build furniture, but cabinet doors might be okay. It is quite soft and if you do dent it, you can use the damp cloth and iron trick and usually make the dents go away.
---
The comments below were added after this Forum discussion was archived as a Knowledge Base article (add your comment).
Comment from contributor O:
We use it extensively as an engineered door stile species. The core is LVL fir for stability and strength, the edges are 7/8" solid and the faces are 1/4" veneers. That is a great way to use a wood that is deemed too soft for such a usage!