Recognizing a Big-Leaf Maple Burl


This big burl, received as a gift, is identified as the western species Big-Leaf Maple by woodworkers familiar with that wood. December 23, 2014
Question
Is this a big leaf maple burl? It is soft to a fingernail burnish by the way.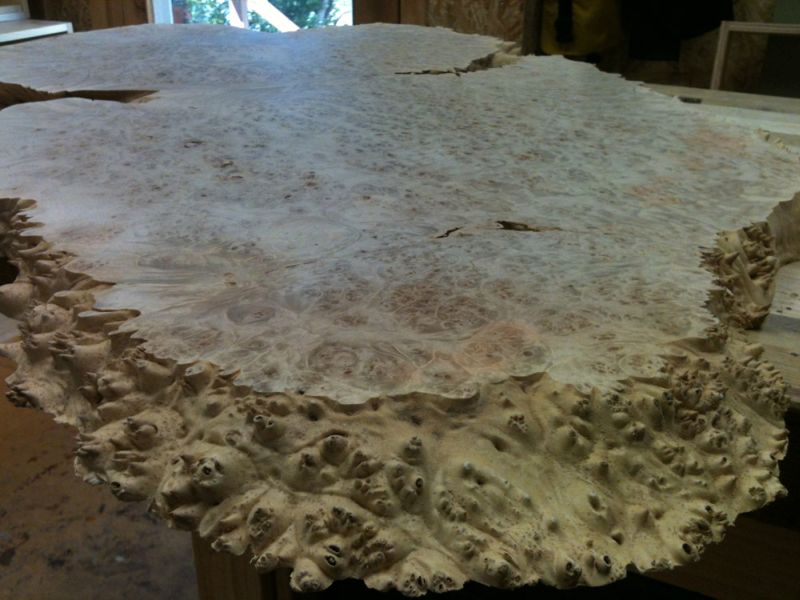 Click here for higher quality, full size image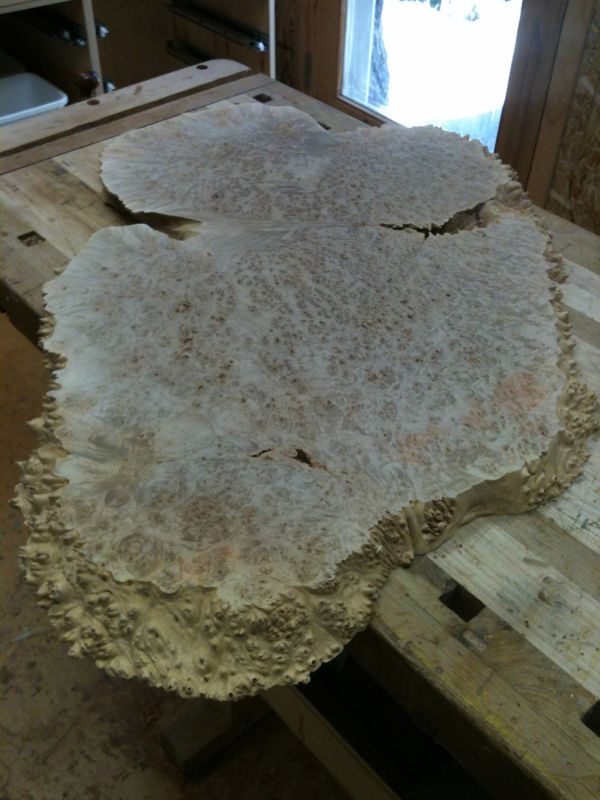 Click here for higher quality, full size image
Forum Responses
(Furniture Making Forum)
From Contributor D:
Definitely a birdseye - looks like maple to me.

---

From the original questioner:
I am pretty sure itís an exotic. Check the edge of the slab. Iíve never seen a spiky edged tree like this in America. I mean like thorns in some spots!

---

From Contributor D:
Those thorns and spikes are a way to identify birdseye grain patterns in trees and logs. They each pretty much co-relate to a birdseye figure. Birdseye certainly can occur in most species but seems fairly common in maple, redwood and pine and oak to name a few. Carpathian elm burl looks similar but is typically seen in veneers.

---

From Contributor A:
It is bigleaf maple burl from the Northern California to Washington area of the west coast (also known as West Coast maple).

---

From the original questioner:
To contributor A: How are you so sure?

---

From Contributor A:
I've been working with this material for the past twenty years and have close to 100 pieces of it; slabs, blocks, and whole burls stashed around my shop. I've never run across another burl wood that looks like it in my forty years of woodworking.

---

From contributor Z:
Contributor A is right, it is Big Leaf maple burl; it's pretty unmistakable. We've got a bunch of it in our shop and it's identical to the picture.

---

From Contributor D:
To the original questioner: So what did you pay for the beautiful Birdseye Maple slab?

---

From the original questioner:
A friend gave it to me after I asked if I could buy it from him. I will make him something for the gesture (he doesnít need the money). What do you think itís worth? I seem to remember that there is a place where you can send wood samples to and they will scientifically identify it for you. For free is what I read. Donít see how that is possible, but hey?

---

From Contributor O:
Forest Products Laboratory is run by Dept of Agriculture and has free wood ID service (if you are US Citizen). Go to the site and look it up. They do need something like a 1" square, but they can reliably identify domestic species every time.

---

From the original questioner:
Thanks. It just so happens after 37 years in America with an Italian passport and a greencard (since I was 4) I finally became a citizen. So now I can reap some of those perks.

---

From contributor H:
Sure looks like Carpathian elm burl to me and we use a lot of the veneer. If it is maple I am going to see about buying it in veneer.

---

From contributor R:
I also agree with Big Leaf maple. A brighter light for the photo would confirm that. About the sharp point comment, I have some Siberian elm burl with the bark taken off. It has points like needles. Brush against it, and you're bleeding.

---

From contributor S:
Bigleaf maple, almost without a doubt - have used it on a few occasions and appears identical to what you have. It is fairly soft, unlike Rock/Sugar maple here in the East.

---

From the original questioner:
And here I thought I had some secret beauty. Ok, I guess the vote is pretty overwhelming. Thanks all.
---

Would you like to add information to this article?
Interested in writing or submitting an article?
Have a question about this article?

Have you reviewed the related Knowledge Base areas below?

---



All rights reserved. No part of this publication may be reproduced in any manner without permission of the Editor.
Review WOODWEB's Copyright Policy.

The editors, writers, and staff at WOODWEB try to promote safe practices. What is safe for one woodworker under certain conditions may not be safe for others in different circumstances. Readers should undertake the use of materials and methods discussed at WOODWEB after considerate evaluation, and at their own risk.

WOODWEB, Inc.
335 Bedell Road
Montrose, PA 18801

Contact WOODWEB Copyright © 1996-2021 - WOODWEB ® Inc.