Refinishing Over Plastic Laminate
The challenge is to apply a new coating over existing laminate restaurant tables. Finishers weigh in with advice. April 17, 2010
Question
I am attempting to spray some post catalyzed varnish over restaurant tables that are Formica centers with oak borders. I sanded the Formica to give it teeth and sprayed. Two weeks later the finish has started to show white spots where it's popping from the Formica. Anyone solved this finishing dilemma?
Forum Responses
(Finishing Forum)
From contributor L:
I think it is going to be difficult to get anything to stick to that, to be honest with you. Is there a reason they don't just replace the laminate tops? It may seem cheaper in the short run to try this, but I doubt it will be in the long run.

---
From contributor R:
There is a two-part polyurethane called aliphatic acrylic polyurethane that will work. Different paint shops have different varieties. If you want to boost your adhesion, go to an auto paint shop and get some silane.
---
From contributor B:
There is a guy in town that sprays laminate counters, tile, bathtubs and sinks, using some super duper paint. I've seen his work and it looks good, lasts for a few years, but will eventually scratch. Guess it is possible.
---
From contributor W:
Cover the whole top with a new piece of Formica and trim with a bead profile. Finish the new edge. Everybody is happy!
---
From contributor G:
Use 2K urethane. Is anybody still making D-Dur?
---
From the original questioner:
Thanks. I've never sprayed that poly before. Have you applied it for restaurant use where the tables are exposed to heat, moisture and abuse? How has it held up?
---
From contributor A:
Your conversion varnish is not some magical restaurant grade finish. There is no way I would use it for a counter in that environment. The dry mil thickness is way too thin for true durability.
The laminate you are spraying over may be too brittle for the CV, hence the problems. The 2Ks are the toughest around and they have the greatest adhesion to the most substrates.
You definitely have a 2K job on your hands. They make two varieties - the woodworker type that you can spray with a conventional respirator or the nasty auto/marine old school bombproof stuff that requires a fresh air breathing system.

---
From contributor R:
I've used it in your exact scenario a few different times - it will hold up well. The very extreme temps aren't the best; I'd say anything over like 150, but that's just a best guess. I know that regular restaurant platters are fine.
I've got info on a company that makes a really good environmentally friendly version that dries quickly. The varnish you've already applied will need to be sanded off just to make sure that you get a good bond.
If you get a chance, tell me a little more about what your client wants. Are they looking to just get more function out of the tables, or are they interested in changing the look? Also, where are you located?

---
From the original questioner:
Thanks for your insights. I went with my local rep for recommendations using the CV. Life is an education. Brittle and substrate adhesion can't be overcome. I found some 2K stuff today. Sanding off the CV is a tough chore not harming the laminate. I was shocked at the $300+ price from the auto store. I'm in the Baltimore area.
---
From contributor I:
Why aren't you masking the P-lam and spraying the oak?
---
From contributor G:
More to the point - why are you concerned about harming the laminate? You need all the mechanical adhesion you can get. As to durability, I did some restaurant tables with D-Dur over laminate. While one was sitting in the back room, somebody dropped a restaurant-sized can of tomatoes on it without making a mark.
---
From the original questioner:
Masking the laminate and spraying the oak is my recommendation, but there are problems. The joint between the oak and laminate has and will over time allow moisture, hence bubbling up the substrate. Where do you buy D-Dur and what's your product?
---
From contributor G:
D-Dur was a Chemcraft product and I don't know if it is still being made.
Now I am interested in the bubbling up substrate. Are you referring to the laminate? At first I thought you had to change the color of the tables - now I'm confused.
---
From the original questioner:
Oak finishes the sides of the substrate and is flush with the Formica laminate and the Formica is still in good shape. Where the seam is, moisture over time has caused some raising. The client wanted to see if not just the oak but the whole surface could be coated, and the grain all filled.
---
From Paul Snyder, forum technical advisor:
Most finishes will not stick to laminate and other plastics. For a clear coat on laminate/plastic, I usually use Matthews (made by PPG) Tie Bond Adhesive followed by their gloss or satin MAP (catalyzed acrylic polyurethane). This system provides great adhesion and durability. I don't know where you're located, but I get the Matthews products from Martin Supply in Baltimore, MD. You can check their website at one of the links to find the nearest supplier in your area.
Automotive paint suppliers also have plastic adhesion promoters that you can use with catalyzed poly finishes, but they are usually pigmented primers, not clear. You can get it at many auto paint supply stores. Another option for a clear adhesion promoter comes from Bulldog.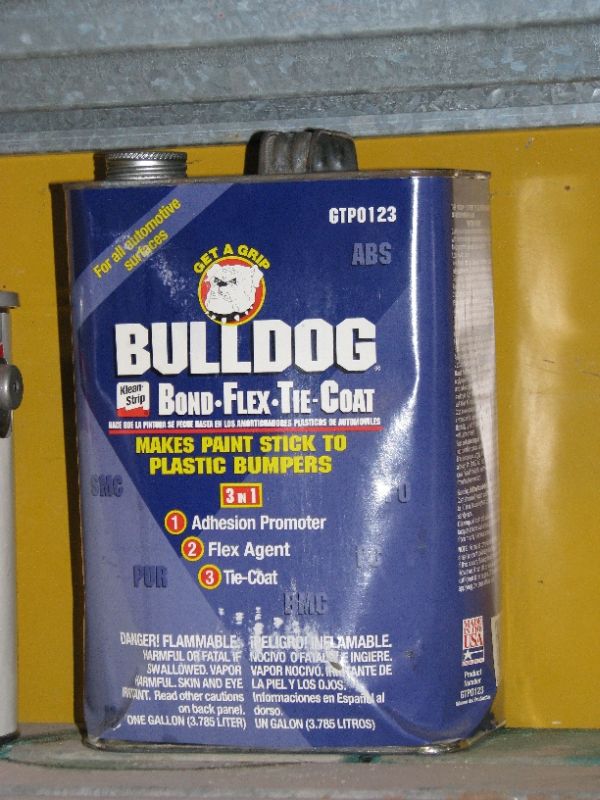 Click here for higher quality, full size image
---
From contributor E:
A friend has had good results using SW Poulane. It can be clear or pigmented.
---
From the original questioner:
I'm in Catonsville, so getting to Martin will be quick. I'll do a test table and see how it wears. Do I need to keep the Bulldog off the oak?
---
From contributor I:
Are you aware of a possible crack forming at the joints? Two different materials, two different expansion rates.