Refinishing an Old Veneer Table
Some interesting points made about veneer, table construction, and stripping and finishing in this discussion. October 26, 2012
Question
I'm deciding what stain to use on this beautiful table. Any suggestions? I'm pretty sure it is solid mahogany, but I could be wrong.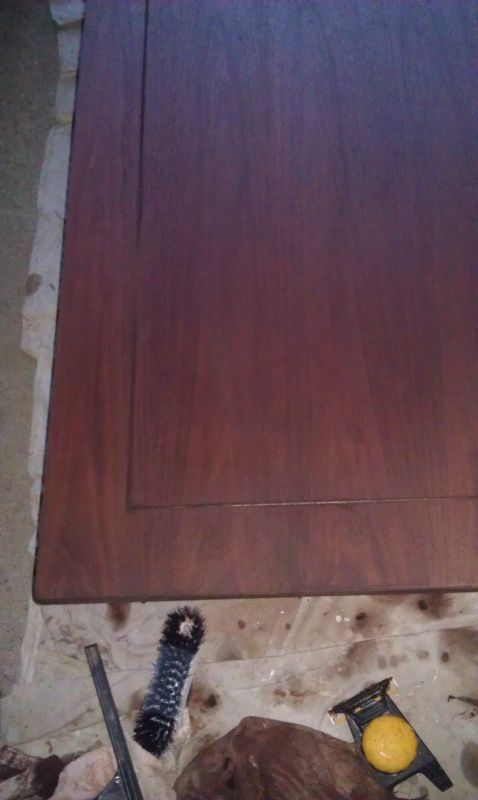 Click here for higher quality, full size image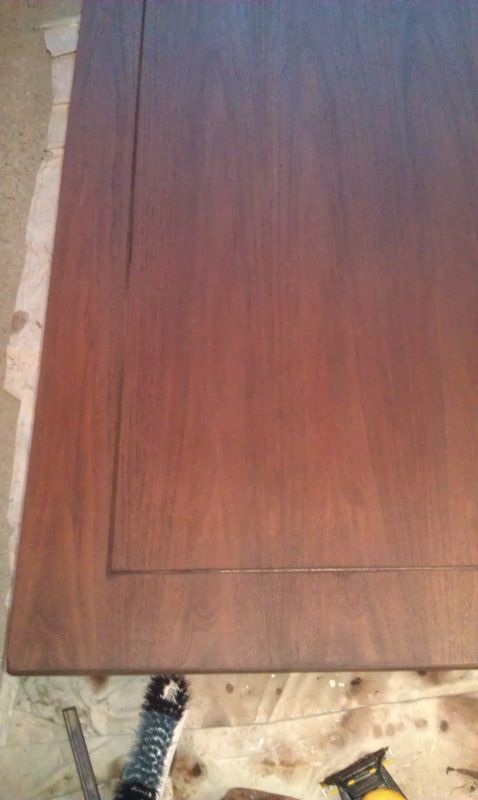 Click here for higher quality, full size image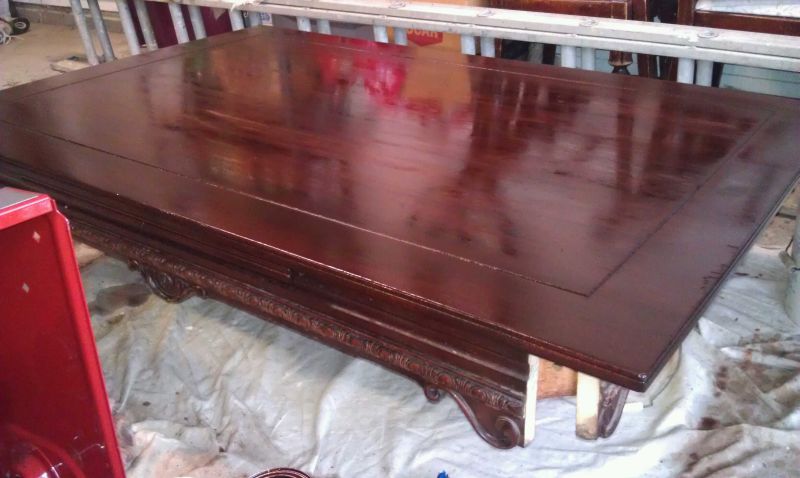 Click here for higher quality, full size image
Forum Responses
(Finishing Forum)
From contributor R:
Why do you want to stain it? Looks pretty nice to me, as is. I would topcoat it and rub it out. I take it the bottom photo is a before?

---
From contributor N:
I was going to stain mahogany once and someone talked me out of it and I am glad they did.
---
From the original questioner:
It was scratched up pretty bad and had lots of cup rings and such, plus the stain/finish was so dark that you could hardly see any of the wood grain. The bottom photo is actually while the stripper was soaking in, which is why it looks wet (on the top). The top 2 photos are after stripping the top. I haven't even touched the textured part on the sides yet (or any of the legs, chairs, etc.).
Would you agree this is mahogany? I am considering just putting a finish on with no stain because I don't want it to get too dark (like it was before), but I feel like there should be a lighter mahogany stain that I could use to make it look richer. Maybe I'll just put some polyurethane on it in a small section to see how it looks first.

---
From contributor D:
I'm seeing a walnut veneered table. I think it's veneer due to the matching of the leaves across the table. The walnut is more of a hunch about the grain structure of the wood.
---
From the original questioner:
I was thinking it could maybe be walnut at one point. I'm not sure what you mean by the matching of the leaves because the leaves are not pictured at all (until this post). I didn't strip them yet. They are much lighter colored (and in better shape) than the rest of the table was. The lighter areas that you see are just scrapes in the finish, the wood isn't chipped or anything.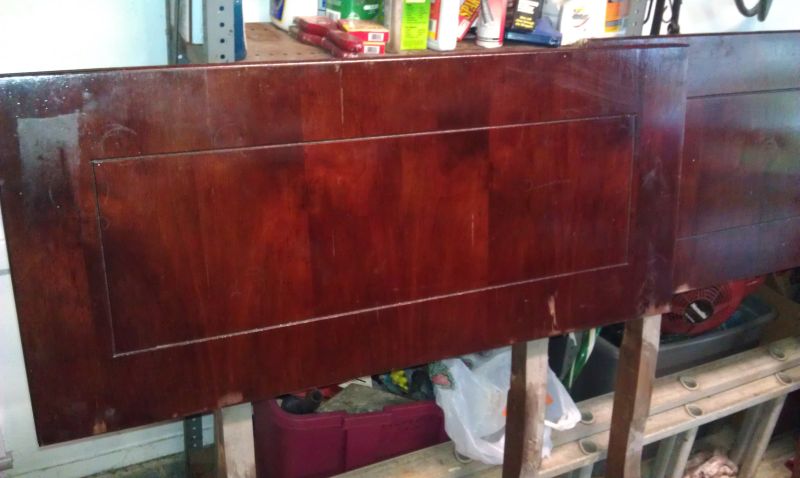 Click here for higher quality, full size image
---
From contributor H:
Looks like walnut to me.
---
From contributor C:
Most definitely walnut. It was stained with dye at some point, which gives it the reddish cast that is confusing.
Contributor D is seeing the same things I am. When he talks about leaves, he means bookmatched sheets of veneer that are near identical laid up next to each other, making a repeating pattern, not the table leaves. In pic 3, you can see at the bottom where there is repeating cathedral grain (V-shaped lines of grain) going upwards - that's a dead giveaway of veneer bookmatching. Also, it's plain to see the chipped veneer on the stripping shot on the edges - not a pattern you ever see on solid wood tops.
If you've used a paste type stripper, make sure to after-wash it with lacquer thinner several times to remove any wax residue before going forward with sanding or color work of any kind.
Once you have repaired all the damage, after sanding (180/220/320), you will see the color lightening up as the dye is removed. If the veneer is thick enough, you can most likely either sand the red color out or possibly bleach it out with pool chlorine (the type they use in swimming pools, much stronger than Clorox).
After bleaching and then rinsing with clean water and drying, you can do a final sand (320) and you're ready for whatever color you desire. I like a medium brown on walnut, which in time will naturally age out to a nice orangey brown even if not dyed - I just help it along.
The table leafs are lighter because they were kept out of the sun or light much of the time, which kept them from darkening due to UV light.

---
From contributor M:
What you have is a reproduction of an English draw leaf table as opposed to an American pop up table. Most of them were made in England from about 1900 till 1930s. I have never seen one(original) that was made of anything but oak or ash. Unlike the American manufacturers that would sell the same item in both oak and dyed red mahogany/gum, the English makers stuck to making them out of American oak. Some American manufacturers brought the style back in the 50s and 60s as a revival style. I have done several for a major upscale fashion retailer that had them made in walnut and mahogany. Most of those had an MDF base.
I would not sand as fine as contributor C would - 120, 150 on the raw wood. If you see signs of the original red mahogany dye and the customer likes it, stay with that. You can cheat on the color if you base stain with Minwax red mahogany, then topcoat with a walnut dye stain with lots of gilsonite in it. It will not be as brilliant as a toned mahogany dye, but you'll get the overall effect without the commitment to a true red mahogany color.