Repairing Damaged Veneer
Pros troubleshoot a water-damaged veneer table top, and consider possible fixes. October 30, 2005
Question
I have been asked to repair a dining table damaged by an over-watered plant, according to the client. I have worked extensively with plastic laminate, but not with real wood veneer or a repair like this. I am a finish carpenter by trade. I am somewhat suspecting the damage may have been caused by a hot casserole dish, since there are no water damage stains to be found and I don't think the substrate has swelled. Does anyone know what kind of glue was used to apply the veneer? I think that would be the first step in figuring out how to lay it down again. I think the table was made in the 40's or 50's - the chairs are stamped 'Feudal Oak'. I think the table is finished with shellac, but I haven't confirmed it with a test.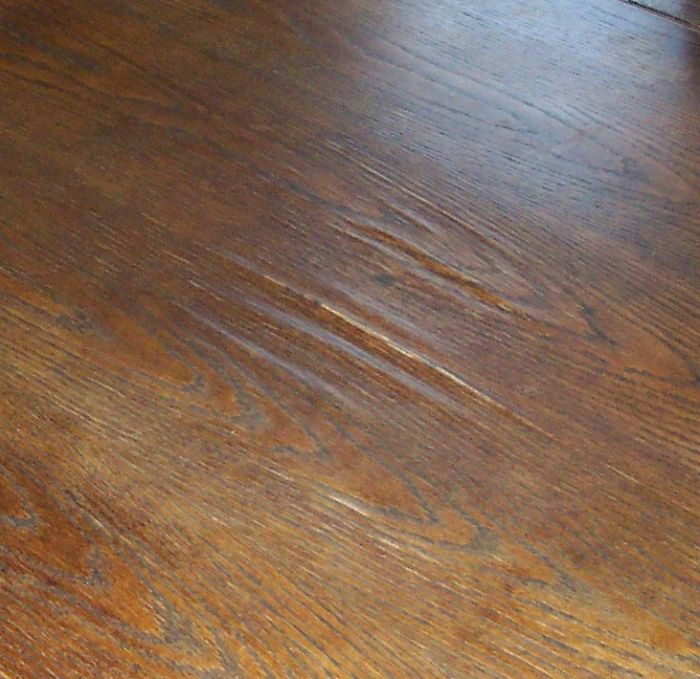 Click here for full size image
Forum Responses
(Veneer Forum)
From contributor T:
That is real water damage. Highly unlikely to be shellac; lacquer is most common. Core is probably solid wood or plywood, which doesn't normally swell like PB and MDF. It will be a challenge to lay down that wrinkled veneer. Slit with a razor knife or drill small holes, inject/spread/work in liquid hide glue. Clamp with lots of pressure using a substantial caul and a release sheet like wax-paper. Sure looks like a candidate for strip and refinish, even before the incident. A very good spot-finisher may be able to resurface and blend the area that will still display trauma after successful re-glue.

---
From contributor F:
Contributor T is on the right track, but instead of drilling a hole, try a hypodermic needle and a hand iron. Still a high risk job, though! Stripping may be a solution and a re-make may be the only solution.
---
From the original questioner:
Thanks for the info. Will the heat and steam from the iron soften the veneer so it will lay back down again? Should I wet the veneer first? How exactly would I go about doing this? Once I get the veneer flat, then do I inject the glue?
---
From contributor F:
Let me back up here. Do you know for sure what the substrate is, what the glue is, what the finish is? Is the veneer backed or raw? These elements are important as you proceed.
The plan could follow this route: Relieve the vacuum with the razor or needle. You may need to remove a small amount of veneer material and press the veneer. You may be able to thermoset or reactivate the existing glue. This is not an easy repair to communicate in this medium. Trial and error until you learn the process. The iron is the easiest, but I also use a veneer scraper and a hair drier - sometimes it works, sometimes it takes the next step.
---
From the original questioner:
I don't know what the substrate is. I don't believe it swelled in response to the water. I don't know what type of glue was used, only that the table was made by the Jamestown Lounge Co. in Pennsylvania between 1920 and 1980. What type of glue would have been used in a small factory during these years? I don't know the finish but could find that out and I don't know if the veneer is backed or raw or how to figure that out. What does raw or backed refer to? When I gently press the veneer back down with a finger, it is slightly sticky. The veneer is pretty strong in its efforts to remain curly, since it appears to be about 3/32 thick.
---
From contributor P:
I don't know how large the table is or its layout, but I would think on doing a new top. Yourself being new to repairs and finishing, it may not come out as they think it will. A top repair guy would still have trouble with this and it may be very time consuming. Sometimes being good at what you do is learning when to say when. If they don't care if it is perfect, then go for it.
---
From contributor V:
My father was the designer for Jamestown Lounge Co in the 50's and 60's, location was in Jamestown, NY. I am almost certain they used hide glues. There are probably a few furniture repairers from the old furniture days in Jamestown that could help you out. Area code is 716.
---
The comments below were added after this Forum discussion was archived as a Knowledge Base article (add your comment).
Comment from contributor B:
The repair is straight-forward. Apply heat to reactivate the hide glue followed with a veneer hammer. The finish will be affected, so it's a good idea to follow up with a coat of shellac. Once the shellac has had some time to cure, a rub with a bit of 2F pumice will blend the sheen to match its surroundings.