Restricting Cabinet Door Swing
Options for restricting cabinet door outswing to prevent collisions. May 15, 2012
Question
I have installed a cabinet door with Blum hinges. I need to limit its opening to about 80 degrees to prevent the door hitting the handle of an adjacent appliance (see photos below). I haven't been able to find a hinge limiter that will do this. Does anyone know if there's limiter that will do this?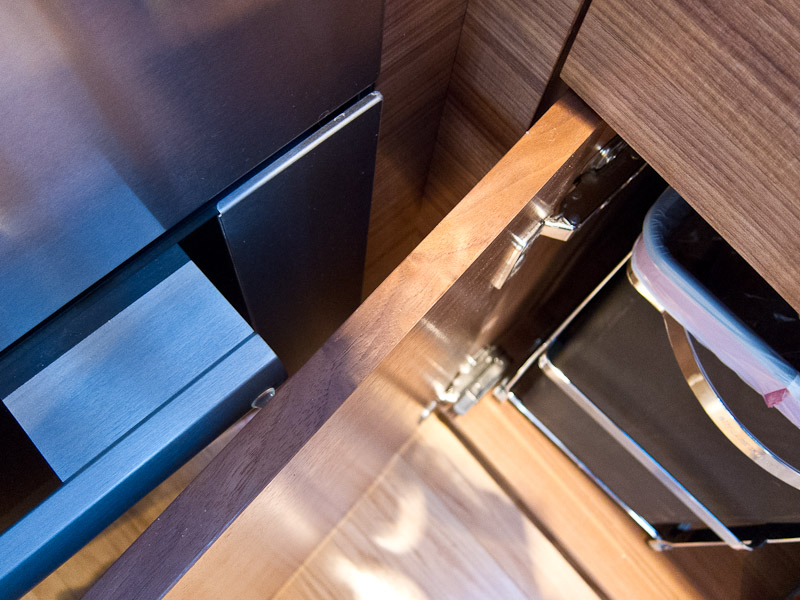 Click here for higher quality, full size image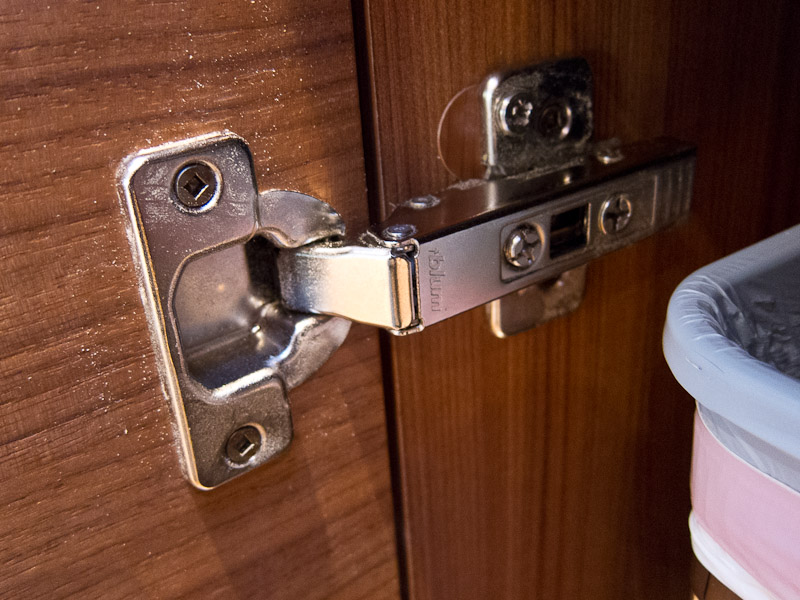 Click here for higher quality, full size image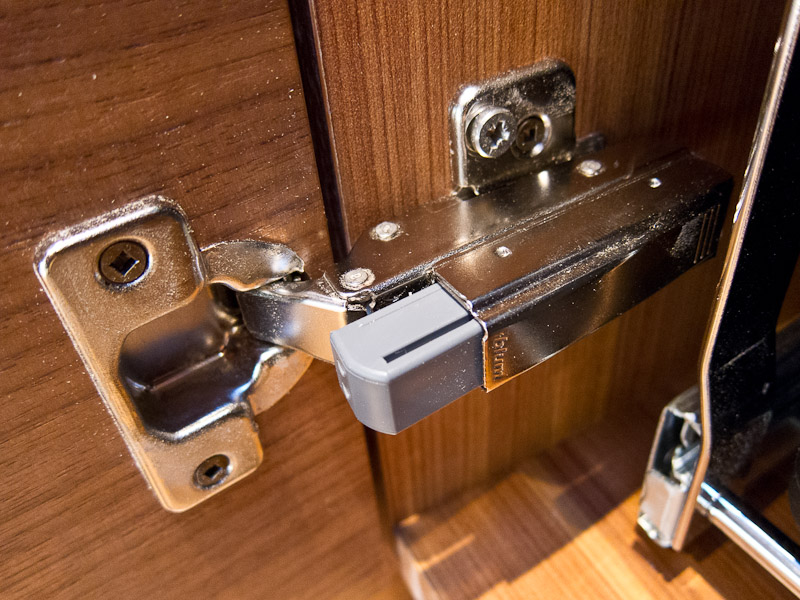 Click here for higher quality, full size image
Forum Responses
(Cabinetmaking Forum)
From contributor J:
The cleanest look to restrict the opening that I could suggest is the Blum restrictor clips. The only thing is they only work in the 107 and 170 degree hinges and stop the angle at 86 degrees. I'm sure there are some other options for a restrictor but I can't just think of what the technical name for them is at the moment, it would have a slide bar mounted to back of the door and not look the best and also be a little more expensive than just using a small chain as a restrictor. Hope this helps and if need be I can get an exact name for the option that I can't recall the name of, if the Blum clips don't work for you.

---
From contributor Z:
A small chain is only answer. Hinge limiters stop at 90 degrees. Iíve been there myself and now make standard 2-2 1/2 fillers to prevent this scenario. Slide-in stoves with large handles are the worst to anticipate and I will go to a showroom to see them on display whenever possible.
---
From contributor M:
Blum actually makes two different limiters, one for the standard 107 degree hinges and the 110 degree Blumotion hinges. Both limit the swing to 86 degrees.
---
From contributor W:
I can testify to the Blum restriction clip. I have, like an idiot, created so many designs that have doors banging into appliances or columns or adjacent doors. I have a whole box of 107* Blum clip top hinges with the add-on restriction clip ready to go when need be like your situation. Also, check out the Blum Inserta type hinge. You will be amazed at how much time you save installing hinges on your doors.
---
From contributor W:
I'm sorry. I was too fast to respond. I see you need less than what the clip will do. Just trying to help, but could you replace the filler with a 3/4" wider filler then trim off 3/4" from the door and drawer front. You would have to use inset hinges and hopefully also have room to move that trash pullout over.
---
From contributor Z:
I have been using the inserts and the plates with the cams and nylon dowels ever since they were introduced. The time saved is worth every penny.
---
From the original questioner:
In response to Contributor W, the problem with replacing the filler is that it is grain matched to the door as well as to the trim piece around the corner. Also, the trash pull-out can't be moved any further to the right because of the plumbing for the sink. At present it is at a slight angle to allow it to extend without hitting the door.
---
From contributor W:
I wonder if a negative degree shim will work?
---
From contributor Z:
A negative shim will throw the line of the door off with the dummy drawer face that is above it and the reveal of the filler. I have used a fine chain from Home Depot attached to the door and cabinet side and it works well.