Rigging a Lathe and Router for Cutoff Operations


Woodworkers discuss a novel arrangement of lathe, router, and saw blade for an unusual machining and cutting situation. November 3, 2010
Question
I'm looking for an off-the-shelf half inch arbor that I can mount in a router, and a thin kerf circular saw blade in the 3 to 4" range. This is for a cut off operation using a router, on a lathe, in 1 1/4" thick hardwood, which is actually a 6" wide, x 14" od cylinder, that is 1 1/4" thick. In case you want to visualize what I'm trying to do I'm cutting off pieces and machining them from the first picture, to create the product in the second picture (thick, solid snare drum shells).
I've made hundreds of these, and trying to improve my production process. This operation is done on my lathe that uses a router in back to do most of the machining. This cut off wheel is to replace a 1/4" router bit that is slow and takes too big a kerf from prime material. The router will be rotated sideways for this cut off machining operation. I'll take the necessary safeguards to ensure safe operation, and turn the speed way down on the router.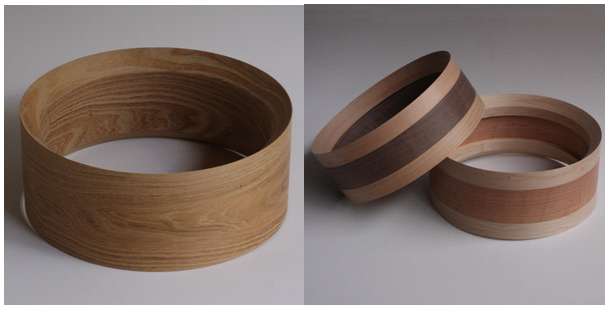 Click here for full size image
Forum Responses
(Solid Wood Machining Forum)
From contributor M:
You may look in to a machinist slotting or jewelers saw. Check online at MSC industrial supply or McMaster Carr. They will have the corresponding arbors needed. As you noted, they are probably not designed for high rpm's. Years ago Makita made a small cordless saw for the 9.6 volt battery, that blade was awesome and right in that 3" diameter range if you can find one.

---

From contributor M:
This is an off the shelf 4 1/2" Tenryu blade for a Porter Cable trim saw. The arbor is available from several sources. The problem is the blade has a 3/8" arbor hole and the arbors come 5/16" or 1/2" (as well as others just not 3/8"). Easy fix, have your blade shop bore the blade to 1/2", get a 1/2" router arbor and a couple of 1/2" shaper spacers (blade shop should have all this stuff) and you're in business. The blade is rated at max 13,200 rpm so low speed on the router should be fine.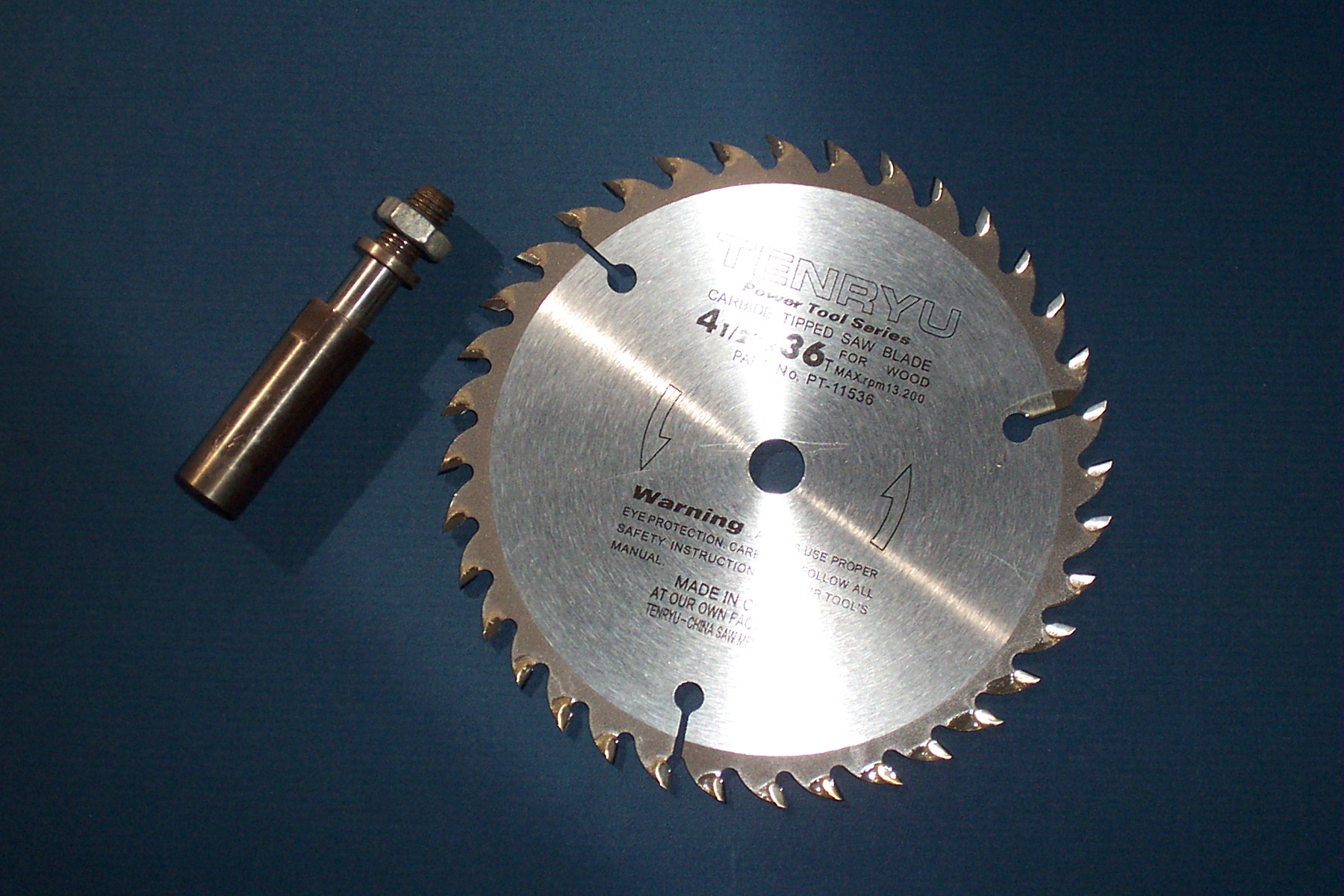 Click here for full size image
---

From the original questioner:
Perfect! I looked up 1/2" arbors and spacers and found it quickly at Grizzly, and that after a pro saw shop couldn't come up with anything for me. Thanks for the help on this.

---

From contributor V:
I advise caution putting something like that in a router. I remember rigging something unusual in a router years ago. I switched the router on and the whole affair bent 90 degrees and then flew up 15 feet and stuck in the ceiling. Iím just glad it missed my face!

---

From contributor U:
I second Contributor V's caution. How many of us have had a router bit slip in the collet? Why not just rig up a small circular saw or even a ball bearing arbor (belt driven).

---

From contributor S:
A lathe is set up for cut-off work, by using a parting tool. To spin a sawblade into a spinning hollow form is redundant, and the speeds and forces will be complex and unwieldy. The parting tool will take about 1/8" or so, but is exactly what you are looking for. The trick is to catch the parted piece before it flies out of the machine. The old turners would part off balls, rings, etc. with ease, and it is less scary than you might think. I would certainly try that before slapping a sawblade into a router - speed control or no.

---

From the original questioner:
Thanks Contributor S. The parting tool was my earliest approach to this problem. However, I don't really need to spin the drum shell very fast to use a router on it. It barely spins, which I like. Taking the speed up to where a parting tool will work actually scares me more, and I've done it a few times. The problem is the thickness of my part, its weight, its wide diameter, its position in a bowl chuck (only held on one side), its density increase from the compression process I use pre-bending, and my desire to not loose too much material. The parting tool I used, by the time it made it through, was taking out 1/4", and was quite trying to achieve. I'd be nervous about a thinner tool, but it's also my experience level, which is admittedly low in parting operations.

---

From the original questioner:
The saw blade on the arbor worked very well. No problem at 10,000 rpm and I could probably go faster. I have to find a good blade though. I found a 4" blade at Harbor Freight with a 1/2" arbor and tried it because itís hard to find that arbor size, but it was junk to begin with and only lasted one cut. Worked long enough before it started burning to prove out the concept though, and I'll check the pro saw shops for a decent blade. Thanks for all your help.

---

From contributor E:
Am I missing something? Why don't you use something like a small Dewalt 18V skill type saw that has a four inch carbide blade with less than an 1/8 inch kerf? When your piece is spinning, lower the saw set at the proper depth and cut it off. The saw is operating at proper speed, has proper guides, saw dust isn't flying in your face and no electrical cord to wind up in the lathe.

---

From the original questioner:
It was one of my earlier considerations. I was thinking of a portable band saw too. At any rate, the part is so dense and hard that I think it would bounce the saw off and cause a wider kerf from continuous saw repositioning. Since the router is mounted on a carriage, I have great control over side to side and in and out movements. Plus, dust collection is set up.

---

From contributor F:
Use the soft plastic, fast feed blades. They have a neutral hook and more teeth which should give you the best cut quality.
---

Would you like to add information to this article?
Interested in writing or submitting an article?
Have a question about this article?

Have you reviewed the related Knowledge Base areas below?

---



All rights reserved. No part of this publication may be reproduced in any manner without permission of the Editor.
Review WOODWEB's Copyright Policy.

The editors, writers, and staff at WOODWEB try to promote safe practices. What is safe for one woodworker under certain conditions may not be safe for others in different circumstances. Readers should undertake the use of materials and methods discussed at WOODWEB after considerate evaluation, and at their own risk.

WOODWEB, Inc.
335 Bedell Road
Montrose, PA 18801

Contact WOODWEB Copyright © 1996-2021 - WOODWEB ® Inc.