Routing Flutes on Large Cabinet Doors
Advice on tool choice, measuring, marking, and jigs for cutting multiple flutes into a big door panel. January 18, 2007
Question
I am in the middle of making a 60" w by 89" tall version of the center cabinet in the image below, only with bi-fold doors. To duplicate the detail shown, my thought was to take a 1.25" round nose bit, carefully make a jig and use a router to cut the vertical fluting. My concern is loss of accuracy over 45 or so passes. Does anyone have any comments on an easier and/or more accurate way to do this?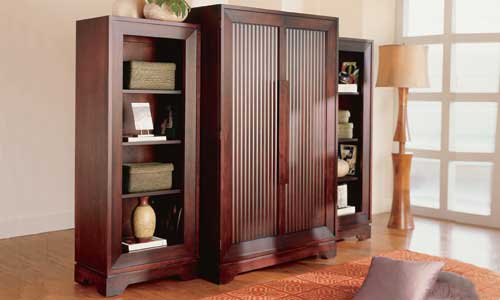 Click here for full size image
Forum Responses
(Architectural Woodworking Forum)
From contributor M:
Can you make the panel with pieces of linear moulding glued for width? Any millshop should have fluted casings that would work.

---
From the original questioner:
I thought about that in the beginning, but decided that I wanted to do it myself. So, I have glued up 8 panels of choice pecan, all planed straight and drum sanded and waiting. The difficult part will be making sure that everything lines up in the end. I'd appreciate any short cuts you could give me on setup and execution. I am a one man shop with routers.
---
From contributor K:
Since you want to make them yourself, an LRH Magic Moulder and your tablesaw would do a great job
---
From contributor J:
I get better results when I move the smaller element of a cut, wood or saw/router. I'd stick with the router approach.
I cut 1/4" deep V-grooves the long way in 4x8 sheets of smooth T-111-like exterior siding for a pseudo T&G finish on my garage shop. Looks just as nice but a lot cheaper than the 7/16 straight grain cedar T&G on the rest of the house. Used a 10' 1.5" box-section aluminum channel for a guide, picked up at a metals surplus yard - 2" box channel wouldn't deflect a mil, I bet. Made tick marks with a divider on a story pole to mark the spacing, to make the grooves align perfectly. A little PVC pipe tape applied to the underside of the guide where clamped so it wouldn't drift with pressure from the router. I made ~2000 lineal feet of nice straight grooves with end-on alignment. I know the material, and depth and shape of cut, etc., are a lot different than your job, but it might give you some ideas.

---
From contributor C:
You need to make a good straight captive jig with a good bushing set up. And do a good job. Take your time and use a fresh bit. Wax your jig if necessary - it'll make a big difference. Set stops or marks on the router for repeat depth cuts. Move the jig as few times as possible. Use good clamps and cauls, and double check measurements and flutes by centerlines.